All right, folks, so the name of this website is FIND VR PORN…so, let me tell you where to find the best VR porn at the lowest prices.
In particular, there are some specials running this January…and, January is just about over. So, if you're thinking about subscribing for a VR membership…now's the time to do it. So, where are the cheapest VR porn subs?
Let's start with BaDoinkVR
Actually, let's not… moving on
Don't forget Virtual Real Porn's January Special
Virtual Real Porn's movies kick ass pretty hard, and the voters determined that VRP movies won all three awards in the 2015 VRP Movie Awards. The voters were particularly impressed with Misha Cross, Harmony Reigns, Marta La Croft and Irina Vega.
As for me, I'm pretty impressed with Kayla Green's tight bundle of blonde goodness! By the way, Virtual Real Porn has got a stable of hot blondes with VR magic! Trust me… you'll want Kayla … BAD!
Here's the excellent January deal VRP's got going right now: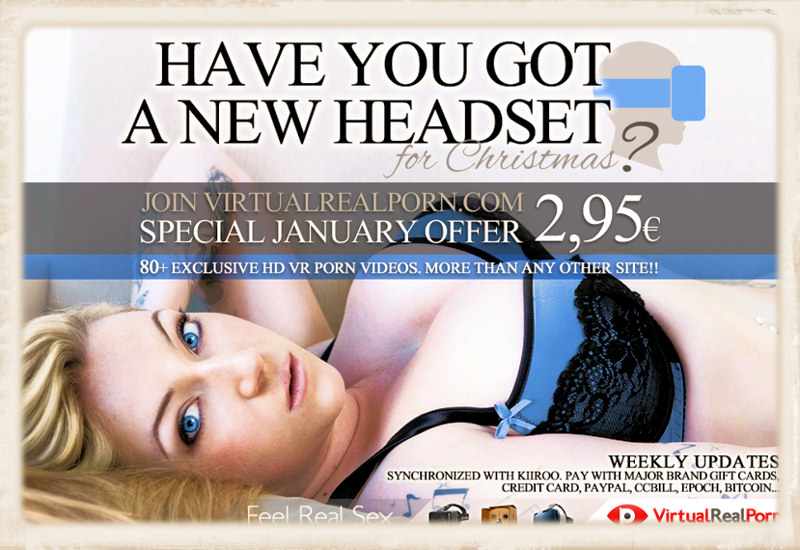 Okay, so 2.95 euros = $3.21. That's right… you can download all those VR's for $3.21. That's hard to beat.
And, let's not forget about Czech VR, which is running a special offer of $84.95 for half a year. And, friends… this is some good stuff. Check out our Czech VR reviews.
But, sir…I'm a really cheap bastard and I want FREE VR PORN, MAN!
All right, well there are some options:
1. Kink VR's got some free beta VR that's pretty wacky and good. no longer there
2. Czech VR's got an incredible free Katy Rose VR where she's got an … um … carrot.
3. Virtual Real Porn's got a ton of trailers. Sure, they're pretty quick, but they're free… you cheap fucker, you!
All right, that's a wrap players.
January VR Porn Special Prices
was last modified:
April 11th, 2019
by