November 27, 2022
Who Is Blow VR?
Blow VR is a new VR porn studio started by 3D veterans, VR Bangers. Here's the Blow VR promo video. And if blowjob VR porn is a niche you enjoy, note that VR Bangers is running a limited time special giving away a free month of Blow VR with a Bangers sub. Click that link for the full details of that. You can also subscribe directly at BlowVR.
Blow VR self-description
"World's Best Blowjob VR Porn
Blow VR was born to bring you the best blowjob experience in VR. Here you will find an amazing virtual reality dick sucking library containing videos for every taste like sloppy, public, double blowjob and deepthroat, as well as balls licking and titty fucking by top pornstars from the United States and all over the world. Our VR blowjob scenes are available in stunning 8K ultra high resolution and compatible with all popular headsets such as Meta Quest, HTC Vive, PSVR, Gear VR, etc. So if you are a fan of blowjob VR porn, you've come to the right place."
FindVRporn opinion of Blow VR's self-description
Thus far, I've looked at two Blow VR videos. And, their description seems accurate. They are featuring—what's sometimes called—the A list of the porn world. They have scenes with women like Elsa Jean, Alina Lopez, and Emma Hix. And, the general VR porn optics and quality seems quite good. After all, VR Bangers (review) is behind this project, so it comes as no surprise that we're presented with polished, professional videos.
Update: I've now watched 4 Blow VR videos. The Charlotte Sins one stood out.
Why? So, a lot could be said about this! See the VR porn performer's checklist for my thoughts about this stuff. But, the short answer is that she understands how to engage with the imagined VR porn viewer-consumer.
The Women of Blow VR?
This is how Blow VR describes their performer roster: "Hottest Giving Blowjob VR Pornstars – When it comes to professional VR blowjob pornstars, we only work with the best ones of them – and you know what? They're all waiting for you as we speak! Browse through our ever-growing collection of top-class VR porn performers and watch when every single one of them is sucking your cock inside of our blowjob virtual reality xxx in up to 8K ultra-high-definition 3D VR!"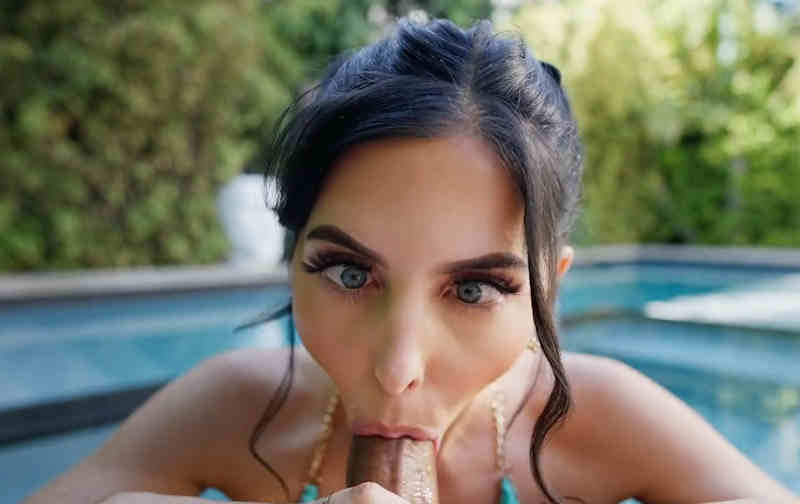 Some of the women featured in Blow VR scenes thus far: Charlotte Sins, Nesty, Cindy Shine, Maddy May, Ana Foxxx, Elsa Jean, Alona Bloom, Cory Chase, Emma Hix, Shalina Devine, Angel Wicky, Lovita Fate, September Reign, Diana Grace, Karma Rx, Jewelz Blu, Tina Kay and more.
I noticed that, age-wise, nearly all of the models are in their twenties. In the porn world, that can either be teen or MILF depending on marketing. That's really a side-tangent, though. In my view, Blow VR has a pretty damn nice collection of, um, cocksuckers assembled here.
Blow VR Quality?
The videos are available in files up to 8K. We've often discussed not to get too caught up in the K number. The bottom line is that the VR optics here, unsurprisingly, are solid. I could say more, but it's not necessary. The VR looks good in the headset. It's competitive with anyone. Again, nothing surprising here.
VR Bangers has been in the game since the start. These porn veterans are masters of their craft. I'm looking forward to seeing how the Blow VR work evolves with time.
VR Porn conventions and methods – briefly
Presently, from what I've seen, it appears to be aiming for a fairly strict POV. This is the popular convention in the VR porn universe. It seems to be the majority's preferred approach. It means that the video recreates the fella's point of view as he's getting sucked-off. In other words, you put on the headset: the woman is doing her mouth magic on YOUR cock. Yes, that's called 1st person POV.
And, in some ways you can't fight the majority. Since the beginning, it does appear that most want this. And personally: yes, I like 1st person POV, too.
Nonetheless, as this studio has a narrow focus, I'll be interested to see if—down the line—there's some experimentation with breaking 1st person POV in various ways, e.g. moving camera, etc. I'm also curious if they'll mix in some 3rd person POV. That leads us to consider the existing categories at BlowVR.
Blow VR blowjob categories
Asian, big ass, big dick, big tits, blonde, cosplay, cum in mouth, cum on body, cum on face, fum on tits, cum swallow, deepthroat, double blowjob, sloppy blowjob, teen, threesome, etc.
So, as you can see, even in the blowjob VR porn niche, there are a lot of ways that this category gets broken down further.
Who is the consumer for this?
Obviously, this is for VR porn consumers who want top-tier pornstars sucking cock in 3D. I mean, no need to over-complicate this.
Blow Job VR Porn Competition?
So, in this blowjob VR porn niche, you'll find a smattering of releases from some studios. Concerning dedicated studios, there's mainly Blow VR and Swallowbay VR (review).
Additionally, there are studios that aren't exclusively dedicated to blowjob VR porn but have a collection of VR porn videos that feature prominent sucking sections. Blowjob VR fans, also check out POVR's selection. With that said, if blowjob VR is your favorite fetish, you'll want to subscribe to Blowjob VR and also download the Swallowbay VR scenes.
Where do we go from here?
I know that there's a market for this niche because one exists in 2D. There's dedicated sites like Swallowed, We Like To Suck, See Mom Suck, and it goes on and on. So, I do think there's a lot of room for creativity in this blowjob category. I look forward to seeing that get explored. Unfortunately, I understand that some credit card companies are exerting an influence on how rough scenes can get. That's weird and infuriating and a topic for its own discussion. Anyway, I want to see how creative Blow VR gets with this stuff.
Conclusion about Blow Job VR
You're getting premium blowjob-cenric VR porn scenes featuring the A list of the porn world.
Cost of Blow VR subscription
Right now you can get a month of Blow VR for a limited-time discount of $9.95 direct from their site.
VR Bangers also has a limited-time special where a VR Bangers sub gets you a free month. Check that out, too.
Blow VR Review
was last modified:
December 4th, 2022
by