Number of scenes / library size -

80%

Performers (ability, quality, variety) -

96%

Image Quality / clarity -

85%

Camera Positioning Skill -

97%

Sexual Positioning / hornyness, variety etc. -

90%

Story/ narratives/ emotion -

95%

Intimate presence manifested and maintained? -

95%

Price / value for your dollar -

100%
Summary
Big Nick's StripzVR is a solo striptease studio that features gorgeous women doing very horny things in a solo context. Have a look at the models and make your decision from there because the quality of the 3D and filming techniques is completely on-point.
In the review that follows, StripzVR will be evaluated based upon multiple variables including judgments made about their library, performers, image quality, camera techniques, stories, emotions, intimacy, and price.
Props to StripzVR Mastermind, Big Nick, for faithfully putting out high-quality and super-horny…and, I'm not just saying super-horny…I ain't kidding here…these StripzVR 3D solo stripteases consistently feature beautiful women being just…incredibly horny-inspiring! StripzVR is still killing it in 2023.
December 2022: I just took another look at StripzVR, and these good folks are still at it! I see new scenes from gals like Eva Elle, Kayla K, Lilith and Nikita. And, I also couldn't help but notice that Angelica Heart has a big, Goddamn beautiful Goddess ass. LOVE STRIPZ VR! I need to check in there more often. Between this site and my other shit, it seems like I don't have that much time anymore. Anyway, I'm actually resubscribing right now. I was sort of getting my StripzVR fix at VRporn, but it's time to have a dedicated StripzVR subscription again.
July 2023: So, StripzVR got things dialed-in pretty good a while back in respect to general VR porn optics, camera positioning and overall VR porn production. I check in on them periodically, and they're basically holding steady. And, that's fine! I like what they're doing. I don't see any particular innovation. And, that's fine. I'm completely happy if they just keep doing what they're doing!
I see some of the newer scenes starring girls like Eva Elle, Amber Blush, Naughty Nikita, Elle Mara, Melena Maria, Alisia and Nikki Hill. I've just got to say two things: I'm in love with Alisia's ass…and, I'm just flat-out in love with Nikki!
Number of scenes / library size
Okay, StripzVR's been cranking out the VRs since 2018. Now, I looked over the site, and I can make a pretty responsible guess-timate that they've got about 240-250 scenes. I'm getting clarification on the exact number. But, being honest with you good folks: they got enough where a month's sub is abso-fucking-lutely a great value and something you want if you're a dude who likes beautiful women stripping in 3D.
Update: I got clarification from Nick that as of January 20, 2022 there were a total of 259 scenes.
One thing I would appreciate is if StripzVR included a running tally of the total number of videos. I'd also like it if they provided a way to sort them chronologically for the consumer who's not signed into the site and debating whether to subscribe.
Performers
As I recall, StripzVR is based out of Great Britain. Really hope I'm not screwing that up. But, I believe they're based out of G.B. and that's where the models, I believe, mainly come from…okay, it appears I don't much know what I'm talking about here…but, here's one thing that I'm certain of…these are some GODDAMN HOT SEXY SLINKY BITCHES, MAN!
Look, I'm saying "bitches" in a complimentary way…not in a hostile way!
They've got…the first gal that comes to mind off the top of my head is Jizzles! The next is Elle Hunter. I FUCKING LOVE YOU, ELLE! I love your big, beautiful Goddess ass!
They also have Sophia Blake, Becky Holt, Jenny Wild, Melena Maria Rya, Monika Lara Smith, Lauren Brock, Gracie Love, Mila Azul and many others…
And, you get these slinky beauties doing the solo striptease thing in front of a high-quality VR rig.
Take me directly to StripzVR… I need Gracie Love and the rest of the Stripz Girls! NOW
Image quality and clarity
About the VR rig…it's listed as 5K, but this provides a good illustration of why I tell people not to get too caught up in the whole 5K, 8K thing. There are a lot of factors. And, the StripzVR 3D looks fucking great.
Camera Positioning Skill
Wonderful work by Nick getting close and even employing a smooth moving camera technique.
Last year, I updated the StripzVR stuff a little bit, and embedded video of a few of my absolute favorite Stripz Goddess gals: Quinn Linden, Rosa Brighid and Grace Faerie.
Sexual positioning and hornyness and creativity and variety
So, StripzVR…how can I put this…the models all have a certain "look"…but, within that "look" there is variety. Does that make sense? I know what it means, but do you know what I mean? Have a look at their roster, I think you'll see what I mean.
So, solo VR porn studios must be judged by a somewhat different standard than conventional hetero stuff. With that said, Nick gets the camera close and keeps it close and the whole thing tends to be really Goddamn horny.
Story and narrative and emotion
There's not much in the way of story or narrative. But, there is plenty of emotion that is often complemented with the music soundtrack. I'm going to give StripzVR a high-rating in this category solely because of the intense emotional-erotic power these scenes so often transmit. You might be able to tell that I'm a big StripzVR fan…
Intimate presence manifested and maintained?
Honestly, I think StripzVR accomplishes this at least as well as anybody out there in the 3D naked game.
Price/value for your dollar
Worth every fucking penny for a fan of beautiful women doing solo striptease. Easily worth every damn penny! Love it! I need to resubscribe. Just reminiscing about this is getting me fucking HORNY, and I'm about to resubscribe!
The original 2018 StripzVR Review
Beneath is the original 2018 StripzVR review done by findvrporn when Stripz was a new outfit flying beneath the radar and largely unknown. As I've discussed elsewhere on findvrporn, I love one-man-show VR porn studios because—although there will be a decrease in overall slickness—there is an increase in the potential for a single—and, poignant!—vision to manifest.
So, since that 2018 coverage, as mentioned, they've been steadily putting out some great 3D featuring gals like Jizzles…I was going to put a whole list here, but is that really needed…I mean, they got Jizzles, man! WHAT THE HELL ELSE MORE DO YOU NEED?!
You know…here's something else I must add. This is StripzVR owner Nick's statement about what you can expect with a StripzVR membership:
"Weekly updates of only the most gorgeous girls we can find. We will listen to you, our customers, and take requests for what girls you want us to shoot. This site is all about you guys, and we want to build up a community of V.R. lovers who can hang out and chat to others! Premium support, either through WhatsApp or Email. Customer service is our No.1 aim. If you have a problem we will endeavor to reply within 8hrs. We have a dedicated customer service member that is available night & day to solve any problems or issues that you might face."
You know, I've witnessed over the years…let's just say that the quoted statement above: it's true and sincere.
April 6, 2018
First Look At StripzVR
Hi friends, welcome to FindVRporn.com: the Internet's first VR porn review website.
Today we'll consider a brand-new VR porn studio: StripzVR.
Back in March 2016, we were the first website to analyze WankzVR, and our predictions were quite accurate. Today, I'm predicting a horny-bright future for StripzVR also.
We'll see…
I've watched their small library. A few videos seemed to cut-off prematurely, but all things considered, I'm impressed by the technical competence and VR technique of such a newly-launched studio.
Below, we'll discuss an aspect of this release I find interesting: distance/framing.
VR porn has a steep learning curve. Honestly, I'm a bit surprised at how much Stripz is getting right so soon after their launch.
The fact that this is all being executed by one man shows that there ain't no limits to what an intelligent, horny fella can achieve!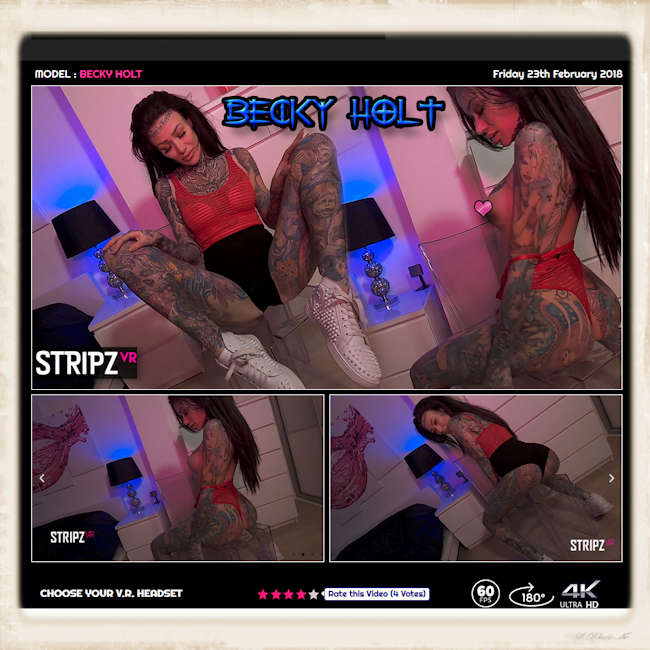 What does the Stripz man say of his project:
StripzVR Self-description
Welcome to StripzVR – The Sexiest girls stripping naked in Virtual Reality. Experience your favourite girls like you've never seen them before in erotic striptease videos!
And, in my view, Stripz delivers on that description. To my sensibilities, this is indeed erotic, striptease VR. I like this genre! I admit it…I like it a lot!
I was wondering when a studio dedicated to solo stripping-intimacy would emerge. It seems like such an obvious format for virtual porn. And, granted there is a studio—along with releases from others—with a solo focus. But, we're talking stripping here…
And, I'm surprised at how damn long it took: this is a template ache-screaming to be used.
So, let's run StripzVR through the FindVRporn.com VR porn reviewing standards just as we do with any other studio. You'll see dozens of things are considered in my mind; the discussion, though, focuses on the factors most relevant to the particular analysis. That prevents us from producing a thesis-length work.
General Conclusion About StripzVR
In my opinion, they measure-up well in respect to concept, performance, scale, sense of spatial correctness, all-around VR technical competence, clarity and general hornyness.

What did you think of the 7 minute sample?
And, I'll emphasize that for me…it wasn't just the scale that felt right…the all around spatial sense felt correct—depth and frame congruence—as Becky moved about in space. Very nicely done.
Yea, there's things to fine tune…but, as a first batch of releases I find this damn impressive.
I'll make a prediction also. If Stripz continues steadily along this same progress-arc (that's a big if!), they will be competing with the top-tier.
They ain't there yet. Nick, the Stripz visionary, will probably need to add a few more people to the team.
But, they ain't too damn far. A few adjustment-tweaks with the framing and distance is needed. They'll also need some more set-ups. Let me add: Stripz actually got the distance right quite a bit.
Framing, Distance, Sweetspot Zone
I found Becky Holt's release to be the strongest: thus, it's the most appropriate reference.
This stripper simulation is fucking horny to this man mind.
And, Ms. Holt deserves much credit for her performance. Becky, were you reading the VR porn performer's checklist? I'm sure not…but, I'll be damned if Becky wasn't checking every point on the list.
And, something else about our good Becky: a skinny girl with a bouncy, beautiful Goddess ass! ZOINKS! I think it might be love this time…
The easiest criticism for me to explain: use more stationary time. It's all opinion, of course, but I feel the footage is more exciting without constant motion.
Along these same lines: Stripz, if you really want to next-level this shit: during some stationary portions, hit a fella with a slowly moving camera/bodyscan a la CVR.
The aforementioned request is asking for some very high-level VR technique…that I'm even mentioning this to a new studio indicates they've got the basics wired.
More about distance: All right…so, Stripz did a competent job with distance: what we call the sweetspot zone.
For reference, let's continue with this Becky release: which, for me, recreated a lapdance/stripper type experience.
I talk on here constantly about the sweetspot zone because that's just how damn important it is to keep the woman at the proper distance. The idea is that there's a distance range—close, but not too close—from the camera where VR porn is most visually-exciting.
So, if you've got the movie loaded: this is how it strikes me.
Nearest Sweetspot Zone found about 1 inch closer than at timeline point 1:01 (pictured below)
Middle Sweetspot Zone at timeline point 4:12 (pictured below)
Back of Sweetspot Zone at timeline point 5:13 (pictured below)
For me, all the footage that stayed within that range was thoroughly enjoyable. And, much of the footage was in the zone.
I just went back and rewatched this to verify my impressions, and yes…very well done.
I would have pushed more of the footage (e.g. when Becky's bouncing her ass against the chair's top) a bit more forward, but…this was pretty solid.
In the other Stripz releases, I found myself thinking that the woman could be pulled just a bit forward: anywhere from 6 to 18 inches…
I'm expecting very horny VR from this studio. You're off to an excellent start, StripzVR.