March 2022
Yes, so I see KinkVR is now regularly putting out new VR porn scenes. I'll tell you: it pays to keep an eye on this Kink gang. I've been checking back for years, and it looks like they're rolling again! Also, I was just checking out the KinkVR site, and I hit the back button, and the monthly subscription price then dropped to JUST $9.99! YOU WIN KINKVR! I'M TAKING A MONTH at that rate. NO BULLSHIT! The new Tardy For Pussy London River promo TOTALLY FUCKING GOT ME, MAN! HORNY! YES, I LIKE LONDON!
November 6, 2021
Hey everybody, yea this KinkVR review is a fairly long web page. I've been following the Kink gang since they first started releasing some free beta efforts in the winter of 2015.
Now, I'd encourage you to read this entire article. But, if you just want a free way to see if a KinkVR subscription is right for you, then you can always just go ahead and after the article's table of contents: you'll see a way to do that…
Download a completely FREE Kink VR scene starring Leigh Raven and Charlotte Sartre
First of all, I love Leigh and Charlotte.
Second of all, this is a completely no-strings-attached Risk Free way to see if you want to type your credit card info into the Kink VR website.
Download Crushing Convictions Part 2 starring Charlotte Sartre and Leigh Raven for FREE!
Since the start, KinkVR's been competitive with their peers
And, the truth is that KinkVR's always released good VR porn when you factor in the moment-in-time chronology of the VR porn universe.
What the hell does that mean, man?
In other words, back in 2015, VR porn was flawed-as-fuck compared to what it is now…and, compared to their peers at the time, yea: they were doing some damn good stuff…
…and, I think we can say that KinkVR has always been competitive with their peers. And, furthermore: they've always been pretty fucking innovative…especially when compared to the mainstream VR porn landscape.
Kink VR November 2021 Update
So, as you can see, I check in with Kink VR from time to time. Why?
Not a lot of kinky VR porn studios presently
Well, I'm a curious guy. And, as far a studio just absolutely dedicated to freaky-deaky kinky funtimes…well, the selection is scarce.
You have that one called like Virtual X or something…ah, they're actually called Xvirtual.com… and, they do truly get nutty. But, I'd argue that their content is more weird than kinky. They've got people like fucking space aliens and stuff…and, hey…judgment free zone and all, but…ah shit…maybe we're getting caught-up in semantic stuff again…I should just use the delete function more…
Weird vs. Kinky
I'm going to argue that there's a meaningful difference between weird and kinky. And, KinkVR definitely—more times than not—leans harder into kinky than weird…imo…and, that nicely transitions to reading how Kink VR conceives of their project.
KinkVR Self-description
"Authentic VR BDSM Porn
Some VR sites dip their toes in the waters of fetishdom. Not us. At KinkVR you'll find nothing but the most authentic VR BDSM porn.
We've got everything you could ever hope for when it comes to kink. Be the dom. Be the sub. Do you want to lick boots, or have your boots licked? Well, either way, you've come to the right place.
Our high quality VR BDSM porn stars some of the biggest names in the world of kink. Experience goes a long way when you're working with knots and cattle prods. Grab your headset and brace yourself for some of the most intense authentic VR kink porn experiences you'll ever find."
Other kinky VR porn studios?
You do have Czech VR, which has a fetish branch (CzechVR Fetish review). And, that stuff definitely does get kinky. But, the fact that I can only name a few outliers really proves the point: there's not a lot of kinky VR porn out there.
The BaDoinkVR connection
At some point a while back, BaDoinkVR took over the KinkVR project…this is pretty obvious, and it's a good thing for the consumer that serves, ultimately, as a type of quality control. I'm certainly not dissing the Kink porn empire…but, with that said: you can have a good feeling knowing that the BaDoink gang is running things.
I've been seeing new KinkVR scenes for a while now
And, I can see that they've got new scenes released that are even listed as 7K files…so, hey…there you go, man.
The scenes feature actresses like London River, Cedar Parker, Mistress Blunt, Dresden, Hazel Paige, Avery Black, Mona Wales, and even Gia DiMarco in What It Means To Be A Slut Part 1.
So, I suppose I don't check this project more often because…I guess the first part is because it was defunct for quite a while and so often has an on-again off-again quality to it. But, it sure seems to be back on, gentlemen…and, if you dig this type of content, I think you're going to have a very very horny time.
As for me, I guess the whole aesthetic isn't quite my…um…kink. But, who the fuck cares about my kink?!
If this tickles your inner horny then…
…go download some KinkVR at VRporn
Download some Kink 3D direct from Kink
Kink VR January 2021 Update
January 6, 2021: I ain't gonna lie…when it comes to making statements about KinkVR…my confidence level just ain't very high.
But, with that said…I looked over the KinkVR website, and it appears to me that they're releasing new movies again. At the very least, some of the movies have dates on them like December 03, 2020 and December 21, 2020…
I also notice that some of the videos' promotional materials says, "An At-Home Collaboration." I see no apparent elaboration about what this means…so, I can sort of guess, but ain't nobody need some foolish fucker guessing on a website called findvrporn.com for fuckssake, man…
Some great KinkVR women in 2021
It appears that some of KinkVR's recent starring leading ladies include Bella Wilde, Skylar Snow, Sinn Sage, Kioko, Lina Strong, Syren de Mer, Robin O'hara, Nikki Hearts, Chanel Preston, Baby Sid, Mona Wales…
It's kind of cool seeing KinkVR release movies again because they were around in VR porn's early days…and, they gave away some free releases…and, I found myself impressed with their marketing/branding…and, it was all rather interesting, but never seemed to fully come together. Perhaps under BaDoinkVR's guidance we'll see KinkVR become a player. We'll see…
I did notice, though, that they've got a free, full-length over there. I'm downloading it now to check out. It's called Crushing Convictions Part 2 and it stars Leigh Raven and Charlotte Sartre.
And, to give you some idea, this is how it's tagged: Creampie Female Sub Hitachi 180 Babe Suspension Foursome POV Handcuffs Corporal Edging Spanking Gaping Flogging Punishment Caning Tease And Denial…
Corporal, Edging, Spanking, Gaping, Flogging….ZOINKKKKKKKKSSSSSSSSSS!
By the way, I LOVE the porn name Charlotte Sartre!
(I watched the free video on my 2D desktop, and it will look fine in a viewer.)
Good luck KINK!
Kink VR January 2019 Update
January 2, 2019: Hi friends, it looks like after an extended dormancy, the KinkVR website is exhibiting some fresh twitches.
I notice the homepage says, "Find Your Fetish in 2019." And, it now says, Powered by BaDoinkVR at the bottom.
So, there you have it.
Kink VR January 2018 Update
January 27, 2018: Well friends, it appears that the KinkVR project is no longer.
Why do I say that?
Well, they haven't added any new VR videos since 7/28/2017.
We'll keep this page for historical purposes.
If you're looking for kinky/fetish content, my best recommendation is a paid subscription from Czech VR because that gets you access to all of the CzechVR Fetish content.
Kink VR April 2017 Update
April 2, 2017: Yep, so KinkVR has been a paid subscription site for a bit now.
So, you know what type of content you want. If you've got a desire for…um… kinky virtual porn content: the KinkVR boys do a pretty fine job of scratching that itch.
Kink VR January 2017 Update
January 17, 2017 Update: It looks like the Kink boys added a new VR yesterday: Hot Slut Begs to Service Your Huge Cock, starring Abella Danger and John Johnson.
There's a free trailer for that video.
And, I notice that KinkVR no longer appears to be a promotional free video site. I looked around their site and unless I'm mistaken—always a possibility—it didn't seem like the free VRs were still available.
I don't quite know what their strategy is…but…
…The Kink gang, needless to say, is an enormously successful porn enterprise with a lengthy, rich and interesting history.
And, they've done some intriguing and highly creative stuff: displaying a willingness to explore sexuality in a brave, daring manner.
I'll keep this page updated.
January 7, 2017 Update: It appears KinkVR hasn't added any new virtual porns since the Sister Slave (Lorelei Lee , Mona Wales and Mickey Mod) release on April 8, 2016.
I'm not aware of Kink's plans for this VR project, but the free videos are still available for download. Thus, I feel that the article below is still relevant. And, it has sort of a—dare I say?—historical value.
Kink VR Original review from December 2015
December 14, 2015
The VR porn space is rapidly changing. And, that's the way it's going to be from now until the end of human civilization on earth. First, VR will slowly be perfected. Meanwhile, augmented reality will be improving. Then, AR will be incredible. It won't displace VR, but it will be enormous.
After that, human-clone-sex-robots will displace everything. Though, I could imagine people copulating with their robot clones in an augmented space. Augmented space means when you project an illusion over top of your actual, real space.
Thus, the augmenting will permit one to project someone else over the robot-clone.
Coming soon: I'm in love with a robot clone
People will fall in love with robot clones. You know… you think you've seen weird? Trust me. You haven't seen it. We have not seen anything yet… You have not seen it until you've seen a man kissing his robot-human-clone-wife while waiting in line at the Dunkin' Donuts.
I like where we're presently at with the availability of headsets and virtual reality sex movies. It's fun. But, as for what's coming. You don't want to see what's coming, baby.
Kink VR in December 2015
However, in the meantime: we're at a particular moment in time. Where I'm sitting, it's the afternoon of December 14, 2015. And, much could be said about Kink's expansion into virtual reality and how, eventually, VR porn will have all the same specialized, niche sites as 2D porn currently enjoys; but, the first thing that interests a lot of people who arrive here via search engines is where to get free VR porn. Well, you thrifty folks: you're now in luck.
Again, at this moment, there are two excellent sources to legally get some great, free VR porn. The first is Virtual Real Porn, which offers free samples of everything. The clips are short, but it ain't a waste of time to download and give 'em a spin.
Free KinkVR scenes
The second is Kink VR. Kink actually has huge, gigabyte +, lengthy VR porns that you can download for free from their beta site (update: link removed because it leads to Not Found page). I don't know how long it'll last. But, it's there now. And, some of the performers featured include Ariel X, Ella Nova, Penny Pax, Venus Lux and Bill Bailey.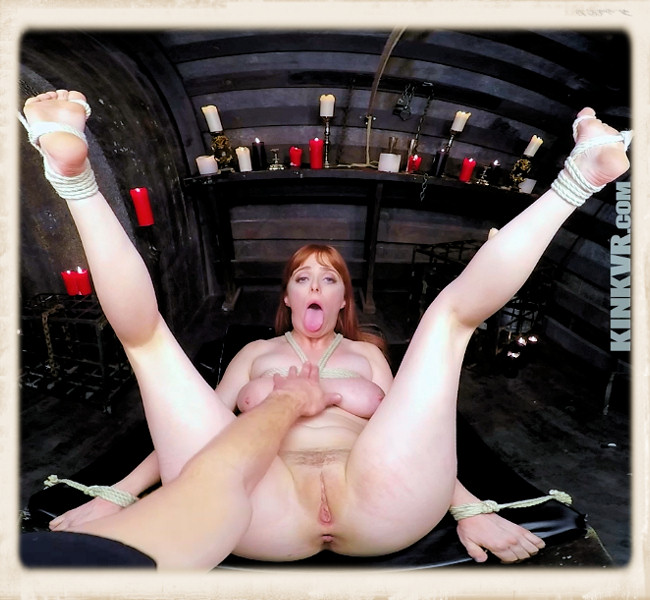 I don't want the freeness of Kink's VRs to overshadow the creative and intriguing direction they're taking the medium. They're on to something interesting, and I'm curious to see what they do next. In the meantime, this page can hold the spot for the Kink VR review page.
Some KinkVR scene reviews
Review: Eager To Serve, starring Penny Pax. I also share further thoughts in this review about Kink's entrance into virtual reality.
Review: Lesbian Strap-on Fucking, starring Ella Nova and Ariel X.
Review: Maitresse Madeline's Femdom Cuckolding, starring Madeline Marlowe. Pretty nutty stuff here!
Review: Control Her Orgasms… the virtual reality return of Penny Pax… great stuff, sir!
Review: A Kinky Machine Virtual Porn… Oh man, woe… um … Nikki Darling and Bella Rossi… um… a fucking machine… just read the review, man!
Download every KINKVR Scene directly from Kink VR!
DOWNLOAD KINKVR MOVIES from VRporn!
Kink VR Review 2015 – 2022
was last modified:
March 2nd, 2022
by