January 6, 2021: I ain't gonna lie…when it comes to making statements about KinkVR…my confidence level just ain't very high.
But, with that said…I looked over the KinkVR website, and it appears to me that they're releasing new movies again. At the very least, some of the movies have dates on them like December 03, 2020 and December 21, 2020…
I also notice that some of the videos' promotional materials says, "An At-Home Collaboration." I see no apparent elaboration about what this means…so, I can sort of guess, but ain't nobody need some foolish fucker guessing on a website called findvrporn.com for fuckssake, man…
It appears that some of KinkVR's recent starring leading ladies include Bella Wilde, Skylar Snow, Sinn Sage, Kioko, Lina Strong, Syren de Mer, Robin O'hara, Nikki Hearts, Chanel Preston, Baby Sid, Mona Wales…
It's kind of cool seeing KinkVR release movies again because they were around in VR porn's early days…and, they gave away some free releases…and, I found myself impressed with their marketing/branding…and, it was all rather interesting, but never seemed to fully come together. Perhaps under BaDoinkVR's guidance we'll see KinkVR become a player. We'll see…
I did notice, though, that they've got a free, full-length over there. I'm downloading it now to check out. It's called Crushing Convictions Part 2 and it stars Leigh Raven and Charlotte Sartre.
And, to give you some idea, this is how it's tagged: Creampie Female Sub Hitachi 180 Babe Suspension Foursome POV Handcuffs Corporal Edging Spanking Gaping Flogging Punishment Caning Tease And Denial…
Corporal, Edging, Spanking, Gaping, Flogging….ZOINKKKKKKKKSSSSSSSSSS!
By the way, I LOVE the porn name Charlotte Sartre!
(I watched the free video on my 2D desktop, and it will look fine in a viewer.)
Good luck KINK!
January 2, 2019: Hi friends, it looks like after an extended dormancy, the KinkVR website is exhibiting some fresh twitches.
I notice the homepage says, "Find Your Fetish in 2019." And, it now says, Powered by BaDoinkVR at the bottom.
So, there you have it.
January 27, 2018: Well friends, it appears that the KinkVR project is no longer.
Why do I say that?
Well, they haven't added any new VR videos since 7/28/2017.
We'll keep this page for historical purposes.
If you're looking for kinky/fetish content, my best recommendation is a paid subscription from Czech VR because that gets you access to all of the CzechVR Fetish content.
April 2, 2017: Yep, so KinkVR has been a paid subscription site for a bit now.
So, you know what type of content you want. If you've got a desire for…um… kinky virtual porn content: the KinkVR boys do a pretty fine job of scratching that itch.
January 17, 2017 Update: It looks like the Kink boys added a new VR yesterday: Hot Slut Begs to Service Your Huge Cock, starring Abella Danger and John Johnson.
There's a free trailer for that video.
And, I notice that KinkVR no longer appears to be a promotional free video site. I looked around their site and unless I'm mistaken—always a possibility—it didn't seem like the free VRs were still available.
I don't quite know what their strategy is…but…
…The Kink gang, needless to say, is an enormously successful porn enterprise with a lengthy, rich and interesting history.
And, they've done some intriguing and highly creative stuff: displaying a willingness to explore sexuality in a brave, daring manner.
I'll keep this page updated.
January 7, 2017 Update: It appears KinkVR hasn't added any new virtual porns since the Sister Slave (Lorelei Lee , Mona Wales and Mickey Mod) release on April 8, 2016.
I'm not aware of Kink's plans for this VR project, but the free videos are still available for download. Thus, I feel that the article below is still relevant. And, it has sort of a—dare I say?—historical value.
December 14, 2015
The VR porn space is rapidly changing. And, that's the way it's going to be from now until the end of human civilization on earth. First, VR will slowly be perfected. Meanwhile, augmented reality will be improving. Then, AR will be incredible. It won't displace VR, but it will be enormous.
After that, human-clone-sex-robots will displace everything. Though, I could imagine people copulating with their robot clones in an augmented space. Augmented space means when you project an illusion over top of your actual, real space.
Thus, the augmenting will permit one to project someone else over the robot-clone.
People will fall in love with robot clones. You know… you think you've seen weird? Trust me. You haven't seen it. We have not seen anything yet… You have not seen it until you've seen a man kissing his robot-human-clone-wife while waiting in line at the Dunkin' Donuts.
I like where we're presently at with the availability of headsets and virtual reality sex movies. It's fun. But, as for what's coming. You don't want to see what's coming, baby.
However, in the meantime: we're at a particular moment in time. Where I'm sitting, it's the afternoon of December 14, 2015. And, much could be said about Kink's expansion into virtual reality and how, eventually, VR porn will have all the same specialized, niche sites as 2D porn currently enjoys; but, the first thing that interests a lot of people who arrive here via search engines is where to get free VR porn. Well, you thrifty folks: you're now in luck.
Again, at this moment, there are two excellent sources to legally get some great, free VR porn. The first is Virtual Real Porn, which offers free samples of everything. The clips are short, but it ain't a waste of time to download and give 'em a spin.
The second is Kink VR. Kink actually has huge, gigabyte +, lengthy VR porns that you can download for free from their beta site (update: link removed because it leads to Not Found page). I don't know how long it'll last. But, it's there now. And, some of the performers featured include Ariel X, Ella Nova, Penny Pax, Venus Lux and Bill Bailey.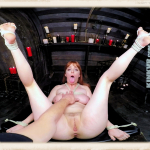 I don't want the freeness of Kink's VRs to overshadow the creative and intriguing direction they're taking the medium. They're on to something interesting, and I'm curious to see what they do next. In the meantime, this page can hold the spot for the Kink VR review page.
Review: Eager To Serve, starring Penny Pax. I also share further thoughts in this review about Kink's entrance into virtual reality.
Review: Lesbian Strap-on Fucking, starring Ella Nova and Ariel X.
Review: Maitresse Madeline's Femdom Cuckolding, starring Madeline Marlowe. Pretty nutty stuff here!
Review: Control Her Orgasms… the virtual reality return of Penny Pax… great stuff, sir!
Review: A Kinky Machine Virtual Porn… Oh man, woe… um … Nikki Darling and Bella Rossi… um… a fucking machine… just read the review, man!
Kink VR 2015- 2021
was last modified:
April 7th, 2021
by