Last updated January 1, 2021 – Our good friend and Lethal Hardcore director Stoney's still ripping it up in the VR realm. All VR porn production took a hit this year due to Coronavirus, but things are rolling again, and LethalHardcore VR is cranking out some horny and high-quality VR. If you don't feel like reading, you can go download samples of everything.
A recent LHCVR effort—I Came In My Best Friend's Girl starring the blonde Goddess, Marilyn Johnson—collided with my funnybone like a runaway Fleshlight. (I never said I was Rod Dangerfield!)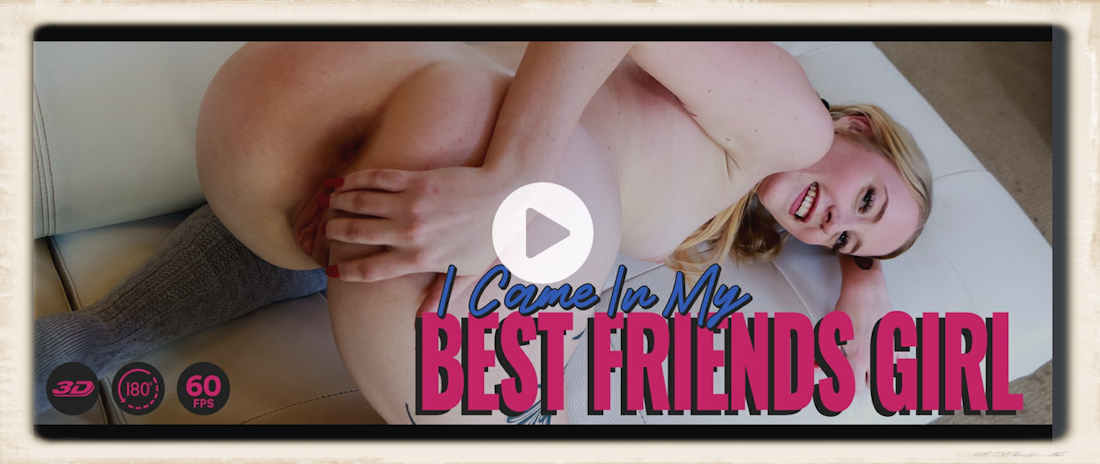 Here's a good angle on Ms. Johnson: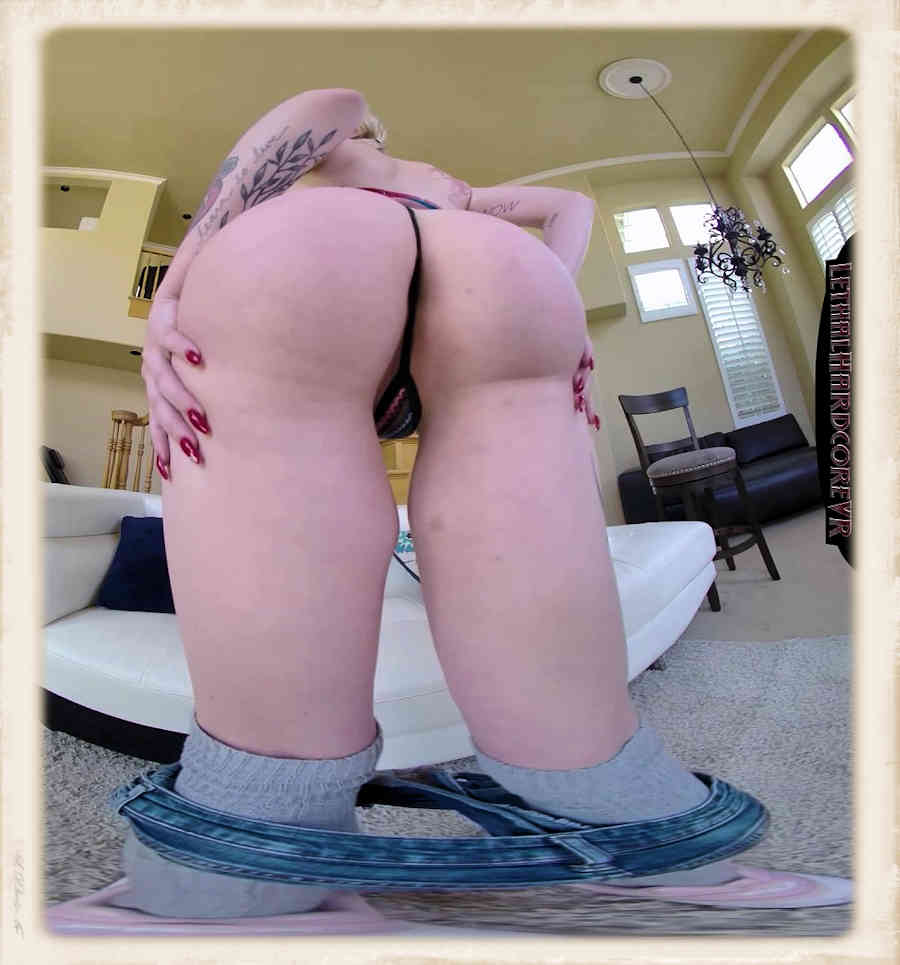 Listen, does your fetish involve cheerleaders, coaches, nannies, babysitters, parolees, horny stepdaughters, best friend's dads, Girl scouts, or female massage therapists? Then SUBSCRIBE TO LETHAL RIGHT NOW!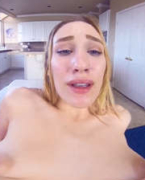 Director Stoney Curtis has an interesting sensibility that separates his project from the present virtual porn lineup.
And, today we can chat slightly-abstract style because LethalHardcore VR has shown fundamental, technical competence: felicitous shot-framing (e.g. truncated missionary pictured below), tight positioning, a generally good optical experience, etc.
Thus, we can more broadly consider this studio's uniqueness: and some interesting tangents inspired along the way.
So, as mentioned, the LHCVR product's looking pretty good to my eyes.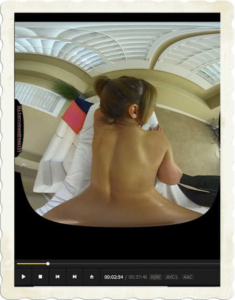 And, additionally, I saw breakout camera bits in the Moka Mora release; I haven't yet seen this studio duplicate the part I particularly liked: the section that—in respect to camera technique—set them apart.
I think in life you're supposed to find the thing that you can do…in a way that others can't…and, that's the thing you're supposed to do, man!
And, on a perhaps more practical level: 2019 is going to be a very Goddamn competitive year in the VR porn landscape. That's a fact. I've gone over it in my mind, and there are simply more folks coming correct these days.
I don't know this from data or research: but, common sense tells me that having some enticing, distinguishing aspects will help survival chances.
I don't know, though. And, I don't particularly care. I'm interested in high-quality work that imaginatively distinguishes itself.
And, ultimately, LHCVR is delivering an interesting, high-quality product that does, indeed, imaginatively distinguish itself. And, they can push that part harder, in my opinion.

I am tempted to talk about their pornographic Gestalt… and, that's where we run a risk of sounding pretentious or just…full of it.
Pornographic Gestalt? Why you trying to sound fancy, man?
It's the Goddamn inferiority complex, man!
Seriously…
See, here's the thing.
A studio has sort of a unique fingerprint. It has a general method, a vibe, an overall look-and-feel that lets you quickly recognize their work. The work's totality has sort of a distinct demeanor. And, that's what I mean by pornographic Gestalt.
The pornographic Gestalt encompasses everything about the release: the lighting, casting choices, dialogue, hair-and-makeup, set, pauses, camera angles, colors, emotional quality…everything combined creating a sum that's greater than its parts.
Cerebral Complexity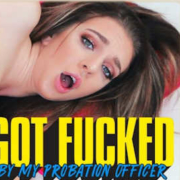 And, I'm tempted to say that the LHCVR pornographic Gestalt might have the most cerebral complexity—certainly the darkest—of the virtual porn studios I've considered (which is quite a few).
And, I'm using the expression cerebral complexity because the hornyness goes beyond just big boobie bouncers flopping cowgirl. There's something more complicated going down…
These fellas have their own little trip going. A sorta creepy-sleazy horny hybrid that compels a fella to admit his libido ain't a rational endeavor.
If a raincoat flasher sought refuge in his squalor before venturing forth for further degeneracy… you'd imagine him loading-up a LHCVR movie to recharge his brain battery.
And, while this type of content is most certainly found in 2D porn: I haven't come across much in 3D.
The Porn Power Of The…. Power Imbalance
The fun starts with a power imbalance: a girl scout and old guy; probation officer with a begging, teen delinquent; dad and son's girlfriend; dad and stepdaughter.
And, as I said of Tiffany's movie, "The simple, little plot perfectly pits youthful vulnerability against an old man's amoral libido."
So, for porn actresses with dramatic chops: these monologues might be quite desirable.
In this recent effort—I'll Do Anything To Avoid Going To Jail—starlet Kasey Miller begs her probation officer for leniency. Such fertile terrain!


And, another example of how a
contextual relationship
can be set-up
without a time-consuming plot
.
The Merits of Kasey's Opening Minutes
The opening minutes feature Kasey pleading for her freedom. She quickly senses that her "young boobs" might be her best option. I would have liked it if that section were ten minutes and maybe even included the male actor's dialogue.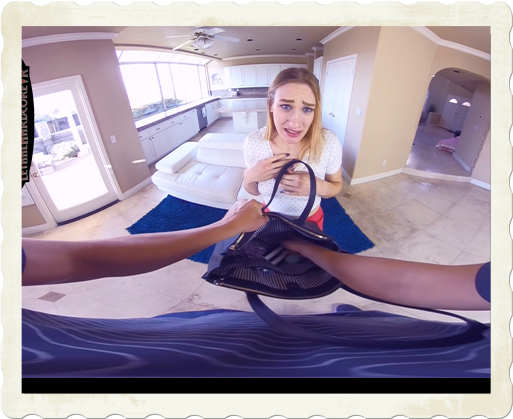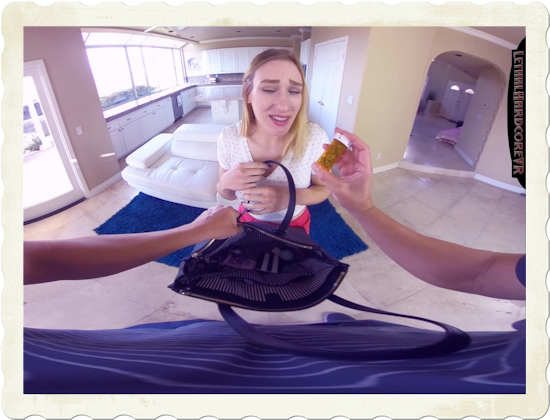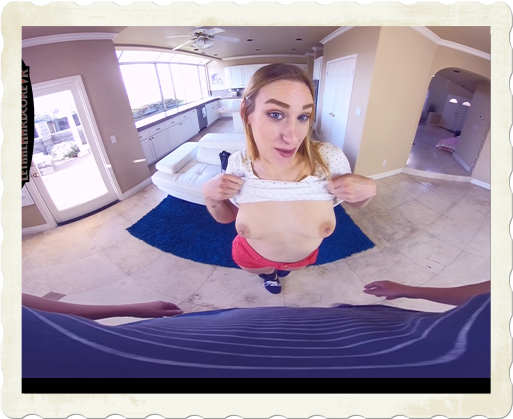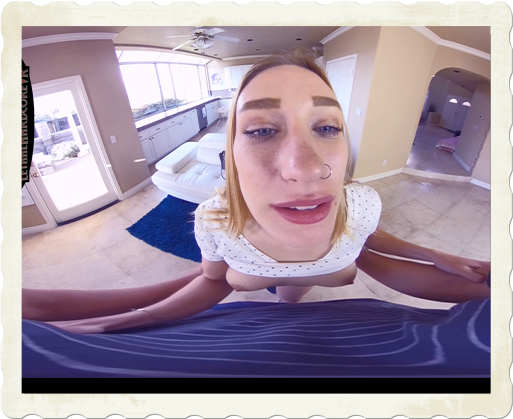 There's a convention to minimize everything about the male actor. And, it appears that non-POV scenes, for example, don't do well in the marketplace. There ain't no getting around that reality.
So, who knows...
But, as discussed earlier: this opening, unsavory and coercive aesthetic is the unique aspect that LHCVR brings to the headset.
Kudos to Kasey for her performance. And, kudos to Director Stoney for exploring this terrain.
And, the rest of the movie…the sexual section was shot quite well…but, I wonder if I'm alone in most enjoying the opening monologue. Am I alone there? Deep-down do I have the soul of a raincoat flasher? I don't know… I just don't know, man.
Okay, you got me: I'm a repressed raincoat flasher.
And, now to the present day…
Anyway, we're at the beginning of 2021, and Lethal made it through Corona etc. and is still cranking out their transgressive and horny 3D. That banner below gets you the special findvrporn LethalhardcoreVR 40% discount! Recent releases from LHCVR have featured Melody Foxx, Marilyn Johnson, Leah Winters, Gia Vendetti, Liz Love, Liv Wild, Bailey Base, Kylie Rocket. I think my favorite title award must go to the December 2020 effort featuring Marilyn Johnson, I Came In My Best Friend's Girl. Hey, it happens sometimes!
This is a worthwhile, sorta underdog studio that I feel is a bit underappreciated. I hope you give this outfit a chance.