Update October 2021:
So, I'm going to assume that the Whorecraft VR project is obviously finished. We haven't seen anything new for what…going on a few years? I lose track of time, but it's been a while! This review was first published in October 2018. Correct me if I'm wrong, but I don't think there were any new releases after—at the latest—January 2020? I should clarify this, but I probably won't get to it. And, what does it matter?
Nonetheless, I think a few of these scenes have held up and can still provide some wack-worthy moments.
Update December 28, 2020:
Much to my disappointment, there haven't been any Whorecraft VR updates for a long, long time. That's a damn shame because, for me, that was some supremely horny and CREATIVE work. I really appreciated the imagination that went into those efforts. The good news is that your LethalHardcore subscription still gets you those old WhoreCraft releases as a free bonus. I highly recommend a sub to LHCVR. And, that link gets you the FindVRporn 40% discount!
Update January 2, 2019:
WhoreCraftVR's Nina Elle release was my personal pick for favorite VR porn release of 2018. You can read further about how I reached that conclusion.
Hi friends, today we'll take our first look at a relatively new studio, WhoreCraft VR.
Fantasy World Cosplay
These boys are releasing the type of creative porn—cosplay submerged in a Tolkien-like fantasy realm—that I enjoy and appreciate.
So, people like different things. No way around that.
And, there's often no avoiding subjective bias and preference with judgments. We've discussed this many times before.
So, let me start by saying: I love cosplay/costume/CFNM porn. It's probably my favorite genre.
For me, a beautiful woman's horny-inspiring potential is magnified exponentially when she's put into a sexy outfit. I've discussed this previously at length.
WhoreCraft VR's Learning Curve
So, the Whorecraft gang have been doing their 3D fantasy video for a bit now. I was letting the fellas work through the usual early kinks that accompany studios starting in the VR porn game.
And, surveying their work, I can see evidence of the expected learning curve.
Personally, I might suggest that everything preceding their last seven releases be skipped. That's to say, I find everything prior to Valentina Nappi's release to be excessively flawed (in respect to scale, spatial correctness and general optical quality).
Now it's time to slide Team Whorecraft through the FindVRporn Standards Project and see what happens. Many, many factors go into these review judgments. Honestly, too much to list here. If you're interested in taking the deep-dive, click that link above…
…you'll see in those articles that I explain many aspects of VR porn in extraordinary detail; however, a lot of the criticisms can be compressed into the following statement: "Get the Goddamn camera closer!"
Watching Whorecraft VR Previews
I watched a bunch of their free previews. There was unevenness across files (particularly concerning sense of spatial correctness as the movements changed depth); but, there were also shots that were intensely horny.
In specific, I'm referring to certain up-close optical framing and effect (which will be discussed below).
So, I want to tell you what happened when I watched the Whorecraft previews. It don't happen often. Almost never.
Nina Elle Whorecraft Outing
Well, I started off with the Nina Elle one…because…Nina Elle, man! It's called The King's Guard and Ms. Elle plays Ariella Clayden.
I was hit with an optically-wonderful (meaning everything: framing, color, lighting, female beauty) tightly-composed close-up of Nina's gorgeous gal face.
Then….some beautifully-framed, missionary push forward.
This is working for me: Nina, the horny costume, framing-immediacy, fantasy background, the panty pulling…
Arya Fae's Shadow Priest Jodi Newbury preview
I next fired up Arya Fae's Shadow Priest Jodi Newbury preview.
The missionary framing here with Arya is simply as good as it gets in VR.
Again…very optically horny effect created by the Whorecraft gang with Arya's changing-depths, truncated doggy pictured below.
I've been watching other studios get this wrong for years now.
I played the Nina preview again.
And…that Nina Elle panty-pull-missionary framing got me man!
You got me, Nina baby and Whorecraft gang!
No bologna, I hopped on the $14.99 a month special. The 8GB Nina Gear download is presently humming in at 6.5 MB/sec.
I guess that's a pretty good endorsement.
The last time I watched some free previews and did an immediate sub was back with NA in 2015.
VR Porn Reviewing Scientific Method:
I judge the quality of a VR Porn studio's work based upon three main factors.
There are other things considered, certainly, but when the Fleshlight hits the weenie, if these three things aren't correct, the work will be subpar.
It's really that simple…
1. The woman: no surprises there.
2. The scaling: do things look correct and proportional? Are things spatially correct (both in a still frame and during changing depth sections).
3. Positioning: of the women and cameras. Close-ups are much-desired. It's also great to get some variety of sexual positions. What about changing perspectives within a segment? I very much like switches to truncation.
Who Are The WhoreCraft Whores?
Here's a few:
Nina Elle
Lily Rader
Krissy Lynn
Ella Knox
Zoey Monroe
Valentina Nappi
Elena Koshka
Moka Mora
Naomi Woods
Summer Day
Giselle Palmer
Casey Calvert
Blair Williams
So, you get the idea. Now, personally…I find porn fame/notoriety to be fairly meaningless.
Why?
Because some of the performances I've found most enjoyable have been from relatively unknown actresses.
But, it means a lot to many. And, you can see that Whorecraft is mining porn's upper tier: shooting many of the same gals we've previously seen from NA, WankzVR, VRP, MilfVR, etc.
So, What Now?
The Whorecraft homepage seems to lack a general description of their dealio. That strikes me like an omission that should be corrected.
But, we can see how the WC gang describes themselves in an OculusNSFW comment…
WhoreCraft VR In Their Own Words
"The basic idea of the site was to parody the biggest video game played on the net over last 14 years and bring characters to life with the help of beautiful porn starlets, shot on green screen with custom graphics, cgi on a porn budget, high end costumes…not $100 store bought costumes … and mix that in with great sex which I have been capturing since Bill Clinton became president."
All right, let's talk more about these fellas and their output:
1. The cosplay: I love it! People will feel differently about this, but I've always found this costume porn stuff to be HORNY!
2. The special effects: Again, personally I love it. These fantasy backgrounds are so damn cool. I love the part where the gals are kind of floating in the air!
3. Color, lighting, sound and the like: no complaints from me with their newer stuff. An earlier effort—such as Death Knight starring Giselle Palmer—exhibits subpar lighting and color, but…these problems have been corrected in later releases.
4. The women: What the hell's not to like with their gals, gentlemen!
5. Scale: I watched these previews with a Gear/Galaxy set-up.
For the most part, as I've been reiterating, the WhoreCraft VR gang polished-up many earlier shortcomings.
A consistent bit of strangeness, to my eyes, is their five foot range which appears too small.
The Valentina Nappi Guildmistress release (their last over/under file before switching to sbs with Zoey's release onward) had a very uneven—but interesting—quality control problem to my eyeballs.
The spatiality goes wonky as hell when she backs away from the camera.
Yet, the up-close doggy scale (as seen at 23:15 and 27:12) was absolute perfection on earth.
Then, at the 27:17 doggy camera switch, the scale goes to wonky giantess.
But, as mentioned, these problems have been corrected in subsequent releases.
Ella Knox Lady Sylvanus
Much of the Ella Knox Lady Sylvanus release had beautiful scaling (during the opening close-up kissing, posing, panty pull); but, I found the 16:22 missionary scale to be too small. But, Ella's cowgirl pump was horny!
As earlier mentioned, the WhoreCraft gang mixes in some truncation (meaning: pulling the gal low in the shot, cutting off part of her body from the frame, but actually heightening realism in the process). This is a good thing!
In their non-truncated shots, I sometimes thought there was a bit too much of the fella; but, reasonable viewers will have differing feelings about this.
Lily Rader missionary!
And, the Lily Rader missionary 34:45 is framed in a manner I would describe as mind-bendingly-horny.
I'm looking forward to seeing what other fantasy background sets they use in the future.
And, I'd very much like to see the WhoreCraft crew experiment with a small sprinkling of moving camera action (including a close-up, roving-eye, bodyscan of the costumed woman).
Also, I must say, I really, really liked Nina in that particular costume. I'd love to see other gals sport something similar.
Whorecraft VR Conclusion
So, all thing's considered, I'm very much digging the creative and innovative path that Whorecraft is blazing. I'm subbed. I'll be looking for their new releases.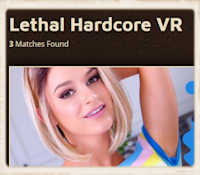 I should note that a subscription to WhorecraftVR includes 3D releases from their recently-launched Lethal Harcore VR studio. Thus far, the Lethal Hardcore side has shot Emma Hix, Elena Koshka and Jade Kush.
I watched the Emma one. And, I found it to be competently-executed, conventional VR porn. I will admit, my primary interest and reason for subscribing is because of the fantasy WhoreCraft output.
That's it… Keep these movies coming, WC.. Your creativity is appreciated!
WhoreCraft VR Review 2021
was last modified:
October 24th, 2021
by