Click to read some reviews of individual VR Cosplay X scenes.
Or, just visit and test some previews using these links:
Originally written January 16, 2017
Trumpets blare: Introducing… VRcosplayX: self-described as "XXX Fantasy Parodies."
Hi friends, so why are trumpets blaring about a new VR porn studio?
I mean…these days it's seeming like new studios are popping-up like when you're in a mushroom field, and… nevermind…
Still not funny…
There's two reasons I'm calling special attention to this project: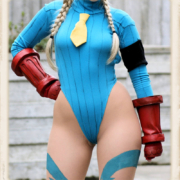 1. This studio is a branch of BaDoinkVR.
2. It's specializing in cosplay: horny costumes, man! CFNM! Superhero gals. Mario Brother stuff. Robot cyborg sluts. Pokemon redheads.
Please, let there be some footage where the costume in question involves a yoga outfit… so, folks… create a list of movies/comics to parody that involve yoga outfits, one piece swimsuits, leotards and the like!!!
In particular: involving yoga pants!
And, VRcosplayX please feel free to shoot generous portions of a costume known as the ONE PIECE BODYSUIT!!!
Now, if you good VRcosplay folks need to model the porno gal after a movie character…then, let it be Jamie Lee Curtis from the movie Perfect.
To illustrate my point, have a look at the YouTube clip below which features Ms. Curtis in her finest cinematic moment. It should be pre-set to begin playing at 1:19 with Ms. Curtis, clad in a one-piece aerobics outfit, enthusiastically thrusting her pussy back-and-forth.
Yowza! Long live that sort of cosplay!!!!
After doing a little poking around, I came up with the perfect cosplay porn gal: that'd be Cammy White from the Street Fighter series! In my opinion, perfect for this stuff!
Now, I don't quite understand the Justin Bailey cosplay explanation, but I like the costume, man! A LOT!
And, I really like the costume hack which reveals the gal's hooha hair!
And, when in doubt, there's always Supergirl.
And, after more clicking around, I see that the comic book Power Girl has provided horny, cosplay inspiration for a lot of gals.
Here's a gal doing a Powercameltoe.
And, the ole cosplay Wonder Woman panty pull never gets old. It's something I'd like to see from VRcosPlayX!
And, this pic of Blondie Fesser below is from a VRcosplayX release: oh, Blondie baby! My Mario Brothers princess horny blonde Goddess!
Oh, man!
There ain't no wrong or right about what you find horny… as long as it's legal!… and, yes: if it's legal there ain't no wrong or right…
…I mean, one guy loves porn with beautiful, big African American women. Great!
And, I ain't trying to be amusing.
The porn reviewer must always remember that one man's horny is another man's linguine weenie.
And, when looking at all the Pornhub categories, for example, one thing becomes clear: there are an awful lot of porn categories, man!
I mean… look at all those categories!
Babysitter, big ass, big dick, big tits, bisexual, bondage, bukkake, double penetration, ebony, feet, fisting, German, Italian, Japanese, massage, MILF, toys, school, blowjob, striptease, smoking, rough sex, gangbang… and, that's to name just a few!
It's pretty insanely vast.
That's to say, there are a lot of categories! And, in time, there will be VR porn studios specializing in each category.
And, now we're seeing a cosplay VR project. And, I've got to say…I find this to be an agreeable development! Yoga pants! …
I'm pretty psyched about this one. So far they have six releases I see:
ASSASSINS BREED: starring Jade Presley
SUPER MARIO CUM – A XXX PARODY: starring Blondie Fesser
GRAND THEFT SWALLOW X: starring Susy Gala
POKEBALLZ: starring Anny Aurora
CREAM OF LEGENDS: starring Anissa Kate + Pussy Kat
OVERCROTCH: starring Zoe Doll + Alexa Tomas
And, in case VRcosplayX needs some cosplay porn suggestions:
Bikini contest
Yoga class
Panty model
Supergirl
Leotard! Aerobics stuff!
Yoga pants…um… uh… um… pink one piece bodysuits!!!
So, although I've yet to preview any VRcosplayX videos: it seems safe to anticipate the BaDoinkVR quality will be present. And, we shall keep you updated on this exciting, pervy fantasy costume stuff.
First Look At VRcosplayX
was last modified:
March 5th, 2021
by