Last updated: December 29, 2020
Originally published: December 31, 2017
Hi friends, Happy New Year's Eve and here's wishing you a horny and heavenly 2018.
Why are you reading VR porn studio analysis on New Year's Eve, man?!
And, why am I writing it?
Shouldn't I be drunk or hanging up plants or burning burritos in the microwave or something?
Definitely, absolutely…still not funny!
So, today let's consider the virtual porn studio, SexBabesVR.
Yesterday, we discussed whether a particular studio's name successfully communicated meaningful…um…meaning.
Well, in today's case…Sex and babes and VR: that paints a clear picture for me, man!
But, does SexBabesVR establish a distinct identity?
Marketing douche types who think they understand marketing often use the terms branding and brand to evaluate whether an organization has a solidified feel to it.
For FindVRporn.com, though, the term IDENTITY is preferred.
Why?
It's just better. Brand and mish and market share and mindshare is the language of the IQ-deficient trying to sound smart-hip.
Sorry, that may not sound nice, but…
In this game, what matters is this simple question:

IS IT HORNY, MAN?
If you build it horny, they will wack.
Still not funny…
Hey, I never said I was Weird Al, man!
How Does SexBabesVR describe themselves?
Okay, so while the SexBabesVR website has a beautiful, professional design; it lacks a clear expression of the SexBabesVR identity. The home page says, "Exclusive VR porn for you." That's not enough for me anymore.
What makes it exclusive? Why is it for me? What I'm looking for is a solo gal, JOI VR site where the gals wear bikinis most of the movie? Is that what you're offering?
After seeing how effectively and quickly YanksVR communicated their identity, value system, aims, etc.: I want more.
Metaversexxx is a great example of a gang who knows who they are…
While often criticized essentially for the same reason (for being overly-formulaic about it), NA has been successful by assaulting conventional relationships (friend's moms, friend's girlfriends, etc.) with a transgressive, sexual aesthetic.
Some love it. Some don't. Some think it's cliche and redundant. Some can't get enough of it.
Wherever one stands, though, it is a distinct identity.
So, I'm left wondering: SexBabesVR, who are you?
Now, on the SexBabes join page, it says this:
New VR scene Added Twice a Week
The Top Models And Fresh New Faces
Full 180 Immersive Virtual Reality
Unlimited VR porn video downloads!
Binaurual sound system that will make the fantasy even more realistic
Compatible with Oculus, HTC Vive, Gear VR, and all SmartPhones
Our head tracking technology creates a realistic 3D world around you
Full Access to Entire Site
Safe and Secure Transaction
What Distinguishes SexBabesVR From Other VR Studios?
Okay, so if I'm being totally honest… that self-description doesn't convince me why I should spend my money with SexBabesVR rather than the older, more-established and frequently praised Virtual Real Porn, BadoinkVR, CzechVR, etc.
I mean…CzechVR has a huge library, incredibly horny VRs, and they can crank out four releases a week between their flagship, casting and fetish sites. Likewise, VRP is the oldest player in the game with a gigantic back library and even lower prices.
Why should I choose SexBabes?
I'm not trying to be a jerk here.
I'm trying to responsibly do this review. I mean… all the VR porn studios are "full 180 immersive…" They all use binaural sound, "top models," etc.
There's nothing there that communicates the distinguishing qualities of SexBabesVR.
And, before proceeding further, let me clearly say that the SexBabesVR previews look good and, in some instances, fantastic. Their product is pretty damn competent-horny.
If the potential consumer wants high-quality, VR porn movies featuring conventionally beautiful, mostly European women in standard sexual scenarios: it's very easy to recommend you grab a month sub…especially right now with the $14.95 Christmas special.
Hey, I'm just being honest with you in every way.
But, the criticism remains that I'm not getting a unique sense of identity from these fellas.
Concerning studio reviews, we're interested in many factors: but, there are some primary concerns
1. Are the movies horny? That's number one, man! That question encompasses every variable (quality, competence, SOSC, etc.).
2. Performers?
3. Size of existing library?
4. Release frequency?
5. Pricing?
6. Anything particularly innovative?
For a number of extraordinarily thorough articles that explain FindVRporn.com's methods, click this.
Who are the SexBabesVR women?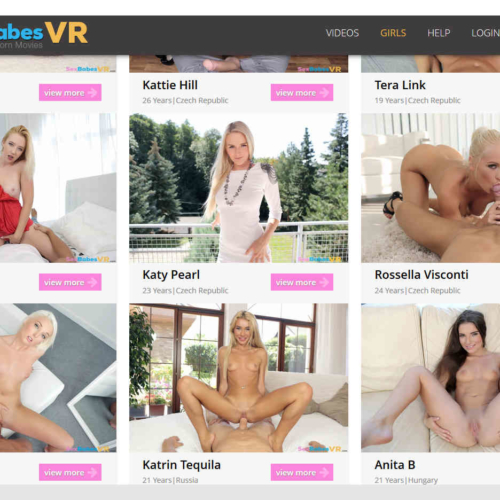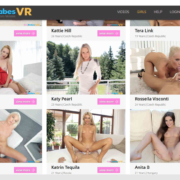 Some of the gals who have sexbabed thus far include Lucy Heart, Katarina Hartlova, Bambi Joli, Kattie Hill, Tera Link, Samantha Rone, Katy Pearl, Katrin Tequila, Licky Lex, Lola, Victoria Pure, Chrissy Fox, Misha Cross, Angel Piaff, Alexis Crystal, Tina Kay, Vinna Reed, Nesty, Katy Rose, Nancy A, Gina Gerson and many others.
So, here's our aha moment. Many of the SexBabes babes hail from the Czech Republic, in particular, and other parts of Europe. I've seen many of these gals in CzechVr releases and a few with VRP.
Okay. So, finally…a bit of the SexBabes identity is emerging, but it didn't jump out at me initially.
The SexBabes gang's closest competitor—it would appear—is CzechVR. I think I'm on solid ground with this opinion. If I'm looking at things in a flawed way, let me know in the comments, please.
I'll be honest with you. Readers here know that I'm a big CzechVR fan, and I've explained why in considerable detail.
If I'm forced to decide where my money goes between the two studios, it's a horny-tall order to sway me from Team Czech.
I'm just telling you the truth…
You've got to bring something creative-new to the table these days to seize my interest and, in particular, financial loyalty with the subscription renewal.
I'll give a decent studio a one-month sub without too much debate; but, when it comes to the monthly renewal (or, more significantly, the jump to a year), that's a different matter. Frequent and consistently good/interesting releases are mandatory.
The existing library?
There's a bunch of scenes. I can't tell how many from the website. It seems that VR porn studios don't make it too easy to determine the amount. I could click through every page to verify, but honestly…I don't feel like it.
It appears like they have a bunch of videos.
Release frequency?
Two a week.
Anything particularly innovative?
Honestly, I didn't review the entire library, so I can't give a completely excellent answer here.
From the previews, I saw a lot of conventional VR porn techniques: such as the super-horny cowgirl with boobie-bouncing Goddess Katarina Hartlova (pictured below).
One standout bit of original coolness was the truncated doggy with Nancy A (pictured below).
And, thumbs-up to some of the camera placement with Lola (below).
Honestly, for the most part the video previews looked great…very competent.
Pricing?
I see right now it's their Christmas special running.
And, the Christmas prices look like this: A year for $60, 3 months for $37 and a month for $14.95.
Their regular prices look like this: A year for $100, 3 months for $60 and a month for $25.
Needless to say, VR porn subscription prices are subject to change.
Does FindVRporn.com Recommend A Subscription to SexBabesVR?
If you're looking for competent, heterosexual VR porn featuring the A list European gals, then yes go ahead and check out the Sex Babes gang.
Good luck SexBabesVR.
Happy New Year!
Update December 2020: SexBabesVR is still going strong and putting out a new movie every four days or so. Some of the recent women include Ariela Donovan, Jenny Doll, Kiara Lord, Nelly Kent, Mina K Medina, Isabella Della, Zuzu Sweet, Charlie Red, Jenny Wild, and Belle Claire.
I also notice that the SexBabesVR pricing has actually come down since I wrote the previous article. Click over and take a look at the latest prices.
SexBabesVR Review
was last modified:
May 24th, 2022
by