Hi friends, today let's check out, YanksVR.
I find their approach interesting.
I think you may too.
Let's explore this a bit…
What's interesting about the YanksVR approach?
Yanks VR self-description
Well, in their own words:
100% female produced. Amateur girls playing: filmed by girls watching.
REAL ORGASMS
CLOSE ENOUGH TO TOUCH.
Experience Her
Pleasure with YanksVR…
Additionally:
Yanks since 2002
Since 2002 Yanks has been a leader in creating sexy, natural, amateur porn.
YanksVR is the next step in that evolution.
YanksVR brings the girls of Yanks into your world and you into theirs in a way that will simply blow your mind.
Always 100% female produced, YanksVR is the evolution of amateur porn.
And, perhaps their Models page best sums up the way of Yanks:
If you're wondering what the woman next door does in her most intimate and private moments, wonder no more.
Yanks gives you a sneak peek into the amateur masturbation and pussy pleasing orgasms of your neighbors and friends.
Whether you like your women hairy or shaved, Milf or teen, skinny or chunky, you'll find the amateur orgasm of your dreams at YanksVR.
So, hey…looking for a hairy, chunky MILF. Team Yanks has got you covered!
Okay, I feel those three quotations above provide a good idea about the Yanks mission.
Yanks VR in my words
If I put it in my own words, I'd say something like: Women VR-filming the authentic, sexual performances of amateur women.
Shout-Out To The Yanks Gals
Team Yanks gets a shout out for their unique and pioneering approach.
I'm unaware of a similar VR studio. That statement needs a footnote, but…I'm not aware of another studio so explicitly projecting the ethos expressed in the previous quotations.
Who's the Yanks VR target audience?
The Yanks gang exists in our porn marketplace, though, and one always wonders: who's the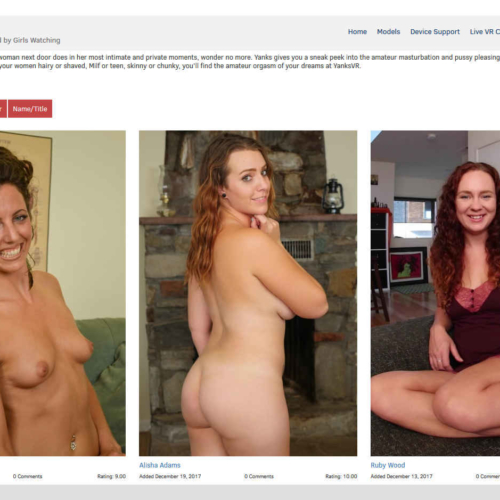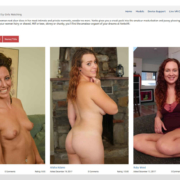 target audience?
Lesbians who want VR? Women and dudes wanting amateur VR porn? Anybody digging solo gal VR? All of the above? So, we're in niche terrain man, but…that's when things get interesting…because, consider the contemporary VR porn studios…
And, I ain't knocking them. We're just trying to give an honest analysis, and…
There's certainly plenty of dudes pointing rigs at big bouncing boobie bopper blondes cowgirling cock…sure. Those same dudes are fond of alliteration, and FindVRporn.com aims to please, man!
Still not funny…
Hey, I never said I was a circa 1983 Eddie Murphy back during the Delirious period when he actually was funny and before he went full sucky, as evidenced in things like Meet Dave, Imagine That and A Thousand Words.
Damn you Eddie Murphy for breaking our hearts, man!
Definitely still not funny…
Okay, so…
The market or the product?
One thing I wonder about…Which comes first: the market demand or the product?
I believe that—in many cases—by virtue of existing a market develops. This isn't, of course, so black-and-white. The two components overlap. But, really…I feel that people are quite often shown what it is they want.
So, this whole women VR filming howling orgasms from regular gals: this is definitely the horny-road less traveled.
And, by my calculations, Team Yanks is barking up the right Fleshlight here.
Now, that didn't fully make sense, but at FindVRporn.com things don't need to make complete sense. We very much believe in intimating truths along with general anti-war sentiments.
I kind of relate to YanksVR in some ways.
Yanks VR doing their thing! PROPS!
They're basically doing what they want in their way: and, let the market find them.
And, for my part: with FindVRporn.com…ya'll know we wack to the beat of a different Fleshlight.
This is what freedom looks like, man! When George W. Bush said, "They hate our freedom"…he was talking about FindVRporn.com and YanksVR, man!
Anyway, man… let's talk about free previews.
The FindVRporn.com policy is that we'll discuss any legal VR porn studio that offers a free preview. (Love discussing new studios, but time permitting, of course.)
No free preview, though, no coverage here.
Team Yanks offers a 60 second look at a solo Eden Rose with her vibe machine.
And, that's all that I ask for, folks: that a studio has one 60 second free preview. That ain't asking for much, folks!
And, I'll be honest with you…if a studio won't provide a download link for that, it makes me suspicious, man! I'm just being straight with you.
What Am I Looking For In Those 60 Seconds?

And, is 60 seconds really enough?
It is…it's all you need to judge the scale, general SOSC, SS zone, color, lighting, sound…but, really, the main thing I want to see in these quick previews is the general sense of spatial correctness. Read this for an in-depth explanation of review method.
So, let's check this amateur yanking out, man! I mean…I like regular gals screaming orgasmically as much as the next perv, man!
Okay, I watched it a couple times.
And, all things considered, things look pretty good. The color, lighting, sound: all fine. To their credit, Yanks had Eden nicely positioned right at the SS zone's back edge.
My only real criticism will be familiar to those who have followed our reviews.
Sense of spatial correctness in VR porn optics
Yep, the scale/SOSC.
Now, if Yanks is reading along, this is a criticism I also made of WankzVR when they started. Truth be told, it's been made of every studio: repeatedly. So, you're in good company.
And, please let me again emphasize that people experience scale differently! I'm not the final word on that or anything else.
So, for me, the scale was a bit small/narrow. That's okay: because if the scale's close, it can be bumped in Deo VR settings without degrading the clarity. And, that's what I did.
To be very nitpicky—-and, that's my job—the Sense of Spatial Correctness was a bit off. To be really specific, Rose's head (slightly further back in 3D space) was a bit large.
Now, I'll tell you. The SOSC metric is very damn difficult to get right. And, we've watched everybody get it wrong.
So, I ain't knocking Yanks. The preview video looked good to my eyes. But, the observations I made reflect my honest experience with it.
Okay. So, does it cross the necessary quality threshold to be recommended?
Yes, but I have some footnotes/conditions.
Okay, so some factors that must be considered: Cost? Size of existing library? Women? Release frequency? How horny are you for solo/lesbian, amateur/natural VR porn movies with an overall female aesthetic guiding the artistic vision?
Cost of Yanks VR
So, it looks like a month is $39.95. A year is $189.95. And, there appear to be 44 videos. I'd say, first, check out the Yanks VR models for yourself.
Then, you should check out their free preview to see what you think.
If you: 1.) like the gals and 2.) the preview looks all right and 3.) you're horny for amateur/natural porn; lesbian action; and the previously discussed Yank aesthetic: I'd say the quality looks good enough to grab a month and enjoy.
I'm curious about their release schedule and how well the Eden Rose video, technically speaking, represents the rest of their work.
All things considered, I find Yanks VR to be an interesting outfit. I'm glad they're out there. And, I'll keep an eye on their development.
Good luck, Yanks VR.