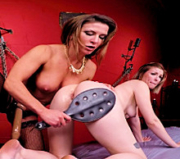 Hi friends, today we're going to be considering Kink VR's latest effort: the very forthrightly-titled, Lesbian Strap-on Fucking. It features two beautiful women: Ariel X and Ella Nova. And, these gals are—-let's say—rather adventurous. Friends, this is one kinky VR…
Yes, indeed: this isn't some standard hetero fare, such as boy meets Milf or some guy screwing his sister's friend. This isn't a titillating, office affair between boss man and his fawning secretary. This is some female-dildo-strapping-gal-hip-pumping-filthy-talking Kink craziness.
You know, I'll be honest with you. This lesbian niche isn't exactly my cup of cocoa. I'm more of a boring-hetero-bikini-and-panties sort of guy. Oh yea, I'm a boring bastard!
My google searches are like, bikini camel toe, woman spandex ass pics, tight yoga pants, panty pictures, stockings and garters …and the like… oh yea… I'm your typical man doofus!
But, with that said: I'm glad to see the Kink boys and girls pushing the VR porn boundaries into unfamiliar terrain. I like unfamiliar terrain. Even if the terrain isn't my favorite. I like the unfamiliarity of it. Or, at least I'm going to pretend to like it!
The kink direction that does it for me would be the standard-man stuff. Meaning: domination. In particular, where the guy rules over the gal. We saw this in the Penny Pax one. And, that was… stimulating.
The thing is…I think the VR production companies would be well-served if they took note of Penny's dialogue and behavior in that
particular movie: that is…if they want to make money. That type of female submissiveness doesn't just tap into a niche: it is the niche. It drills into mainstream male psychology that exists as it does because of the universe's nature. Much more could be said about that. I should say a bit more…
Porn, of course, is fantasy. And, some fantasies can make us uncomfortable because we wouldn't act them out in real-life: yet, that same fantasy gets the man mind purring. Oh, yea…this is uncomfortable stuff. I'll give an example. Take the pornstar punishment genre. Some of that stuff's juicy like a bulging grape dangling from a flimsy vine. And, it gets even juicier when there's an against her will element to it, which is the direction these movies tend to go.
Now, I'm a law-abiding, boring bastard…and, in real life, I'm—needless to say—opposed to this type of illegal behavior. You see what I'm getting at? Fantasy is a powerful thing that can make us uncomfortable with ourselves. At the very least, it should be thought-provoking. Okay…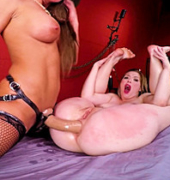 So, we've seen some recent lesbian VR efforts, including yesterday's 3D girl love fest featuring Jessie Volt and Candee Licious. And, recently, we saw two absolute beauties double-teaming a lucky man rocket. But, we sure as shit haven't seen a meeting of the vulvas like Ariel X and Ella getting together.
Okay, moving along… let's take a look at Lesbian Strap-on Fucking. As mentioned, this movie, surprisingly, is available for free. I'm surprised because this demonstrates the Kink folks actually have some marketing smarts: and, that just seems so rare these days!
Okay, for starters, as I often repeat, I'm using an HTC M8, Homido and either VR Player Pro or AAA VR Cinema. While the Penny Pax two-part effort nailed the scaling beautifully…I mean, it had me asking myself, "Why is this being called beta?"…this one didn't for me. Depending on your rig, your mileage will vary. But, it's okay. I still get the idea of this effort.
For Kink VR's sake, if they're reading this, I can probably add a few thoughts that will help you. With Penny's effort, when played on a regular (non VR) media player, the dual videos take up most of the screen. With this one, it's all much smaller. For Android set-ups (mine is not unusual), you had things right the first time. I'd encourage you to revisit that method. Additionally, the Oculus and Gear files appear to be the same file, which I find odd. Anyway…
I like how this movie begins: Gorgeous Ella Nova's in a naked-doggy and the truculent Ariel X spanks her with a paddle. Let me tell you folks. Ella's one of these gals who looks all sorts of fine when she removes her clothes and gets down on all-fours. She's the type of gal you just want to doggy-mount for a few days.
So, you know…as I was saying earlier…if you're a guy who digs girl-on-girl porns, this should rouse your man brain. Stunning Ms. Ariel X goes through some stirring antics: talking, taunting, paddling and dildo-plowing Ms. Nova's honey pot and mud trail. After watching this movie, there's one thing I'm certain of: I'd love to get my man spoon in Ms. Nova's sugar bowl. That's one good-looking piece of woman.
Now, that's a Kinky VR!
was last modified:
April 3rd, 2019
by