December 26, 2015
Oh, friends, the Kink boys are at it again with their latest release: Maitresse Madeline's Femdom Cuckolding. This time, they've enlisted a slinky blonde with a sexy twat named, you guessed it, Maîtresse Madeline Marlowe. Now, all of this instantly raises some questions…
Opening questions about this KinkVR scene
1. What does Maîtresse mean?
2. What do you mean sexy twat?
3. What is femdom?
4. What is cuckolding?
These Kink boys have the VR porn distinction of requiring the most research. And, these Kink boys also raise at least one psychological quandary with this movie. I'll get to that later.
5. What does quandary mean?
6. Why am I reviewing this degenerate smut on Christmas day?
As to the first question…oh, you uneducated bastards. (Hey, if this is an abusive VR porn movie—which it is, you'll see—I'm going to be abusive too!) I'm going to rain some abuse down on your pathetic skulls, man:
…Oh, you stupid VR porn-review-reading sons of bitches…don't you know anything! Get down on your knees for your VR Porn Reviewer Master… like… now! Man! Down readers! Bow down!
1. Okay, Maîtresse is French for mistress. This is one fancy VR porn movie, man! French words! French words are so fancy I even put "French" in italics. And, enough of me being an abusive VR porn reviewer. That just kind of goes against my nature.
2. It's a sexy twat because of Maîtresse Madeline Marlowe's carefully-sculpted, hair configuration. Oh, I like that! Oh, Maîtresse Madeline Marlowe…do I ever wish more gals would follow your example.
A lot of these gals just shave off all their fur. Ladies…that's taking the easy way out! Maîtresse Madeline Marlowe—it is clear—attends to her hair with tender-loving-care. God bless you Maîtresse. But, please…must you keep humiliating me! Keep it up, girl, and I'm going to slap you with my big one.
3. Femdom means when the gal-lady dominates the sexual action… or, at least something kind of like that. I googled it, but you know you can't trust the info you find on the Internet!
4. Cuckolding is when a woman cheats on her man husband. In porn, as seen in this movie, I think the idea is that the gal cheats with a dude…while the hubby-loser (ie. cuckold) watches. Oh, this is some zany terrain, man!
5. Quandary is a state of perplexity or uncertainty over what to do in a difficult situation. This particular VR porn movie is a Goddamn quandary.
6. Because I got no life, man!
What's cuckold porn?
All right, let's get down to it here. You see, the basic idea of the conventional, 2D cuckold genre is that the viewer is observing a man who is observing his woman cheat on him. Yea, that's a little wordy. Let's try again.
Pretend you're in a room watching your wife spread-eagled on the bed getting thumped by some big stranger man.
See, that's a weird scenario, right?
I think it is…but, that's a cuckolding scenario. As you watch your woman getting doinked: you're having the experience of being a cuckold. The ole dictionary says a cuckold is this:
"…the husband of an adulteress, often regarded as an object of derision."
So, I ain't going to lie friends…this cuckolding porn genre is a bit bizarre. But, this is Kink VR, so you shouldn't have been expecting a bikini Goddess who wants your man rod (and who just happens to be your good friend's mother, etc.).
The cuckold VR porn market?
Most fellas I know have little interest in seeing their sweetheart Sally getting plowed by another man's dipstick. You know…we take the attitude that our gal's body is our personal man property. But, it's a big world, friends. And, some folks get off on this stuff. But, then again…some fellas get aroused when a woman defecates on their faces. Oh, the world is going to hell, folks.
Now, let's refine our analysis a bit, here, because we're not talking about real-world scenarios. We're talking about porn fantasy. And, that changes everything…a lot. When we cut through all the nonsense about what porn is and isn't, you get to the simple truth: men watch porn when they wack. It's really that simple.
Okay, so I've seen a cuckold video before that was rather erotic. Basically, a sexy, amber-headed trollop got reamed while hubby watched. And, she dialogued with her husband while her hussy hole was ravaged: "You like watching me get fucked? Oh, his cock is so big!"
So, as far as enhancing the masturbatory experience…in that particular video…the masturbator can fantasize that he's the cuckolder humping the hussy hole while the loser-husband watches. To my conventional man mind, this just makes sense. I hope I'm explaining this clearly. It's not easy. We're in uncharted terrain, folks!
Now, I can address what I earlier referred to as a psychological quandary. You see, VR porn is very POV-biased. That's how it's developing. It didn't have to develop that way. But, that's another discussion. The main idea is that VR porn, presently, is very much a point-of-view medium.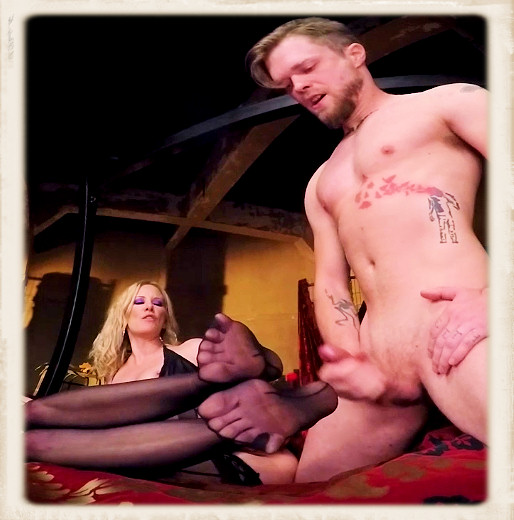 Okay. So, what's peculiar about this KinkVR effort is that the point of view is not that of the thrusting man. No sir. The POV is that of the cuckold!
Now, that's creative! That's some weird stuff, brother. VR, of course, is a virtual reality experience. And, it presents novel opportunities. And, in this case: the opportunity to experience being a cuckold.
And, to intensify matters, as the floozy's getting her vagina violated, she's verbally humiliating and insulting the cuckold. Odd to my particular man mind! I'll return to that in a moment…
VR porn reviewing basics
First, let's go through the standard critiquing points:
1. Woman: Yes, she's fine. I like her skinny blondness. She has a pretty face that works for me. I like the heavy and excessive whore-clown makeup. I like the black stockings.
Madeline Marlowe is the type of woman…you know the type…that when you meet her, there's a thought that instantaneously—whether you want to think it or not—pops into your mind: I want her.
2. Scaling: it's okay. It's not as well-executed as the Penny Pax one, but it's competent enough. Thus far, I consider Penny's VR to be the best VR that Kink has offered. I also really liked Ella Nova: mainly because she's totally beautiful.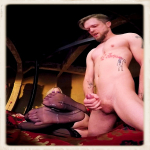 I'd love to see Madeline Marlowe in a VR where she's in a submissive role. I'd also like to see Ms. Nova in the same role. But, if I were running the show, I'd write a script where some lucky man fella is taking turns abusing and pumping Ella, Penny and Madeline. That'd be a winner!
3. Human positioning: Well, I must admit…VR, thus far, does seem to work better when it uses the POV of the fella doing the fucking. In this case, as mentioned, it's the cuckold observer's POV.
So, this VR effort, I believe, will be greatly enjoyed by those who get turned-on by the prospect of being a cuckold and the whole femdom cuckolding dealio. Because, as discussed, you're VR-thrust into the cuckold's POV. Now, that just doesn't work for an alpha like myself. I could see this appealing to some betas out there. It's just not where my psychology is at.
It would be more satisfying if they called it Cuckold's Revenge. And, about midway through, the cuckold yells, "Enough!" And, he then proceeds to beat the other guy unconscious before pumping the hell out of Maitresse Madeline and slapping her face every time she says something stupid.
A Crazy Kinky Cuckold VR
was last modified:
November 12th, 2021
by