December 3, 2015
Download Rita Sinclair's CzechVR Preview
First, the Czech boys announced some welcome news on their blog. It goes something like this:
"From now on you can look forward to one solo and one hardcore VR video every week, so get those headsets ready!"
All right, so, while we're quoting the Czech boys, let's take a look at their synopsis of this movie:
"Rita Sinclair is a beautiful brunette with perfectly shaped breasts and delicious looking pussy that will tease you to the max."
So, this effort falls into the Solo Girl category, and for the life of me, I just don't understand why this hasn't been used more in VR porn. There have been solo VRs, no doubt, but when you consider what an obvious choice both solo and jerk-off-encouragement is for VR porn, it makes one wonder why we haven't see much more of it.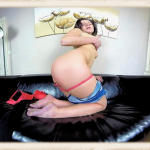 It would appear, though, that upstarts Czech VR have quickly realized this as well. And, their decision to release one solo every week should prove to be a wise business choice.
All right, so Veronika aka Rita Sinclair. Who are you girl? Well, Rita was born in Praha, Czech Republic and she weighs-in at 34B-25-35. With this video…and, at 7 minutes it's a quick one…but, with this video: you will become very well acquainted with Ms. Sinclair's love box. And, a nice love box it is!
You know, I do believe the Czech boys are on the right track here! Very quick solo efforts with the camera held-up close to the girl!
I mean…this is what the man mind wants! It's not complicated, folks. Get a pretty strumpet and hold a 3D camera rig close to her. That's really all that's needed.
…Okay, so you folks know I evaluate these movies based upon 3 primary factors:
1. The woman: appearance, performance, etc.
2. Virtual scaling: are things, more-or-less, in correct proportion?
3. Human/camera positioning: are there close-ups? Is the camera level good? Is the positioning of the woman effective and interesting?
So, let's start with Rita. Sure, she's a good-looking gal. You know, I keep it real with you, and I'm not going to tell you that I think Rita's the most beautiful woman to ever make a cameo on planet earth. But, on the other hand, she's attractive. And, if she spread those Euro legs for me, Junior wouldn't have any trouble standing up to say, "Hello, there Rita's tulip! May I come in for a moment?"
Speaking of Rita's Tulip: that's the magic element of this movie. I had to adjust some settings a bit to make her tulip manifest, but
when it did: Oh, boy! That was some brilliant, pootanannie-in-your-face, close-up fun times! I'm using an HTC M8, Homido and VR Player Pro set to Full Dome, 75 FOV…and, those settings are key with this one!
Because, once I got the numbers properly dialed-in: Presto, Rita's most-desired spot was two inches from my nose!
Well done, Czech VR! This is really what the people have been asking for. And, just keep doing this: which I see is your intention. A quick 7 minute, solo movie is perfect.
The head-on scaling was spot-on. Distortion happens at the top-of-the-frame, but that's standard. This is why it's key to get the camera level correct. Which they did…the camera
lined-up with Rita's honey pot. And, when it's done so the woman lies straight-back, then the head-scaling also remains accurate. This is the formula!
What could be improved here?
Well, just throw in some JOI chatter. Don't forget to also get close-ups of the strumpet's face. That's it.
I really enjoyed this effort. Czech VR, just keep repeating this formula with different women! Don't let me down now, fellas! Keep bringing the solo girl VR porn! And, friends…that's about it.
Diddle Yourself With Rita Sinclair
was last modified:
April 3rd, 2021
by