Hi, friends, another day is here…and, today we'll be discussing BaDoink's new release: Flatgrinder, starring Blair Williams and Raven Bay.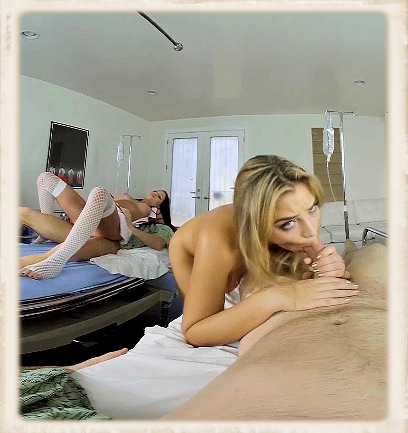 In this case, the 3GB smartphone file didn't want to download. Maybe it's this laptop. Hey, it's an HP, but let's face it…brands don't mean shit these days. Life's become all sizzle and no steak! Moving along…
So, I opted for the grandiose 5.9GB Oculus file. I can use either file type on my Homido with HTC M8.
Does it make much difference which I choose? Not really, because my device is holding things back. But, I imagine if you do have an Oculus that this big file is pure rock-n-roll…like, Motorhead style. It's a VR porn review blog, friends. Not everything has to be absolutely sensible!
This movie has a small plot. Basically, some man fella awakens from a coma and starts fucking Blair. Meanwhile, his patient-roommate's also doing the hospital bump-and-hump with Raven.
So, as is usually the case with these VR porns, I found some things done right and some areas that—in my view—could have been improved.
Let's begin with what was done right with this movie:

1. Blair Williams: The director apparently decided to favor Blair in this movie. I'll discuss that decision more later. But, sure…casting Blair Williams in Flatgrinder was certainly a good move. I mean…a skinny blonde gal with squishy-bouncy-ones, pretty face and cutely-manicured hair patch…what's not to like fellas?
Blair has an interesting background as she was a contestant on Sex Factor. Additionally, my research indicates she likes masturbating… like…A LOT! Like…at any given moment, chances are Blair's plunging something in her pristine pootanannie. And, perhaps what I found most interesting about this young lady is that as her pornography career blossomed, Blair was still teaching the Bible to kids at church.
Now, a lot could be said about that…and, this may not be the place for it. But, I wanted to highlight that it's easy to forget that these professional petunias are attached to women with complex lives.
But, for our purposes, what's most interesting about Blair is that when the cameras are rolling, she fucks with abandon: In a way that demonstrates she needs it hard. It's not about a paycheck. It's about her insatiable gal holes.
2. Raven Bay: Raven is a 25 year-old little thing who—like so many beautiful women—is from Tampa, Florida. She's the type of petite gal you see…and, you just want to kick her legs apart, rip her panties off, stuff the panties in her mouth, lift her in the air and pump until you just can't pump no more!
She's the type of skinny—yet boobie-heavy—pretty-faced, brunette gal that gets a lot of fellas tongue-tied. Not me, mind you. I learned, years ago, when you're talking to a hot piece of twat, what's most important is exuding a convincing nonchalance. The type that suggests it ain't no rarity for fine gal to bounce on your man rod.
And, speaking of bouncing gals…probably the most striking aspect of Flatgrinder is watching Raven cowgirl. Let me tell you something: Raven doesn't cowgirl like other gals. That sounds sort of funny, I know, but it's true.
She bounces with an unusually-crazed enthusiasm. I mean…you just have to see this. But, you watch her bounce for a bit, and there's one inescapable thought: This is a whore who needs cock! This ain't an act! She doinks like an absolute nympho.
3. The camera on Blair's cowgirl: there were moments when this camera perspective was excellent. BaDoink competently sets-up perspective where the cowgirl-hooker's presence feels immediate…very in-your-face: by shutting down the man-torso distance. And, that was achieved here at moments.
Okay, so what could be improved with Flatgrinder?
All right, so BaDoinkVR got themselves two beautiful women. They were off to a good start… However…
1. Raven was always fucking in the background. While it makes sense to give the horny-inspiring and gorgeous Blair plenty of close-ups; it was a considerable mistake not to also get the camera close to Raven. The viewer sees Raven fucking in the periphery. And, it's enjoyable. And, one can't help but conclude, as mentioned earlier, that Raven's giving a fine, twat-bouncing performance.
But, why on earth didn't the camera rig, at some point, switch to Raven's bed? Why didn't they give at least a few minutes of close-up footage on Raven?
2. The scaling was mostly on-point, but there were some instants where Blair was distorted in the frame's top. This is pretty common in VR porn movies.
Conclusion
It's become apparent to me that BaDoinkVR values creating VRs that feature more than two performers. And, that's a good objective: though, a daunting task in the virtual reality medium, which, implicitly, so favors closeness and immediacy.
There's something that's emerging from this newly-developing VR porn medium that I think many are having a hard time accepting. You see, in reality, there's something of an anti-man sentiment that assumes all men are obsessed with are big tits and a bubble butt.
And, sure…a normal man-fellow likes big tits and a bubble butt. But, the feedback on VR porn movies indicates, more than anything, what men want is the illusion of a beautiful woman's face that really feels like it's very close to their own man face. I'm not making this up…
Trust me. I'm pretty informed and current on VR porn and the reaction it's receiving. And, it seems that folks are having a hard time believing that this is what guys want. But, it's true. And, when you've got pretty faces like Blair Williams and Raven Bay: you got to get the camera on those faces…Okay.
All things considered, I liked the Blair action here. I wanted Raven to be closer. And, I will watch it again.
Blair Williams and Raven Bay in a VR Fuckfest
was last modified:
April 3rd, 2021
by