All right, friends, another day is upon us. And, it's time to discuss Czech VR's latest release, featuring a fine-looking gal, who goes by the name Petra.
Czech VR is on a roll these days. They've been releasing very straight-forward, unadorned solo gal VR porn movies. And, they've been doing it well.
You see, Czech VR has been giving us men folk these very unpretentious and thoroughly-satisfying solo VRs.
More satisfying in some cases, I'll add, than other work with a more involved "production value." I don't quite know if I'm using production value correctly…but, you know what I mean!
This Petra effort…just like the solos with Violette Pure, Chrissy, Victoria Horny Puppy, Zena Little, Katy Rose…just like their other virtual solos: this is some excellent, inspiring VR shit, man!
I tell it straight. These Czech VR solos are a lot of horny fun. And, when I review these porns, I have three main things I consider:
1. The woman
2. The virtual scaling
3. How the camera and woman are positioned
Now, with Czech VR it's getting to a point where I'm pretty much always digging the girl. And, in this case, like the others, I really like how the gal's totally natural and good-looking in that girl-next-door sort of skinny, beautiful way.
And, Czech gets the virtual scaling on-point with this one. Just as they've been doing. You Czech boys are making this too easy for me!
And, the camera distance is correct. Early on, we actively witnessed Czech figure out how to get the distance right. And, they do. That's all there is to say about it.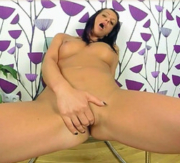 And, they keep it simple. You put a pretty girl in a simple room and allow her to twiddle her diddler. And, you get the camera close. And, that's all it takes folks. That's all it takes to produce brilliant VR porns that I honestly give my highest recommendation.
So, how do I think this Petra VR could be improved?
1. Have Petra read us a haiku. Kidding, kidding…
2. But, have Petra talk to the viewer. You know…have her say some stuff in her own language. That would be horny!
3. There were close-ups on Petra's face, but just like always, I wanted more of that.
4. Linger the camera over Petra's Czech-style camel toe! That would be great.
5. That's about it.
Czech VR Is On A Roll
was last modified:
April 3rd, 2021
by