Hi everybody, today we'll look at Ms. Kendra Lust starring in the Naughty America VR scene, Lust. Here's a nice big picture of this movie's beautiful promo graphic.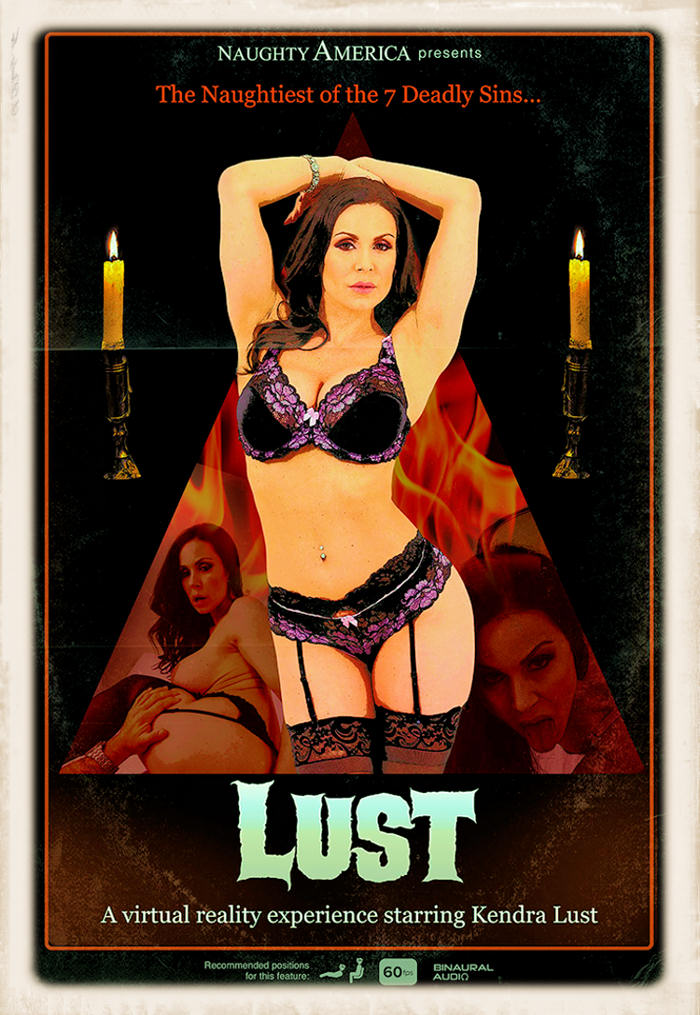 As I've said before…Naughty America often does a great job, artistically, with their promotional materials. I sorta think pornography's graphic designers are kinda the unsung heroes of the industry.
Anyway.
Let's put in a bunch of pictures and then chat further.
VR Porn Reviewing Scientific Method:
I do these reviews based upon three main factors:
1. The woman: let's face it. The woman to VR porn is like the tennis racket in Pete Sampras' hand. Because, if he has a crap racket, watching his tennis game sucks. Okay, that's a bad analogy, but… think about it… the woman's damn important.
2. The scaling: do things look correct and proportional?
I mean… if the gal's head's the size of Pete Sampras' tennis racket and her tits are the size of Tiger Woods' balls… well, things need to be in correct proportion!
3. Positioning: of the women and cameras.
Close-ups are much-desired. It's also great to get some variety of sexual positions.
All right, let's talk about what was done right in this movie and where there's room for improvement:
1. Kendra Lust: okay, must much be said here? This is a sexpot of a Milf of a brunette of a high-grade machine. Kendra was put on earth to look beautiful and get pounded. She's got that curvy, coke bottle, hour glass figure. And, you know you want to fondle her for a few weeks…
2. Scale: You know, I've praised NA's big, real-world scale lately… and, I will again here. It just feels right. This Kendra movie has the best sense of big-real scale I've yet seen from NA. Technically, they're nailing it. Honestly. I ain't just saying that. This is impressive. I'm very much looking forward to watching this movie on my new set-up.
Let me also mention, that even during the blowjob etc., somehow they still kept Kendra's face close. Very well done.
3. Positioning: The cowgirl footage was big-in-your-face… excellent. The doggy footage also felt large, realistic and immediate. Excellent. They even threw in a missionary segment at the end. That's how you VR, man! All bases covered.
4. Kendra's face: You know, this woman has a pretty face. And, she shoved it in the camera. I think my only complaint here is I wanted the camera to hold on her face longer.
5. Chad White: the male stars of VRs often don't get much press, but it should be noted that Chad shows up to work and gets the job done consistently.
Kendra Lust VR
was last modified:
April 4th, 2021
by