Originally published April 25, 2016
Updated February 7, 2018: Alex is such a beauty: had to add the preview download links. Dear CzechVR Gang, more Alex Black, man!
Thanks!
Hi friends, now there ain't no way I'm doing my job as a VR porn reviewer man if I don't bring special attention to Czech VR's two most recent releases.
These days there's an awful lot to cover. Too much really.
But, sometimes there's some VR that you must acknowledge.
And, that's our situation here:

A solo and a hardcore…both featuring Ms. Alex Black (aka Milena).
These are two of my favorite VRs released to date.
Why?
Well, read on, man…
Additionally, you can click here to go download a free Alex Black VR preview.
Let's see how the Czech boys describe these latest offerings (lightly-edited):
Solo: Alex Black was our very first video… Now we brought her back in better resolution and with our moving camera: so, you'll feel like you're really there, watching her masturbate.
Hardcore: Alex visits us one more time to give you the VR experience you deserve! She won't just suck your cock – she'll let you fuck her just the way you like it and she'll even lets you fuck that tight ass of hers!
This girl looks Goddamn good naked. All right, I know you good folks have got pressing, time-consuming things on your To Do Lists, so here's your summary, man!
In releases 051 (Alex solo) and 052 (Alex hardcore) Czech shows the same technical proficienty we've come to expect.
Most importantly: the scale feels good.
Additionally, we see the Czech boys have some innovative nerve with their continued moving camera experimentation. If you like the looks of Alex Black, you need these two movies.
HORNY! I'm now an Alex Black fan. You hear that, Alex?! You're VR fabulous, baby…
All right, let's talk about what was done right in this movie and where there's room for improvement:
1. Alex Black: enough said, man. CzechVR: if your next ten releases featured Alex in various outfits like bikinis and lingerie… that'd be fine with me.
2. Scaling: it's fine. Period. When it's right, there ain't much to say. And, when it's wrong: the movie cannot succeed. To Czech VR's credit, they've been getting the scaling right since the beginning.
3. Camera clarity, color, 3D effect: All of these things are good.
4. Moving cameras: props to the Czech boys for their continued experimentation with moving VR cameras. Now, I'm not a total fan… but, I like it that the boys are innovating!
And, in the solo Alex VR, I think they're getting much closer to perfecting the moving camera technique because they're going slower with it and using it more sparingly.
And, I do think the moving cameras can enhance a VR porn when used in a subtle and moderate way.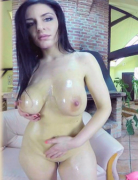 5. Camera positioning: This is where these two VRs truly stand apart from the VR porn crowd. When you take these beautiful European women and use the camera positioning techniques employed here: I can honestly say Czech VR is worth the price of admission, man!
Trust me: just subscribe because this stuff is horny!
On-the-level, they were rubbing their camera lenses all over Alex. Now, with that said: I still would have liked more extended close-up time on Alex's gorgeous face. Oh, Alex: you've got a beautiful face, girl!
If there's one thing that will make me go into dopey-mode, it's a beautiful woman face. A gorgeous gal face turns my man mind to a misfiring muck!
Why is that man! I don't know. But, oh baby!
So, the camera's got close to Alex's gal goodness.
And, the real highlight was how the MISSIONARY POSITION WAS SHOT. KEEP SHOOTING MISSIONARY POSITION JUST LIKE THIS!
I emphasize: this is EXACTLY how to shoot missionary fucking in VR, man! Why? They managed to close the distance on Alex. She felt closer. More realistic. Most missionary VR feels too far away.
What helped is they put Alex on a table and had the fella standing: and, Alex propped herself forward on her gal elbows and leaned in… Film it like this every time!
The stand-up was also BRILLIANT! Seriously, here's the thing that not everyone has figured out… 3D porn is just fundamentally different than 2D! And, getting an up-close VR perspective—as offered here—on Alex's back and the back of her head: this is engaging in VR! It's simulating a sexual experience.
Sure, in 2D this wouldn't be appealing. But, VR's got a different set of rules, and the Czech VR boys are helping to show us what they are… Great VR, man!
6. Alex's boobie boucies: OH, I love Alex's big bouncy beautiful natural ones!
Look, I review the VR porns of all studios. If you want horny VR, just take a subscription to Czech VR… trust me… I don't BS on here…
Alex Black VR Is So Horny! Free Alex Previews
was last modified:
April 2nd, 2021
by