All right, friends, now we'll consider Spanks For The Ride…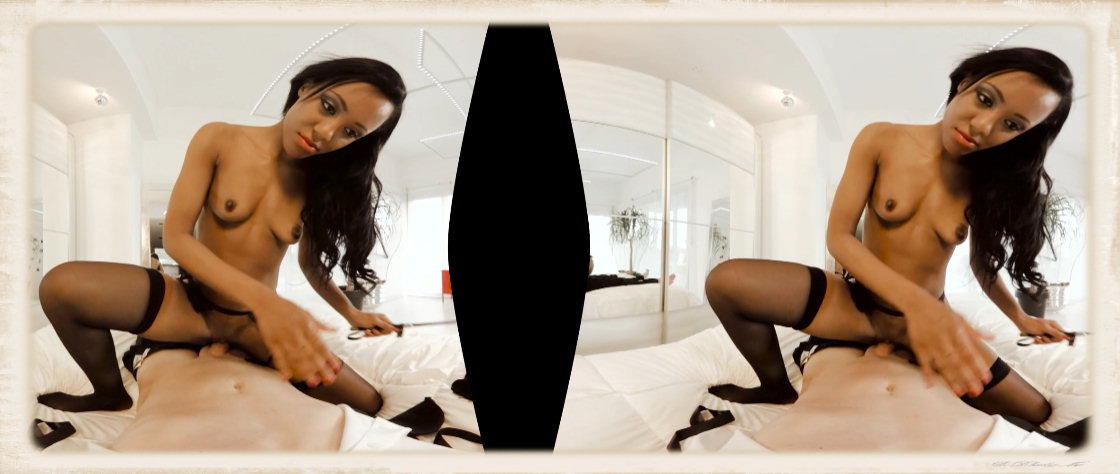 Latina VR
thing…
Specs
Studio: BaDoink VR
Title: Spanks For The Ride
Stars: Noe Milk
Length: 26 minutes
Formats: Oculus 5.7 GB; Gear VR 3.6 GB ; Cardboard/Smartphone etc. 2.9 GB.
Genre: Latina VR porn, hardcore VR porn
Reviewed using: Gear VR + Galaxy S7
Official Movie Synopsis:
Let's see how the BaDoink boys describe their latest effort:
The beautiful black latina Noe Milk walks confidently towards the bed wearing nothing but black lingerie, a riding crop and the will to discipline bad boys; fortunately, you're more than willing to let her take charge. Wear your VR goggles and let Noe tie you to the bed, as she twerks that tight little ass over you and rides you till you're ready to give her all of your load.
All right, so we're dipping our pinky toe into some S+M sort of VR here?
Reviewing Method:
I do these reviews based upon three main factors:
1. The woman: appearance, performance, passion, etc.
2. The scaling: do things look correct and proportional? Generally, the viewer wants a real-life feel.
3. Positioning: of the women and cameras. Close-ups are much-desired. It's also great to get some variety of sexual positions.
All right, let's talk about what was done right in this movie and where there's room for improvement:
All right, friends, this one's pretty easy to discuss. Why?
Well, as we've seen with recent BaDoinks, all the technical aspects are on-point. What does that mean?
Well, the scaling looks realistic. The vertical FOV is tall, so there's no warping distortion. The clarity is great. The 3D looks deep. The color is good. The sound is fine. And, the BaDoink boys—at times—got the camera close to Noe.
So, what I'm trying to say is that this VR is technically solid. At this point, that's what we've come to expect from a BaDoinkVR release.
So, it comes down to how you feel about Noe.
Now, I've read enough online forums etc. to know that skin color is definitely a big factor in porn preference. I mean, people express really strong opinions on this: both ways…
So, there are many guys who have been complaining about a lack of darker-skinned women in VR porn movies. And, I can't tell these fellas they're wrong.
This corresponds with demand (or, at the very least, perceived demand): that's generally how these things work.
So, if you're one of the guys who has been craving some virtual porns with Black women… well, now you got something man! Here's a VR cowgirl romp with the beautiful Noe Milk. I enjoyed Noe sticking that pretty face up-close to the VR rig. Heck, Noe stuck everything close to the rig at points.
It seems BaDoink must be recognizing a growing demand in a mostly-untapped VR porn segment. After all, their last three releases have featured women who have a bit more pigmentation happening… I don't want to sound like an ignorant bastard… just trying to talk honestly here…
If there's one thing indisputable: porn leads to niche. There ain't no way around that. And, it works this way because male sexual desire manifests in such intensely varied ways. That's just the way it is…
This VR also will appeal to fellas looking for a low-intensity S+M sort of VR… And, if you—like me—groove on the lingerie, stockings, etc.: well, this will make your man motor murmur… Basically, if you want a pretty-faced Black gal in stockings grinding in a well-shot VR porn…prepare to be satisfied…
Our dear Noe bounced away with an authentic passion.
Noe Milk Cowgirl Romp
was last modified:
April 5th, 2021
by