Brooke is such a horny-beauty, let's just start out with the free Brooke Wylde trailer video for this movie.
Download Brooke Wylde VR porn preview
Hi friends, today we'll consider Maid To Order: just released by BaDoinkVR. This stars the voluptuous blonde vixen, Ms. Brooke Wylde.
Before starting, let me add: BaDoinkVR's still running the free VR goggles with subscription special.
First, though, we've got a date with Brooke.
So, if I were to share my thought process before watching this Brooke Wylde VR, it'd go like this:
Many factors must be right for VR success.
And, BaDoinkVR generally nails most of them.
If they miss, it's generally a lighting issue and/or insufficient close-ups. So, I'll be watching for those aspects.
Now, others may disagree with my assessment, but it's my honest view.
I consider their Zenda Sexy VR to be the technically best VR of 2016 so far. And, it's interesting how that movie came and went with little fanfare. If you have it, take a second look.
Let's do this thing…
This guy lucked out with his maid!
Specs

---
Studio: BaDoinkVR
Title: Maid To Order
Release Date: July 7, 2016
Stars: Brooke Wylde
Length: 28 minutes
Main sex positions: Clothed teasing, handjob, blowjob, titfuck, cowgirl, reverse cowgirl
Formats: Oculus 3840×1920@60fps 6GB; Gear VR 2880×1440@60fps 3.7GB; Cardboard 1920×960@60fps 2GB.
Genre: Hardcore sex VR porn, maid fantasy
Reviewed using: Gear VR + Galaxy S7

---
Reviewing Method:
---
These
reviews
are based upon
three main factors
:
1
. The
woman
: Most viewers want a VR gal whom they find pretty, passionate, authentic, etc. Generally, the man viewer wants it to at least appear like the gal's into the sex.
2. The scaling: do things look correct and proportional? Generally, the viewer wants a real-life feel.
3. Positioning: of the women and cameras. Close-ups are much-desired. It's also great to get some variety of sexual positions. Eye contact is also considered critically important by most.

---
All right, let's talk about what was done right in this movie and where there's room for improvement:
---
---
1.
Brooke Wylde
: Well, friends… I guess fellas have a porn type they favor. And, if your type is the pretty,
blonde and busty
variety, then Brooke's your gal.
Additionally, Brooke connected well in virtual reality. And, all her gal moaning and dirty talk was… horny! And, she's sure bouncy in the right way!
2. Scaling: This is where BaDoinkVR really excels.
Their scale—at least to my eyes on my rig—is beautiful. No distortion anywhere.
As I've said, it feels right.
And, it's not just the size. The distance (depth) also feels right. I should mention that part more often.
3. General clarity: As usual, tight footage looks great and things get fuzzier as you get further from the camera. Fortunately, the action that matters happens close.
4. 3D, sound, color, light: For me, the color seemed to be a bit saturated. Not a deal breaker.
5. General story line: A lot of fellas like a fantasy element to the porn movie, and the horny maid doinking the messy man client is pretty fertile.
6. Positioning: All right, there was blowjobbing, jacking, boobie rubbing; but, it was a segment of very in your face, immediate Brooke cowgirling that justifies the price of admission here.
L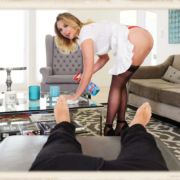 ike I've been saying, it just feels right/real. The size of Brooke and the depth perception. It really seems like she's bouncing her gal garden right on your man shovel.
Nicely done. And, the reverse cowgirl was more immediate than usual: which shows, when shot right, reverse can be a good VR position. It has to feel close.
There was no doggy or missionary.
What would I have added, though? More close-up time on Brooke's pretty face.
But, all things considered, as mentioned, watch this for the cowgirl. Enjoy Brooke's dirty and horny dialogue: along with her passionate moaning and performance.
Good stuff.
And, all that's left is your declaration:
I want Brooke to be my Maid!! NOW!
Brooke Wylde VR Maid Fantasy
was last modified:
March 24th, 2018
by