All right, everybody, today we'll take a look at Naughty America's latest offshoot project: Real Teens VR. (Now defunct).
What's Real Teens VR?
Well, Naughty America's main site typically blends a fantasy backdrop with hardcore sex.
That's their brand. A lot of people like it.
Up until now, Naughty's VRs have followed this same fantasy pattern.
We've seen VR porns featuring things like a naughty schoolgirl, a young dude screwing his stepmom, an
unfaithful bride before her wedding, a horny maid, an insatiable doctor, etc.
You get the idea: there's a script with a story and roles.
Well, with Real Teens VR, here's the formula:
Shoot VR porn hardcore sex with a woman who's 18 or 19 years old. The end.
It's done in a gonzo sorta style.
In other words: no set-up, no plot, etc. Just humans fucking in front of cameras.
Honestly, this formula works for me.
Because, unless an engaging story meets dramatic skills (as seen with Kayla Kayden, Kagney Linn Karter and a few others); I'd just as soon get straight to the doinking.
So, today we'll consider the premiere Real Teens VR effort, starring nineteen year old, Elsa Jean. I'll be candid with you folks: little Elsa's got a nice ass, and she knows how to shove it around in a rather stimulating fashion!
True to the stripped-down, no-frills gonzo approach, as seen in the graphic below, these releases aren't even really titled. Well, here's the title: Elsa Jean | Age: 19 | 41 mins.
Let's do this thing…
Specs
The best part of this movie is the opening extended tease.
Studio: Real Teens VR
Title: Elsa Jean | Age: 19 | 41 mins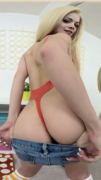 Release Date: June 23, 2016
Stars: Elsa Jean, Chad White
Length: 41 minutes
Main sex positions: Leotard tease, blowjob, cowgirl, reverse cowgirl, full split reverse cowgirl, missionary
Formats: Oculus (HQ and LQ); Gear VR 3.3GB; Smartphone/Cardboard (60fps and 30fps).
Genre: Hardcore sex VR porn
Reviewed using: Gear VR + Galaxy S7
This Elsa Jean VR will appeal to fellas who:
1. … are fans of Elsa Jean
2. … are looking for VR of sexy, young teen blondes
3. … are looking for some leotard porn action
4. … want VR porn minus all the story, set-up, plot etc.
5. … are looking for an exceedingly horny clothed dance tease
Reviewing Method: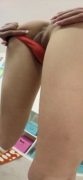 These reviews are based upon three main factors:
1. The woman: Most viewers want a VR gal whom they find pretty, passionate, authentic, etc. Generally, the man viewer wants it to at least appear like the gal's into the sex.
2. The scaling: do things look correct and proportional? Generally, the viewer wants a real-life feel.
3. Positioning: of the women and cameras. Close-ups are much-desired. It's also great to get some variety of sexual positions. Eye contact is also considered critically important by most.
All right, let's talk about what was done right in this movie and where there's room for improvement:
Okay, so if I'm going to be totally honest with you folks, here's my thought process prior to watching this new Elsa effort:
All right, Naughty America's been getting a lot right in their VRs for a while now. Very horny stuff.
My existing criticisms to this point have centered around wanting more close-up footage and critiquing the scale (which can sometimes distort at the upper frame and which is often slightly large for me on Gear VR).
All things considered, I've been a fan of Naughty's virtual porns. And, I've been giving them my honest recommendation. Nobody's getting everything perfect in VR yet.
So, going into this movie, I'm curious about what the scale looks like… and, I'm wondering if Real Teens VR gonzo style will feature more close-up footage.
Okay, let's keep going here with the list…
1. Elsa Jean: Well, friends… with a gal like Elsa Jean, you know… I just don't see what's not to like here.
I mean… a skinny, pretty teen blonde.
I mean… what red-blooded man doesn't appreciate a sexy young blonde gal?
Additionally, I've seen Elsa put in passionate porn performances previously.
You know what Elsa did best in this movie?
Answer: Her 10 minute leotard dance which begins the movie!
Very well done, Elsa! You know, honestly… I watched that teasing dance, and I thought to myself: Now, that's a genuine porn star! Seriously, very horny and stellar stuff.
It appeared to me like Elsa was having a really good time with it too.
2. Scaling: Naughty America's scale gets discussed a lot. And, people experience it different ways depending on what VR viewer they're using and their own personal facial structure (distance between eyes).
Many fellas express that the Naughty scale's big. That's been my experience also. I've repeatedly described it as being slightly big in a good way. And, I mean that…
Personally, I like how it just feels a tad large. Somehow, that feels right to me.
My main criticism of the scale—which also applies to this movie—is that the upper portion of the
frame can get elongated at times.
As I've said, for me that's not a deal breaker issue. But, it must be mentioned.
3. General clarity: Pretty good. I think things could have looked a bit sharper if the lighting were set-up a bit differently. Not sure, though.
4. 3D, sound, color: Pretty good… maybe a little room for improvement with the color.
5. General story line/ Teen theme: Let's face it: although we don't discuss this much in polite company, it's totally natural and normal for men to sexually desire young women who are eighteen and nineteen years old.
I mean… the truth is, it's really as normal as normal gets… but, we're also, it seems, encouraged to feel ashamed about these natural desires.
So, what I'm getting at is I think Naughty struck gold with this teen VR niche. And, I like how they're being really strict that the women must be 18 or 19… none of this stuff
where you put a 30 year old gal in pigtails and try passing her off as a teen.
So, to me… this is almost Naughty America's version of Czech VR in a way. They've stripped everything down to the most basic elements. I like it.
6. Positioning: This movie provided some nice close-ups on Elsa's pretty face and gal parts.
The highlight, though, for me—without a doubt—was Elsa shoving her face close to the camera: along with the opening leotard dance: brilliant stuff!
I mentioned it already, but great work with that opening dance sequence. It seemed so natural and joyful.
There was also masterful very wide cowgirling:
You know… I enjoyed this one.
Elsa Jean Is A Real Teen
was last modified:
April 3rd, 2021
by