Hi friends, today we'll look at Santa's Wankzshop: the latest release from WankzVR. It's pretty damn unusual.
The recent Wankz VR featuring Nikkita Diamond had a stand-up sex section that sizzled in specatucular fashion: concerning, mainly, the camera positioning and Nikkita's expressive performance.
And, I haven't had time to review the actual movie, but it wouldn't be right for this to not be mentioned.
Some marvelous Ms. Diamond missionary with the immediacy that I'm always asking for, also.
Oh, Nikkita baby! You are the real deal, baby!
Why am I saying it's "pretty damn unusual"? Am I being some sort of typical and hyperbolic, marketing-minded asswipe who's trying to sound exciting?
"CALL NOW!"
I'll tell you one element that makes Santa's Wankzshop noteworthy. Chanel Preston's beautiful face (pictured above and below).
… a lot of people read these articles, often including the performers… and, sometimes it's like if you compliment one particular gal in some way, it might seem like you're suggesting the other gals are chopped liver, so, let me be clear…
Zoey, Adria and Gina aren't chopped liver, man! They're drop dead beauties who universally make men crazy-horny…
VRgoodguy, for instance, said, "…Adria's the cutest girl in porn. I can't get over her smile and those eyes.."
Another guy will be nutso for Zoey or Gina. Ain't nobody knocking nobody… I mean, when Ms. Monroe throws her leg up… what's not to like, man!
…And, with that said, I also just have to report things how they seem to me: and, I love Chanel's beautiful female face, man!
Okay, here's the other things that make this movie noteworthy:
Let's start with it being 109 minutes long. I'm pretty sure, concerning duration, this is the longest VR porn movie released to date. It remains to be seen, of course, whether Naughty America's 10 gal fideliio ogry—to be released New Year's Eve—surpasses this, but either way…109 minutes, man!
The Oculus file is 23.2 GB! 23.2 GB, man! I just report the facts. Now, that's the fattest VR porn movie file I've yet seen.
They've got Zoey Monroe, Chanel Preston, Gina Valentina and Adria Rae united together in this holiday pervfest. Now, friends…that's an awful lot of fine and famous porn gal in a single camera frame.
The actual movie has a clever and creative premise, which is executed in an unusually entertaining way.
So, given the run time, file size, gal collection and movie premise: it's accurate to say we have an unusual VR porn before us today.
All right, so let's look at how the Wankz boys describe their movie's premise:
'Twas the night before Christmas in the magical north pole, you're an elf working in quality control.
During your inspection, you smile with glee to find a few of Santa's sex dolls are faulty!
You take them in the back room and unzip your pants…enjoy this Christmas Special from your friends at Wankz!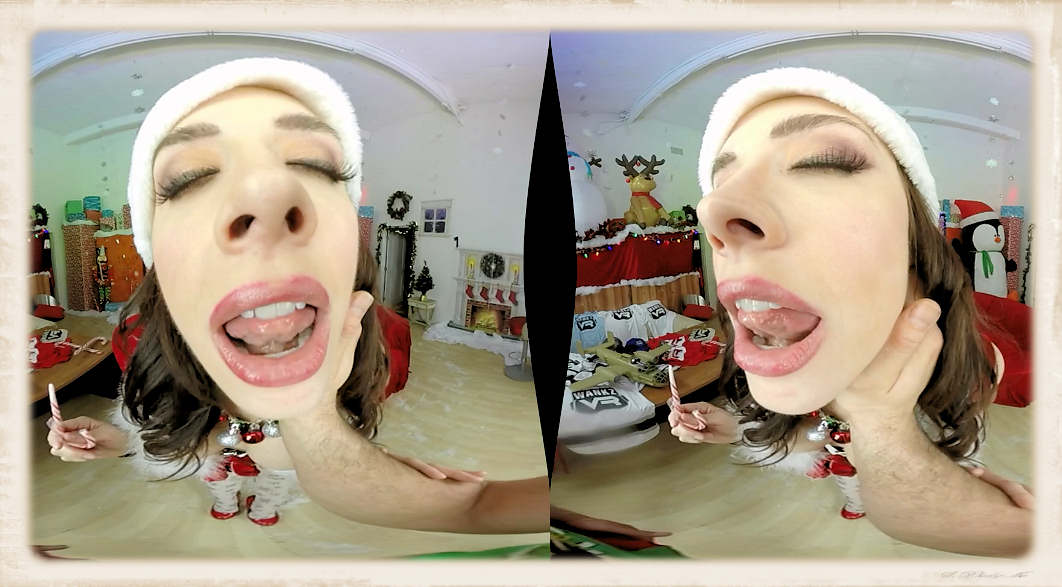 All right, I would have written it like this for the sake of meter/rhythm: "During your inspection, you smile with glee… to find a few of Santa's sex dolls are a little faulty!
But, we ain't gonna get into a digression about Robert Frost vs. Wallace Stevens, man! You fellas always get this fella sidetracked…
All right, so in a VR porn movie this grandiose… in trying to discuss a VR porn movie this ambitious… and, especially since I'm a bit short on time at the moment…
I'm going to do something I never do… I'll go ahead and embed the movie trailer right here in the post. Let it speak for itself.
And, here's something else I noticed. The Wankz boys don't give away a skimpy trailer. This trailer's a full 3 minutes, man!
Final Thoughts About Santa's Wankzshop and WankzVR
Well friends, if one thing became clear in 2016, it's that the Wankz boys are a major player on the VR porn scene. And, they're clearly here to stay.
Concerning story-driven/narrative VR porn movies with a highly-ambitious creative foundation; the Wankz gang has set the bar high. As in, damn high…
So, as I often emphasize, when the technical aspects (scale, clarity, color, sound, lighting, etc) are on-point—as they are in this Wankz release—it simply comes down to what a fella's looking for…
And, as I often say, there really ain't a right or wrong to that.
Some guys search out 90 second BBW clips on Pornhub. Some dudes spend all day downloading bikini pics. Oh, shit… this isn't supposed to be about me!
Seriously, though, some guys want a no-frills facesitting VR with a ten minute runtime. Some want a GFE VR. Some want Mistress T to tell them in 3D that they're a piece of garbage.
Seriously, though, for the fella who wants a truly professional VR porn experience featuring lengthy and creative narrative fantasy along with beautiful, first-rate porn stars positioned well before the VR rig: honestly, this release by Wankz is very damn hard to top.
Look, I'm just telling it straight here.
I observed with Zombie Slayers' release that the Wankz boys were making a statement. And, their statement went something like this: We take tremendous pride in the VR porn we're releasing to the public.
Well done, WankzVR. You boys have had a very good year: to my eyes, particularly how you finished out the final quarter.
How about giving a fella a two hour VR with the first hour featuring a bikini contest with abundant cameltoe close-ups? What do you say, fellas!
Best wishes for 2017 Wankz VR!