Wake and Bake Quick Take Review
---
April 20, 2017
A convincing and endearing GFE portrayal from Ms. Moore in Wake and Bake by Naughty America VR.
The movie offered some good close-up work, horny positioning and measures fine on the wackability index.
I mean, hey…look at the pic below. You're at an advantage when you've got this to work with!
I wouldn't mind seeing the Naughty America rig go roving a bit for some close-up scans when Melissa had on the sexy panty outfit. That I actually would really like to see.
I'm sort of waiting for an NA experimental release that breaks rules: incorporating traditional VR porn POV, switching to very close-up 3rd person perspectives, body scanning, and just totally mixing-up the camera perspectives and editing it all together.
And, I'd like to see the doggy style a bit wider and the reverse cowgirl to have more twisty lean back elements. Now, the bit wider part is definitely subjective and your mileage probably varies on that point.
On some of the extreme facial close-ups there was a little bit of convergence stuff, and that kinda happens in real life, also; but, maybe there's room to fine-tune that a bit(?)
But, all things considered, the Naughty gang adds another well-produced, horny scene to their ever-growing library.
I particularly enjoyed this Melissa Moore VR porn scene, and I'm going to add a bunch of pictures below for you.
Enjoy.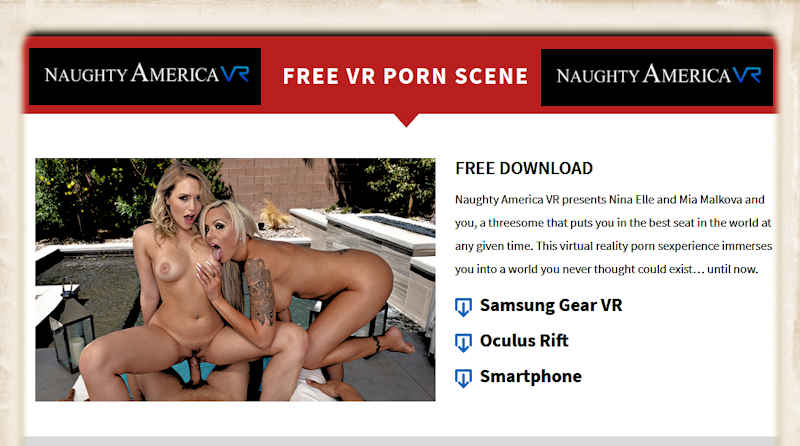 Click to download a Naughty America VR free, full-length VR porn movie featuring Nina Elle and Mia Malkova.
Wake And Bake With Melissa Moore
was last modified:
February 26th, 2021
by