January 3, 2021 Update: Okay, I'm definitely a bit late in posting this, but better late than never, man! The Paradise boys had this to say around Halloween time, and it could definitely still interest some people now…and, if not, hey…next Halloween's only like ten months away:
"Just wanted to let you know that we released an update of VR Paradise with a really special Halloween Horror event that might scare you 🙂
And the entire experience is available for free in the demo 🙂
Read more: the Full Halloween news.
I remind you that you can set in our settings a full SFW mode without any nudity to keep it safe ;)"
Original article follows beneath:
February 19, 2019
Today let's consider an interesting VR porn project created by France's Totem Entertainment: a game called VR Paradise.
Released December 2018 for Steam, this project's available for Oculus, HTC Vive and Windows Mixed Reality.
A Creative Project
Although I'm not a big gaming enthusiast, I know many visitors here enjoy this content. And, I appreciate people doing creative things. This VR Paradise project certainly is creative.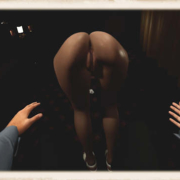 I asked VR Paradise's Marketing Chief, Jonathan, to summarize their game.
He says they're "trying to create the most realistic Strip Club in virtual reality. The game is still in early access on Steam, and much news is coming soon: new content, new girls, new club, multiplayer mode, customization."
Okay, that provides a good starting point: it's a VR game based in a strip club.
Pictured below is one of the VR Paradise strippers freestyling.
Press Release
I looked at the press release. Here is an additional statement summarizing their game:
"Just like in a real stripclub, users enjoy a hot gentlemen's club environment with several simultaneous shows onstage, table dances and explicit nude private dances on demand."
And, it sounds like the Paradise fellas weren't cutting corners.
During game development, they actually captured the routines of professional strippers and "applied them to high poly real time meshes, associated to realistic textures."
The Technology Side
Additionally, on the technology side, I'll just again let VR Paradise explain in their own words:
"VR Paradise is compatible with headsets that allow six degrees of freedom like Oculus or HTC Vive. It means that not only will the headset track your head movements when you look around, but it will also track your location in the club when you physically move left, right, forward, backward, up and down."
VR Paradise On YouTube
Here's a minute-long YouTube video of the VR Paradise stripclub experience.
Further Game Description
And, this is how VR Paradise further describes the game play. (I edited the original text slightly for clarity.)
"VRParadise is the most immersive, arousing stripclub experience today.
Users enter an incredibly realistic stripclub. Several girls dance on stages to the DJ's rhythmic tunes.
Others circulate looking for clients to entice with a table or private dance…or just a shared drink."
In its previous version, customers would acquire VRParadise credits to spend in the club.
However,VR Paradise quickly changed their business model in response to Steam Community feedback.
So, What Is The Charge For VR Paradise?
The download's free. This provides access to the club and all the dances on stage. But, if you want the table dances and/or a private dance, you need to buy the $19.99 DLC: which gives the player unlimited table and private dances.
VR Paradise Picture Gallery
And, here's a VR Paradise picture gallery.
What's Coming In The Next Version of VR Paradise?
* Ability to play with keyboard and mouse (non VR support)
* Girls to have a "like" factor – and only agree to dance if they like you enough
* The girls lips will be nicely synchronized with their voice.
* Girl variety – include all kinds of girls from different backgrounds, sizes, attitude, etc.
* Collection – let me add girls and their outfits to a personalized collection so I can call on them later
* Buy the girls drinks – and getting her favorite adds "like" points
* Drinks – choose a drink and have the barman make it for you
* Smoke cigars – feel like a big shot!
* XP – let me earn rewards and "level up" for playing the game by earning new content; show my XP or level on a leaderboard
* Season Pass – add new and exclusive limited-time content (girls, outfits, shoes, hairstyles, make-up, accessories, music, sounds, clubs) regularly – like Fortnite
* Director – let me pop a menu during a dance to make the girl perform an animation so I can direct the action; have different animations / emotes in the club, table dance and private dance
* Settings – let me turn music on/off, and change the volume of the background, music, girls and voice over sounds. The settings menu will be available through a watch on the player wrist.
* Mirroring – let me turn off screen mirroring on my monitor, so the session is private in VR
* Collision – don't let my hands go through things (menu, girls breasts, etc.)
* Interaction – let the girl respond when I touch her, so her body and her voice makes it real; maybe some girls don't let you touch and get mad and leave the dance – and some other girls are a bit naughtier?
* Vibration – add subtle controller vibration when I touch the girl to add realism
* Achievements – add more achievements for playing the game
* Zoom – let me zoom in on the action on stage
* Scaling – let me scale the view in Settings
* Customize – let me customize the club colors, logos, images on the walls, lighting, etc.
* Feature shows – have some "feature shows" with bathtub, cream, or special outfits
* You can remove your avatar and show only the hands.
Jonathan's Predictions For Adult VR Games
"I think Steam was wise to accept adult content. It will push all developers to create better adult games. More games are coming soon and the market is growing. We'll keep an eye on the sales of Oculus, HTC Vive and the new generation of VR headsets like the Oculus Quest."
Concluding…
All right. That should provide a comprehensive idea about Totem Entertainment's new strip club game, VR Paradise.
Additionally, based upon the coming soon list above, it's evident that this project has a group of very committed folks at the helm.
I'm curious to see how this further evolves.
Good luck guys!
Visit the VR Paradise Strip Club
Introducing VR Paradise
was last modified:
March 1st, 2021
by