If any studio or producer or especially little-indie operation or producer wants to be included in a digest, use the contact form. You will be treated very fairly here.
And, you really have to say it…given this VR porn review milieu and especially so-called social media realm (COUGH COUGH cRooKed subREDDIT): money cannot buy you favorable coverage here. NOR CAN IT BUY YOU GODDAMN COMMENT SPAM!
The submission should be a recent development that connects to the VR porn industry in some way. Findvrporn is extremely friendly to small operations producing virtual porn scenes.
Many thanks to the repeat visitors…the fuckers who type findvrporn.com into their browser…that is appreciated! Huge thanks to the fuckers who retweet!
Today…there's a ton of new releases since yesterday.
I'll try something a little different and focus primarily on what I thought was particularly good VR porn.
Findvrporn, for the most part, is just one independent reviewer, and it's often not possible for me to cover every Goddamn bit of 3D that's been released this cycle. I TRY!
In this article, we shall aim to answer many questions that have baffled thinkers over the past several centuries such as: Why don't we see more choking cowgirl in VR? Why don't VR scenes break POV more? I mean, were you really fooled into thinking Chad White's 6 pack torso was yours? And, will the Toxic Toilet ever be de-toxified?
Anyway…
Recent releases that have already been covered will be skipped. Go back in the archive for those. The archives are a lot of fun. You can lose yourself back there. It's a better distraction/reality escape than over-eating, excessive gambling, or crystal meth amphetamine. Let's go!
VR Porn Updates
Well, unsurprisingly, a WankzVR release, Charitable Donations, starring Alina Lopez and Charity Crawford tops the list for the same general reasons that WankzVR scenes are typically praised here. I previously reviewed this scene. I just remembered that this scene is available as a way to test out WankzVR's quality. That is such a damn good practice. A bunch of studios do make a full-length available for testing purposes, but really: they all should, imo.
Additionally, I was pleasantly surprised by Lingerie in Shopping Bags starring Serena Santos for VR Hush.
In this Serena scene pictured above: they certainly did capture an intensity during the missionary segment that many studios do not: as seen in the picture below. This mish was Goddamn well-executed! Nice work Hush and Serena. I can't believe I just said mish. I usually avoid that little term.
And, let me tell you about another release that I love. It's the type of release that shows—at least for me—-that fancy sets, famous stars, and story narratives aren't necessary to release a very worthwhile and wack-worthy release.
Don't get me wrong.
I ain't against famous stars, nice sets and fun stories. Those things are great. VR Bangers, WankzVR, Naughty, VRP, VR CosplayX and others often put together some really horny stuff that incorporates those elements. And, I'm all fucking for it!
Simultaneously, I do maintain that a little studio can compete in this realm: that is, as far as creating some 3D that's horny and wack-inspiring…yes, little outfits can compete too if they do things right. Which brings us to Sarah Kay – Wants to Cum Now released by the VReXtasy studio. So, first things first: I absolutely despise the name with the weird capitalization and so forth…just everything…I hate the name…
BUT, WHAT'S IN A NAME??? The actual Sarah Kay 3D is fucking HORNY!
Great fantastic work Sarah and VReXtasy! Sarah's got on a simple outfit (stretch pants, tank top, red Chuck Taylors, orange thong up her ass crack) and she's on a cheap couch in a simple looking apartment and she's got a dildo…and, THIS IS HORNY FUCKING GREAT STUFF!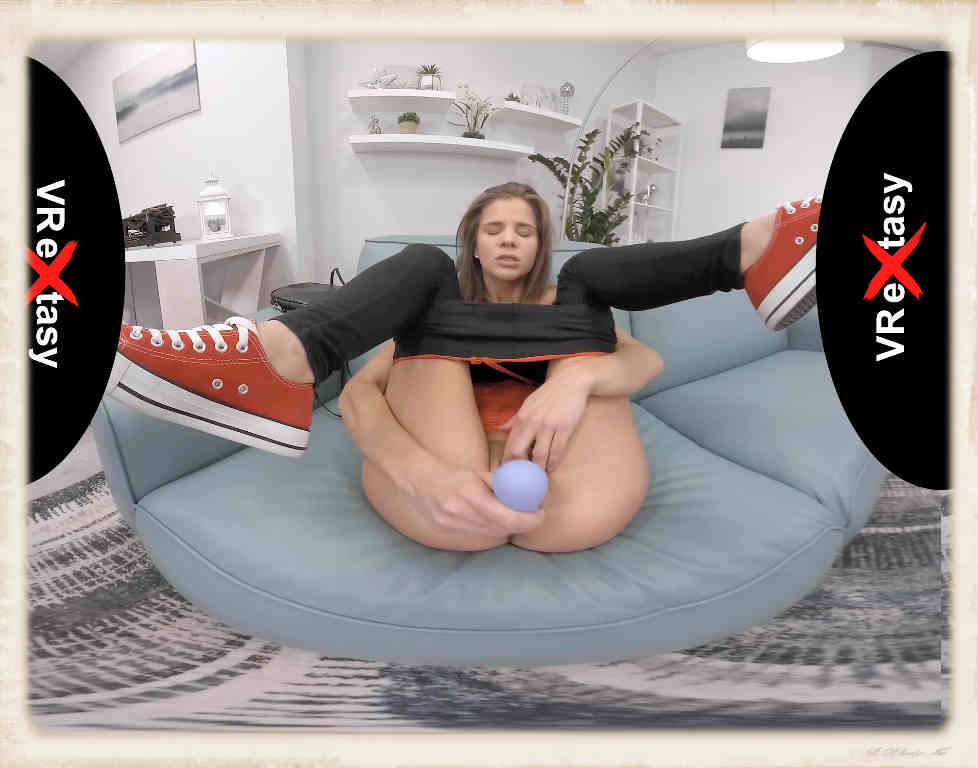 Now I need to go back and take a second look at other releases from this studio.
POVR Studios Updates
The latest POVR release that I strongly encourage you to check out is still the Happy Mother's Lay scene featuring blonde MILF beauty Kayla Paige for the MILF VR studio.
VR Bangers Updates
I told you it was coming soon, and this horny scene is now released: The Stepmother and the Whore featuring Crystal Rush.
Check out the embedded video preview for Crystal's new scene:
You got a Bangers membership and want to check out a HORNY fucking scene that you may have missed. Take a look at the Christiana Cinn preview below for the Valentine's Day outing. This is great stuff: particularly the missionary hoverface.
Naughty America VR Updates
OMG! These Naughty foursomes are enough to make a fella's head explode. I went to check their latest and what did I see? Wedding Orgy 9 starring Katie Monroe, Rachael Cavalli, Reagan Foxx, and Sam Shock!!!!
I said, GODDAMN!
That's one hell of a line-up there! This almost too much for a fella to handle…
You know, this Wedding Orgy 9 stuff is so damn horny, I'm going to cut a little 30 second clip and paste it below to put a little taste on your tongue of what the action is like in this 71 minute scene. Yea, 71 minutes…one thing I really appreciated is the opening 10 minutes gives you a nice dose of erotic clothed-teasing type content as the sexpot trio dress and prepare in wedding type attire.
Then, the actual sex scene allows each Goddess gal to go through multiple positions. Great stuff.
The only additional thing I would have wanted is for the missionary perspective to cut for a segment to truncation, but ultimately there's plenty here to put your Fleshlight into overdrive.
Virtual Taboo Updates
Good Girls Go Bad starring Ariana Van X and Anastasia Brokelyn for Virtual Taboo –> VT's always got me going cuckoo for one main reason: they have a tendency to put Goddamn gorgeous girls in LEOTARDS and get a high-quality VR camera pretty close…although, I really want some very lengthy moving-camera body scans…nonetheless, Ariana and Anastasia in pink leotards have got this fella going NUTSO…
Alina Lopez, Charity, Serena Santos, More
was last modified:
July 2nd, 2021
by