September 12, 2015
Porn will never be the same
This is the video that made my jaw drop as I realized the world of pornography would never be the same.
Porn pioneers Naughty America released this mind-bending video experience on July 02 of this year.
It's called—who cares, I know—Birthday Surprise: Experience Your First Threesome. And, it stars Nikki and Jaclyn and Marco Ducati.
One major difference between 3D and 2D
There's something that I can already tell you that significantly distinguishes this 3D style porn from the mainstream 2D videos.
It's that the woman's face is much more important. In virtual reality, the experience of looking at the female performers' face is so much different, more intense, more life-like.
I think this is a very interesting development in pornography. 2D porn, in my opinion, is less personal than the VR porn medium. It's really strange how this works.
But, as some people are observing, there's no doubt that there's a greater sense of human "intimacy" and connection with these type of virtual reality porn scenes. They have what's called an "immersion" to them where you feel a sense of "presence."
I personally experienced that in this outing. This stuff is a trip.
Two beautiful faces
Fortunately for us, this first video features two beautiful female faces: Nikki and Jaclyn. Now, I've long been appreciating Nikki's mind-bending porn work. Everybody already knows Benz is fucking gorgeous. But, for me Jaclyn was somebody new. Well,
she is also stellar. On Twitter the other day, she posted the picture to the right, and…hot damn! She looks like a world-class fashion model herself.
So, I tell you… Naughty America…they ain't stupid. Putting together two rare beauties like Nikki and Jaclyn was a brilliant first move.
So, as all this virtual reality porn stuff is still pretty new, let me first address the basics.
Virtual reality videos are made using a special method. You put on your VR headset, play the video and you're basically looking at a very realistic, three- dimensional video portrayal. For more info, see How To Use VR Porn.
What's immersive mean?
The term used to describe this is immersive. It's my impression that the word immersive is going to get much more popular in the next few years.
What does it mean? Well, in other words, if you really feel like you're in that room and Nikki's really shoving her Benz in your face: it's immersive!
All right, so, as I mentioned, this is the very first VR porn movie I've ever seen. And, I'm telling you honestly, I've never paid for a subscription to a porn site before.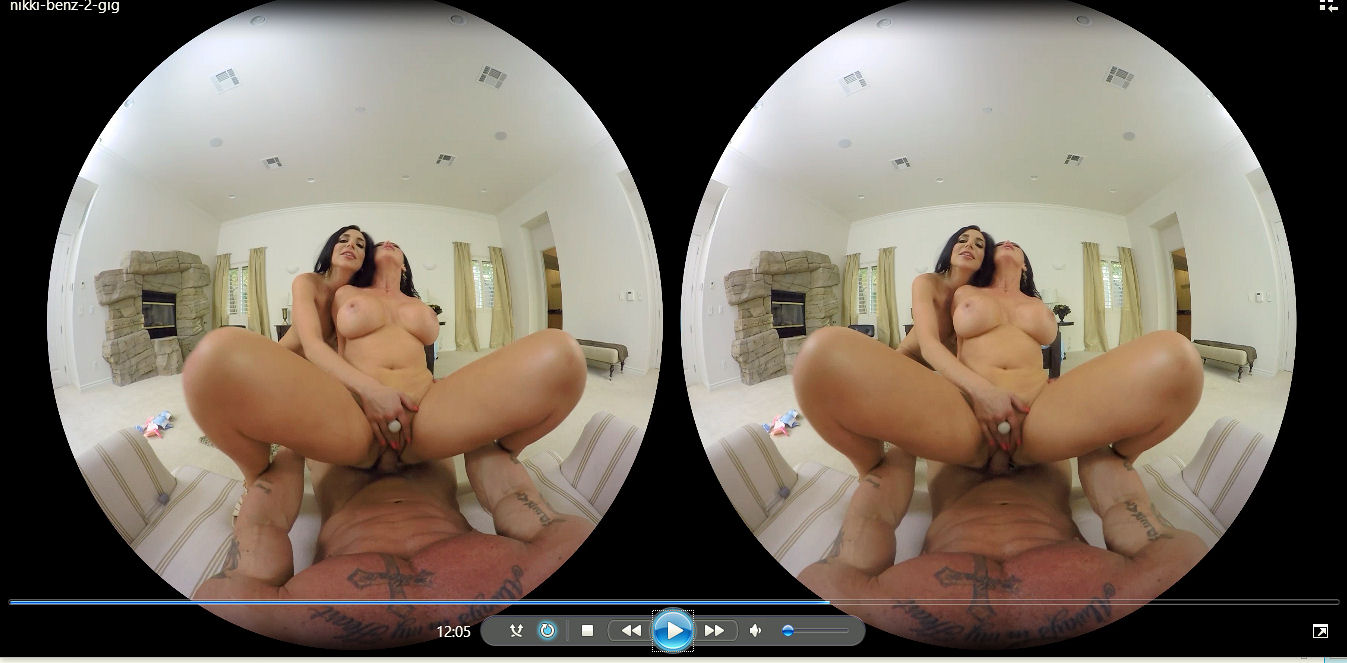 I've been the typical schmuck who rolled the low-quality freebie stuff you find on Tube 8 and Porn Hub and the like.
Let's be honest: this is just about every adult guy out there.
All right. So, the mind-bogglingness of VR porn is hard to describe. Let's take a look at some screen captures from the Nikki Jaclyn VR outing. But, remember…flat, 2D pics don't really come close to experiencing the 3D!
But, listen…after I saw this I signed-up for Naughty America and gave some consideration to doing some type of review website.
I'm telling you honestly. Because, I know it's going to take some time for this stuff to catch on.
After all, it involves a new technology investment (basically, getting a VR headset).
But, I also know that it won't be very long before this is the main way people watch porn.
All right, we've all been… um… appreciating Nikki Benz videos for a long time. Nikki's beautiful. Plain and simple. A classic, big-titted beauteous blond. And, now we have Nikki Benz VR porn.
I have a feeling some of us were less familiar with Jaclyn Taylor. Well, now you know about the dark-haired Goddess. Both of these ladies together in virtual reality. Grab your favorite toys, fellas! The future is creeping into the present. I mean…life is good!
Get More Nikki Benz Porn
Chances are after this you want more Nikki Benz! Check out this collection of Nikki Benz porn. And, take a look at the Porn-Star archive while you're over there.