More Mia Malkova Porn
So, after getting acquainted with VR Mia Malkova, you're feeling like you just want…more Mia naked. Very understandable. One way to address this is to visit Mia at Porn-Star. One of my favorite things over there—besides the yellow bodysuit–is this sequence that highlights Mia's incredible flexibility! Impressive!
The 4th Naughty America VR release: this one's with Mia Malkova
On July 31, 2015, I was happy to see Naughty America (review) released their fourth Virtual Reality effort starring the sexy young thing Mia Malkova. I can already tell you this much: I LOVE Mia Malkova VR porn!
In this case, she's your daughter's hot friend. And, she doesn't give a damn about your absent wife. Oh, a VR Mia Malkova in a bikini! I feel my heartbeat accelerating! Let's talk about this Mia Malkova I Have A Wife VR. Oh, that's horny!
I don't know about ya'll, but with me, the VR porn movies sometimes are much more erotic in ways beyond the typical manner. Let me explain what I mean. One advantage that VR has over 2D porn is that some things that would be unexciting in a 2D video are incredibly erotic and thrilling in 3D.
For example, in some previous cases, things like a simple close-up of Julia Ann's MILFy face can be so erotically-charged! Love ya, Ms. Ann. Or, another fine example: the 3D close-ups of Nicole's face.
Thoughts about Mia Malkova's bikini ass
And, in this case, you know what's incredibly hot? Answer: the close-up camera work on Mia's ass in a zebra-striped bikini! People have been requesting Big Ass VR porn! Mia's ass is big in a good way…let's call it Hot Ass VR!
Additionally, the close-up angles on her face and blonde hair. As mentioned, these shots wouldn't be very exciting as two-dimensional porn, but the 3D realm is just different!
I'd really love a HIGH-QUALITY VR filming of a bikini contest or even an elite model show… imagine those gals walking down the runway and feeling like you were right there… Anyway, let's not get sidetracked here…but…
Mia Malkova VR I Have a Wife VR Porn picture gallery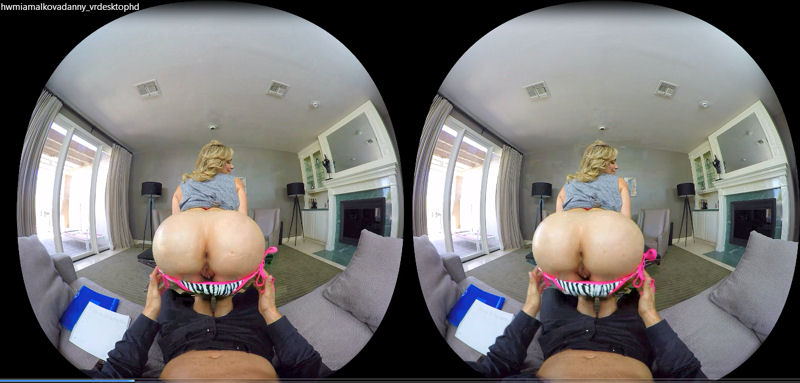 You want less sexual footage in the scene?
It's my hope that the content producers start leveraging this more and spending more time actually showing non-sex type footage.
Sounds like a strange thing for someone to say about pornography, right?
I want more video without sex. But, it's engaging and interesting seeing things like a three-dimensional Julia Ann walking around in her tight yoga pants.
Daughter's friend always seems soooo horny!
Okay, returning to the Mia Malkova virtual reality video. We have Mr. Danny Mountain as the older stunt cock. I know somebody was posting about how they want more Danny Mountain VR porn. I don't feel really strongly about that part one way or the other. Anyway…
It turns out Mia's his daughter's friend. And, to quote the official synopsis, "She notices that you are busy working and can use some stress relief. Being the good girl she is she offers to fuck you, but don't worry she won't tell your wife."
So, the plot line follows the standard daughter's friend template. And, we're already aware that we don't have weird goggles strapped to our heads for a scintillating dramatic narrative.
The video footage is banging with a high level of immersion. You're on the couch as the blond she-devil sucks and cowgirls you. Another 3D aspect that consistently stands out is the way the woman's hair bounces in VR.
One thing that quickly became apparent was the 3D porn was experienced fundamentally differently than the two-dimensional variety.
Faces (and other things) have a particular "VR power"
For instance, the star's face has a much more intense beauty and erotic-charge in a 3D production.
It's just hard to describe. Many people are saying that after VR porn, the old 2D stuff just doesn't cut it anymore. I may not go that far, but it is truly a different experience.
NA's VR camera work is improving, Mia is sexy. I give this video 8 of 10 stars. It would have been 9 stars if Mia's hair was straightened. What can I say? I like my blond hair straight.