All right, friends, another day…and, a new BaDoinkVR was just released this morning. This time it's called Rub-A-Dub Love, featuring two more Hungarian knockouts, Felicia Kiss and Athina (last name?). Okay, so, as with every VR release I've seen; some things are done right…and, in other areas there's room for improvement.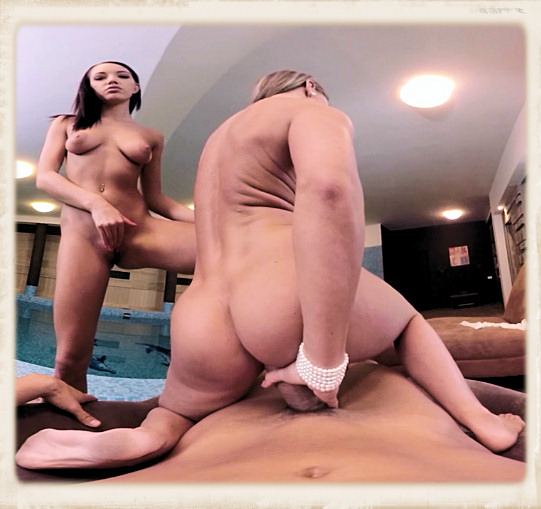 With this new movie, it's easy to talk about what's right. That would be Ms. Felicia Kiss and Athina! Oh, hell yea! BaDoink, as far as I'm concerned, almost always gets the casting right.
I most definitely dig these European gals with the all-natural bodies and more conservative make-up usage. Honestly, I don't really like make-up much. It's becoming increasingly evident that the BaDoink boys are stroking to their own Fleshlight. There undoubtedly is a BaDoink vibe.
And, I like it! Sure, in many cases, their gals don't enjoy the fame level of certain American porn stars. But, don't be fooled by that…
Let's just say that porn fame is often more influenced by zipcode than beauty and eroticism. That's just the way it is… Not many will say it, though.
And, as for Athina…I can't even find anything about her…she is an absolute Goddess.
Athina reminds me of this girl I used to know. Oh, man…every dude within two hundred miles wanted to make a deposit in her Easter basket. And, that includes the gay guys, also. But, we better not get into too much storytelling here. You folks know I've got other things to do, right? All right, moving along…
Let me tell you friends, both these gals share the same body type. You know the type I'm talking about…that lean, slender look with the tight heinie you could bounce a silver dollar off…not to mention those deeply-penetrating eyes…
I guess their eyes aren't necessarily any more captivating than anyone else's…I mean, when you think about it… are Felicia's eyes really much different than those of Hefty Harriette the cashier at my local KMart?
But, somehow… when you attach those eyes to a gorgeous, European gal face that's connected to a banging, chiseled body…well, somehow those eyes suddenly become all sorts of beguiling! Oh, it's true! I don't understand these things, but I know it's true!
60 fps, 3D, HD, 180, binaural sound
, etc. The running length is—typical of BaDoinkVR—a quick
17 minutes
.
This is fine with me. Some VR movies are considerably longer, but I just don't think that's necessary. If it were up to me…if I were running the show…and, you know I ought to be! … JK… I'd make a VR movie which mainly cycled through a series of close-up footage with the following vantage points:
Close-up on the woman's face.
Close-ups of the woman's different body parts (both clothed and unclothed). Show her in panties. Have her do a five-minute, panty dance. Why not! There aren't any rules! People are thinking there's rules! There aren't. Throw away the formula.
Missionary position: this isn't used nearly enough.
Doggy POV from guy's perspective: this isn't used nearly enough. Use it.
All right, throw in a little cowgirl, but look at the perspective/scaling that VRP has been achieving for a while now. To be fair, BaDoink has also gotten good at this.
And, that's it. Simple. Easy peasy.
So, with Rub A Dub Love… Well, first things first: it's not a very good title. It suggests a bathtub scene. The only connection to water is they're next to a swimming pool: I mean… it might as well be a skateboard ramp, because it doesn't get used in any way.
But, it's a porn movie…nobody cares about the title, right? Well, you're probably right. Ah, man …I'm having a conversation with myself again!
The movie begins as follows: two fine-ass-looking young women come marching out wearing shorts and tank tops. They seat themselves on a couch across from the VR couch guy. Then, we quick get to the sex, which includes girl-on-girl kissing, oil rubbing, fingering, suck jobs, clam kisses and, of course, each gal takes her turn riding like a cranked-up cowgirl.
Now, the perspective and scaling, for me, was superb. I'm testing these on a Homido headset with an HTC M8 running AAA VR Cinema. It's been my observation, lately, that the BaDoink boys have quickly refined some technical aspects and the scale is feeling right.
And, a lot of things were right with this movie: the women, the high frame rate, the scaling and other erotic elements. I've said elsewhere that I think there are three major elements to consider while reviewing a VR porn movie:
The performers and their performance.
The virtual scaling.
Positioning: meaning the camera position/range and the sexual positions used.
So, for instance, two weeks ago, the VR with Ms. Eva Darling, nailed all three. Last week's BaDoink, with Alexa Tomas and Jimena Lago: everything was great except the scaling was bit off for me.
And, this weeks: it's awesome except the positioning was limited: both sexual positions and camera position.
There was no missionary or doggy. And, the camera didn't spend enough time zoomed-in. That's a shame, because both Felicia Kiss and Athina are gorgeous. So, am I saying I didn't enjoy this? No. I had a good time watching it. It's just the further we go in this VR porn game…it's inevitable that expectations will rise. And, particularly when the film company has previously gotten everything right…we come to expect that.
Now, let me add a little warning here. I ain't saying that my opinion is definitive.
People, of course, disagree on these things. This can't be avoided, of course, because VR porn, like every other cultural element, is intensely subjective. But, the bottom line is Felicia and Athina are sexy. And, it's time to declare:

Rub A Dub VR – BaDoink VR
was last modified:
April 5th, 2021
by