Hi friends, A recent poll was taken about what folks thought were the best VR porn movies of 2015.
Now, you're wondering what the poll revealed? Me too… So, welcome to the 1st Annual 2015 VR Porn Movie Awards presented by FindVRporn. A gala literary experience is about to unfold.
Just in the past few days I've been writing this, The Rehearsal with Harmony Reigns has suddenly picked-up votes, and I'll now declare it our second place winner. Congratulations Harmony!
Also, Happy Birthday with Marta La Croft and Irina Vega got repeated mentions and votes. As did, unsurprisingly, Lynna Nillson, big-boobed-bombshell, Bridgette B., pretty-faced, virtual virgin Nina North…and, one of my favorites: Hookers starring Luna Star and Nina Elle! Big-ass-superstar, Rachel Star, to little surprise, also received votes: talk about how a pretty face and nice ass can take you pretty far in life.
And, of course, in the poll I mention my personal picks, which are 1st Place to Katy
Rose with her carrot and 2nd Place to BaDoink's threesome with beautiful babes Jimena Lago and Alexa Thomas. Jimena had the best VR doggy style of the year…and, Jimena baby: I want to take you to a romantic, candlelit dinner and, afterwards, can I…you
know…um…doggy? That would be a dream! And, one of the absolute prettiest VR faces is…wait for it…Christiana Cinn. When Christy initially read my review of Bangin Breakfast, she, very modestly, gave credit to the make-up team. Baby, I give credit to your mama's DNA…
I didn't put Christiana's picture in the header, so she can have some extra pics here. Hey, the gal's already on the cover of Penthouse! For starters, take a look at this Christiana pic. I'll tell you fellas, with an ass and face like that…what more does a gal need?
Ms. Cinn is the type of woman who's just made to be doggied by her boyfriend eight or nine times a day. Also, that's the hairstyle—straight and sort of reddish looking—that she should always keep. Always! That's an order, damn it! Here are a couple more pics of that pretty face and cute petunia:
And, there's no way I could write about the best VR porn movies of 2015 without mentioning Amber Nevada!!! And, Carly "Beautiful Boobies" Summers!!!
Amber and Carly both perform for Virtual Real Porn. Amber's got the sort of skinny-gal body that never fails to make a man fool out of me. No matter how hard I try: a slender, beauty gal
makes this man mind go to mush.
Carly…well, the thing about Carly is…wait for it…those beautiful boobie bouncers!
And, while discussing exceptional aspects of 2015 VR porn, we must give a mention to Penny Pax, Ella Nova + Ariel X, Maîtresse Madeline Marlowe and KinkVR. The Kink gang got a later VR start than others, but they also demonstrated a willingness to…let's say…push the boundaries further than anyone else. And, that type of creativity is appreciated and needed! Badly!
Penny, in particular, in Eager To Serve successfully tapped into what I consider to be just such an obvious and juicy portion of the male, sexual
psychology. Meaning: the desire to dominate a beautiful woman. It surprises me that the virtual reality space hasn't pursued this in the explicitly horny way seen in Eager To Serve. This is part of why I'm giving Kink a special mention here…
But, let's get to it here…
You want to know the name and movie that was mentioned (and upvoted) more than anyone else? Here are some direct quotations:
"Squeaky Mattress (Misha) has a lot of close up eye contact…"
"First VRP – Squeaky Mattress. Misha is so hot!!"
"The cowgirl in Squeaky Mattress was pretty good too…"
"I like scenes that really take advantage of the VR and 3D effect. VRP – Squeaky Mattress…"
So, it appears Ms. Misha Cross is a favorite in VR porn land.
Congratulations, Misha Cross! You are appreciated, girl!
There are many, many dudes who got their horny on while playing your fuck action in virtual reality viewers!!
You are the winner of the 2015 VR Porn Movie Awards presented by FindVRPorn in conjunction with the voting of Oculus NSFW!
Oh, Misha baby…the men folk want to make that mattress squeak with you! Now, the following question could be posed to Misha and the rest of our winners: Psychologically-speaking, how does it feel knowing that thousands of men intensely crave your gal body? Knowing that all these fellas fantasize over your public bump-and-grind action?
Oh, that must be an interesting feeling! I know how I feel when I'm sexually-objectified. For instance, when I'm walking through the gym and all the exercise gals are staring at my bulge.
Oh, that's right! I'm supposed to be writing about how men are dying to get their snakes in Misha's Euro garden…
And, understandably so. She's got that killer, slender body. Oh, hell yea…we like skinny girls with pretty faces and red hair (love that!)…and, what an ass! Oh, yea!
So, although it was only some months back, in VR Porn time, it feels like Squeaky Mattress was released ages ago. So, I went back and had another look. And, you know what I thought?
How did I overlook this gem? I must have been having a bad day. I must have been distracted. Just like everyone else, I've got some problems too, fellas! Oh, sure…you think being a VR porn reviewer is all cocaine and rainbows! Believe me, you would not want to switch places with me!
But, damn. I see why Squeaky Mattress was so popular. There's one single reason: the intimacy. In particular, the intimacy of the Misha cowgirl. That's another common characteristic of our winners: they all masterfully created VR intimacy by shoving their big faces close to the camera. And, shoving other parts at the camera, too…
Oh, Misha…you know how to spread those legs and cowgirl, baby! It's…intoxicating. The scaling and perspective is perfect. I was watching it with VR Player set to like 90 FOV using Dome…and, Ka POW! There's gorgeous Misha's pretty girl face right in your man face: and the scale feels right!
I think the other major appeal of Misha Cross VR is that it's obvious she loves man. In the porn world, it's easy to tell when a woman's faking it. It's just…really obvious. One common characteristic of all our winners is that they give genuine and inspired performances. That's to say, these gals really love bouncing on man rocket. They ain't faking that!
And, with Misha: one can see the authentic passion.
So, 2015 was the year VR porn truly got started. And, it was one hell of a great start! Congratulations to Misha Cross and all of our winners. We, the men folk viewers, want you to know we truly appreciate you for your beauty and sharing your action with us. THANK YOU!
You know 2016 is going to be intense. About all that's left now is to choose your declaration!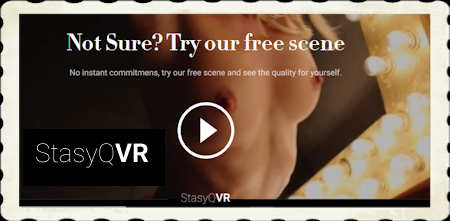 2015 VR Porn Movie Awards
was last modified:
April 11th, 2019
by