January 1, 2016
Czech VR is giving away a Katy Rose solo effort. You know friends, there's just nothing quite like VR-watching a pretty blonde gal down doggy shoving a carrot up her hooha. I mean…technology is a wonderful thing! Immediately after experiencing this ground-breaking nine minutes, I left a note for the Czech VR boys calling this a masterpiece.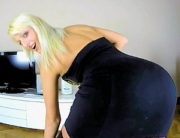 All right, so maybe I'm getting a little ahead of myself. And, right: maybe masterpiece seems like a weird word choice. I mean…we're not talking about Pablo Picasso.
But, in VR porn…this movie is a masterpiece. Which is kind of funny, because it's basically a video of a naked woman with a vegetable on a chair in a rather spartan room. Katy really sparkles in virtual reality! As does her carrot!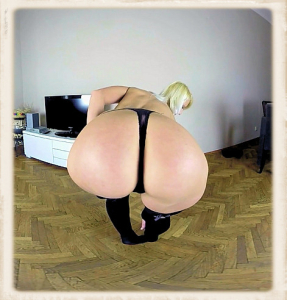 Let's start at the beginning. Czech VR is a brand-new, VR porn outfit that's been rapidly-releasing VRs the past month. And, they just offered a free VR as a New Year's gift. Well, thank you Czech VR! And, the free VR features Katy Rose: a yellow-haired, beautiful, Czech strumpet. We've previously seen Katy VR in Sarka 5.
Katy's the type of young blonde with a slender body yet shapely ass (this is a good thing!) …the type of amber-headed slut with excessive clown make-up encircling her eyes…
So, Czech VR just shot a video of Ms. Rose teasing…and, spreading her legs and shoving a carrot…yes, a carrot… in her hungry, love tunnel. The whole affair is a quick nine minutes. And, that really is all the length a VR porn needs to be: if done correctly. So, I evaluate these VR porn movies based upon the woman, scaling/perspective and positioning.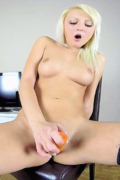 And, all three elements were nailed in this movie. That's a rarity. What I'm beginning to realize is that the scaling and positioning are almost intertwined into a single category: because, they're so dependent upon each other. And, where Czech VR has—to my surprise—quickly excelled is getting the distance and positioning precisely located to significantly reduce scaling distortion. I'm just beginning to understand this relationship between the elements.
And, it's clear the Czech boys are dialed-in with these variables. Brilliant work! Not much more really needs to be said, except your declaration:
(You will then see a link that says NEWS: that takes you to a post titled Katy Rose – FREE FULL VIDEO)
Katy And The Carrot – Free VR
was last modified:
March 25th, 2018
by