January 13, 2016
All right, friends, today we'll take a look at the latest Czech VR release: entitled, Czech VR 016 – Chrissy Curve.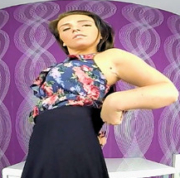 Okay, so…we must remember Czech VR—like all VR porn companies—is a very new thing.
That's to say: they just started pumping their virtual romps out maybe a couple months back. And, oh shit…I'm off to a bad start here.
It's because of this Goddamn head cold. Or maybe that's me in denial. Maybe I'm actually dying man!
But, no… The dying failure of a man—that's me—just keeps insisting, "It's only a head cold, guys. It'll pass soon." But, why isn't it passing man! Anyway, it's throwing off my game, guys!
My concentration's impaired. And, this pink noise app may not be helping! I thought it'd help me focus. But, now I'm thinking maybe the Goddamn pink noise is fucking me up more!
All right. Focus. We have Chrissy Curve to discuss. We owe it to Chrissy. She and the Czech boys have given us a fine piece of VR porn here…and, we Goddamn owe it to them to review it properly.
But, you're thinking, this asshole doesn't review anything properly! I know, Goddamn it! I know! I never claimed to be the Goddamn Roger Ebert of VR porn!
Okay. Chrissy Curve. Oh, baby, baby, baby!
So, as I began, Czech VR—like all the companies—hasn't been cranking the VRs out for long.
And, a little while back, they popped into the unsafe for employment Oculus to discuss their work.
And, of course, many suggestions were given. If a VR porn content producer shows up there…trust me…they're going to get some suggestions.
All right. So, why am I rambling about this? Because I'm dying, man! No, seriously…because recently one of the Czech boys said this (in reference to their #14 Zena Little release):
"PS. This video was filmed among the first ones, and it was the last video when we did not have your feedback yet."
Okay, so this is my dying, long-winded way of saying that for release #15 (the excellent Victoria Puppy one) and this Chrissy Curve one…the Czech boys were taking our feedback into account.
And… wait for it…it shows! This VR does A LOT of things right. And, I'm going to discuss each of them. Because, I want the Czech boys to keep doing them!
First, let's take a peek at the CzechVR synopsis:
"Chrissy is curved alright, but that's not always bad. If a girl is curved in just the right places, you can enjoy the best sex of your life."
Not to over-analyze things here, but you kind of sense that the Czech boys might be anticipating some criticism of Chrissy's body type. Well, to that I have a few responses:
1. Porn companies must try to cover different hornys. By using this made-up term, hornys, I mean that men get weenie-excited by different things. By using this term, weenie-excited, I mean horny.
And, a lot of fellas like a woman who's got a little bit more woman to her. There was a time in America, not long ago, that Chrissy would have been regarded by many as excessively skinny. If you don't believe me, just Google around about Marilyn Monroe's body type and how she was perceived during her era.
2. Chrissy actually is…just as they say…curved in the right places. I like me a girl who's more-or-less thin while also having some hips and an ass on her.
In my opinion, that's actually the perfect-gal-body-type. Chrissy's body is enough to get a guy worked-up. That feeling you get with a new girlfriend whom you just want to fuck nonstop.
Only thing I'd do with Ms. Curve is get her on a gym program involving treadmill and two exercises done regularly: stiff-leg deadlifts and squats.
There's this girl at my gym…only thing I ever see her do is the stair-climber thing, stiff legs and squats. And, trust me…if you saw her…you'd just want to squeeze her thighs and ass for a few days. You wouldn't even want to penetrate her vagina with your penis. You'd just want to squeeze her ass with one hand and jerk your giraffe neck with the other hand.
All right, moving along…
This Chrissy movie does a couple of major things correct: brilliantly, really.
First, I'll mention the scaling is on-point. If the scaling's off…the positioning doesn't even matter. What you begin to realize after a while, though, is that these two things are quite intertwined: very dependent on each other. I've explained that elsewhere on here…somewhere.
Okay, so the positioning in this movie was brilliant. And, Czech VR: keep reusing this positioning! You might be wondering…what positioning? Well, let's segue-way to this:
What was done right in this video?
Okay…for starters, they have Chrissy do a four-minute, teasing-striptease close to the camera. THIS IS CORRECT CZECHVR! Keep doing this! ALWAYS! Because, these boys are giving you your money's worth with this one. What they're really doing is giving you a Solo Girl VR + a fuck scene VR combined into one. THIS IS THE CORRECT FORMULA! I'm using all caps to emphasize this.
Now, I'm all for VRs that are just solo gal and nothing else! Don't get me wrong. But, combining them (as done in this video) is a great idea. Because, after the four minute tease, we get 6.5 minutes of Chrissy twiddling her diddle! Very good! We've already got ten minutes of solo hotness…then…
We get ten minutes of guy-gal VR. Now, this is important. Czech VR got the camera positioning/perspective 100% correct for the blowjob scene. THIS IS HOW TO DO IT! ALWAYS! That is the winning camera position/perspective to shoot blowjob footage in VR! And, major props to Chrissy for how she established eye contact during the blowjob footage. Fucking excellent work, Chrissy!
And, only one sexual position is filmed. And, when it's missionary with proper perspective: I'm fine with it being the only position. It's hard to describe 3D, virtual sex footage in words. And, it's hard for pictures to get the experience across also. It is the type of thing that must be seen.
But, the goal—as many have articulated—is for there to be a convincing sense of immersion and realism. I've seen missionary poorly-filmed in VR. This Chrissy scene shows the correct way to shoot virtual missionary. I think what makes it work is that they've got Chrissy down as a spread-eagle, Euro whore on the table while the Czech-alpha-man is standing. I think that's the key to why the perspective/scaling feels right.
How could this have been improved?
1. More close-ups on Chrissy's face.
2. Try to incorporate a little doggy, perhaps.
3. During the missionary, have Chrissy lean-up on her elbows: so, she's sort of sitting up. This lets her face also get close to the camera. I'd like to see this done.
4. Have the guy blast his man batter in Chrissy's face at the end. Get the camera in close for that facial.
5. My feeling—others may disagree—is that it's better to have the woman keep her hand away from her vajayjay during missionary sex.
All things considered, this was excellent. It again demonstrates that an excellent VR porn doesn't require the first place contestant in the Miss America Pageant. If the movie's filmed properly, a girl-next-door type works brilliantly.
And, I can in good conscience highly-recommend that people who want VR porn should get a CzechVR subscription. Now, all that's left is to declare:
It's my turn to fuck Chrissy's curves!
Chrissy Got Curves – Review, Free Preview, Pictures
was last modified:
April 3rd, 2021
by