January 10, 2016
Download CzechVR's Blonde Goddess Victoria Puppy free 3D HORNY video preview… OH, VICKY BABY!
Okay, friends…another day is here, and let's take a look at Victoria Puppy's brand-new solo effort for Czech VR. First off, I've got to tell you: I like these solo VRs…as in, I like them A LOT! Now, as far as the title of this post…sure, it's a bit lame, folks.
All right, let's slow down here a bit. I'm getting worked-up. I've got a bad head cold, and that's how I get. I can't always be expected to come up with witty titles, folks. Not when I got this sort of head cold raging in my cabeza. Oh, you guys don't care. Oh, hell no!
You guys stand at my side… menacingly snapping your whips… muttering in my ear, "Write VR Porn Reviewer Man… write! We don't care about your stuffy head, Goddamn it!"
All right, so here's the thing. Today we're talking about a new VR Porn company called Czech VR. Their parent group, The Mental Pass Network, has been pumping out 2D video-horniness for a while…but, they're a newer entry into the VR Porn space. But, the truth is…every VR Porn company at this point is a new entrance into the VR Porn space!
This stuff is fresh and new…That's part of what makes it exciting. We're seeing the whole thing develop before our eyes. And, a few years from now, we're going to chuckle about the present simplicity of the medium. I mean, friends, on the near horizons we've got things like haptic Teslasuits…
I mean…go ahead and click that link: it goes to a Kickstarter page. And, I'm telling you: there's some truly mind-bending, crazy stuff on the VR Porn horizon!
For VR Porn's purposes, I agree with this fella, ImprovedForce, that we would be better served developing haptic gloves first…just allow the person to scan their actual hands: this way in their VR field-of-vision, they'd see their own hands. And, then allow their gloved-hands to interact with the model (while the porn viewer is seeing his regular, ungloved hands)…
That type of thing is certainly coming to VR Porn, because I believe you can already manipulate objects in some VR applications: like the one where you're juggling objects or whatever…so, it's a small step to translate that into squeezing Victoria Puppy's …um …puppies …and getting a haptic feedback on your fingertips. But, can the haptic vibration give a squishy, puppy-like sensation?
I don't know man! I'm jumping into the future here, man! Haven't I already learned…listen, life's a painful teacher!…and, I thought I had already learned to live in the moment. That things go wrong when I try to project too far into the future.
Okay, so this moment is filled with angel-faced, blonde gal Victoria Puppy. First, Victoria: start a Twitter account! You Czech beauties make it difficult for a VR Porn Reviewer man …
Second, oh this girl's a beauty! OH, she's an absolute beauty! What is it about these Czech girls! How is it that so many of these girls are just absolutely gorgeous! I don't know how they do it. It's DNA man!
All I know is I ain't seeing Victoria Puppys and Katy Roses when I go to my local Goddamn shopping center.
I know that doesn't sound nice, man! But, come with me to my shopping mall! You'll see for yourself.
What ever happened to being the best you can be? You even make that type of statement these days and somebody will immediately spit in your eye and call you a no-good, corny asshole…
All right, so I evaluate these videos based upon the model, virtual scaling and overall positioning used.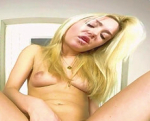 Well, in terms of the model? HOMERUN, BABY! Okay, the virtual scaling is on-point. Recently, we've been having an ongoing discussion with the Czech boys at NSFW. And, it turns out that this video, Czech VR #15, is the first of the new batch…that's to say…it's the first one in which they considered the analysis we provided.
And, man…technically-speaking…these CzechVR boys have got it down. I mean: the scaling of things just looks good. It has a real-world feel. And, the proportions are basically correct.
Now, let's consider the positioning. These solo girl, masturbation VRs actually allow a lot of creative
possibility. One thing I like is how they bring gorgeous Ms. Puppy out fully-dressed. They let us get a look at her. You know, how she'd appear if you saw her in the shopping mall. That is…if you were in a shopping mall that actually provided you with good-looking women to observe.
However, they only gave Vickie 30 seconds before the slut's pulling up her dress. This was a mistake. Give us a couple minutes of Victoria fully-dressed. Zoom in on her skirt, face and her cute, lil tits covered by the flimsy tank top. In other words, let Victoria tease more…
By the 2:20 mark, she's already completely naked…I say give her a couple more minutes of clothed-teasing. That's debatable, I know…but I think a lot of male viewers enjoy this more than people realize.
But…on a slightly different note: does Victoria ever have a nice, tight Euro ass!
All right, let's discuss the 2:47 mark… The Czech boys use an interesting technique here that got my attention. Basically, prior to that, our lovely Ms. Puppy's standing naked before us: her hand lingering over her innocently-bald twat.
Then, the screen goes black for an instant…then…there's Victoria's doggy ass right in your face! GREAT TECHNIQUE!
I like that. Victoria rubs her pristine clit. And, you'll be wondering why you can't step into the video and give it to her doggy…HARD! Oh, Vicky's the type of gal you want to pump really hard, trust me…
Indeed. The camera distance was on-point. The rest of this video is Victoria masturbating. And, this is good solo stuff. Victoria, you've got a new fan. I hope Czech VR does a lot more with you, Katy and Rita! Oh, yea… and Zena too…do not leave out Zena, Goddamn it!
The people definitely want more…as in A LOT MORE…of Katy Rose, Victoria Puppy and Rita Sinclair!!! … and Zena! I truly like these Czech gals…
How could this have been improved?
Slower stripping.
More close-up camera time on Victoria's face.
More close-up camera time on Victoria's panties and panty-covered ass while she was stripping.
And, I'm going to mention it again: more close-up camera time on Victoria's gorgeous face!
All things considered, I can in good conscience give my full recommendation to you that a CzechVR subscription is worth your money.
All that's left is to make your declaration:
Victoria Puppy, Be My Doggy
was last modified:
November 8th, 2018
by