January 15, 2016
All right, friends, today we're going to look at Ms. Tiffany Doll in Virtual Real Porn's latest release: Owner's Daughter.
Okay, first things first… Congratulations is in order to the good folks at Virtual Real Porn. Why?
Well, they swept all three awards in the 2015 VR Porn Movie Awards sponsored by FindVRporn.com in conjunction with NSFW Oculus voting.
You know…that's actually a pretty big deal. This wasn't some bogus-bullshit contest…you know, one where the "webmaster" dweeb sits back and says who gets first prize. No, sir! These awards were determined by the thousands of early-adopting, hardcore VR porn enthusiasts who visit that subreddit.
So, when I congratulate the wonderfully-perverse squad at VRP: it means something! The people have spoken!
All right, so…Virtual Real Porn is a highly-regarded VR team. We've established that. And, you're wondering: Why are they so highly-regarded? Well, I think there are two main reasons: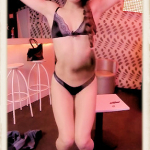 1. They tend to shoot attractive and skinny European babes in their movies.
2. Their technical, virtual reality skills are on-point.
And, this movie, Owner's Daughter, once again confirms that. Additionally, it shows VRP experimenting a bit. I'll get to that in a moment.
First, while doing these reviews, there are three main factors I consider:
1. The performers
2. The virtual scaling
3. The camera and human positioning
Now, if you're at a point where you're wondering what the hell all of this means…then have a look at how to use VR porn on Android or iPhone. If you've got an Oculus Rift, then chances are you don't need my guidance. If you have a Playstation VR…wait a second…how the hell did you get a Playstation VR already!?
Speaking of which, friends, as we now head towards the midpoint of 2016, we're going to witness an extremely intriguing period of modern technological development. You think I'm overstating things? Damn, you're a tough audience! Man, you folks keep me young!
Well, you see…by June 2016 we'll have three major platforms released (Oculus, Vive and Playstation). As for me, I think I'm going to get a Playstation VR because, you know, I can't really shell-out $1000+ for a new desktop computer…not at this point. We'll see.
Damn, you folks getting all up in my finances!
All right, so this movie features Tiffany Doll. I wasn't prior familiar with the young lady, but despite your insistence to the contrary, I'm not a walking porn encyclopedia! But, my scholarly research has revealed that in addition to being a #superslut, she's also a AVN nominee 2014/2015/2016. And, you're wondering her present location. Friends, I give you a direct quotation:
"Wherever my butthole takes me…"
I must admit, this is something new for me. I wasn't familiar with a butthole being in charge of ones location, but when we start discussing this anal creampie VR, you'll have an aha moment.
So, as far as Tiffany's appearance: I like it. If you regularly read this blog (and God help you if you do), you know that I adore a skinny girl with straight hair. That's just the way it is… You can keep harassing me with your comments about how I've been brainwashed by the media to favor this type… and, even if you're right… which you probably are… that still doesn't stop it from being true!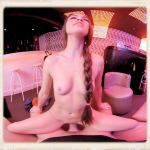 So, Ms. Doll's appearance works fine for me. What about her fuck skills? Well, after watching this… I want Ms. Doll bouncing on my lap…
All right… Moving along… let's take a look at the VRP synopsis:
"Imagine: You are waiting for your best friend in his pub, but something way more interesting shows up… Tiffany Doll, a naughty french cutie… She craves to stuff your cock in her ass… Who cares she's your best friend daughter?"
Okay. So, let's talk about what was done right in this movie.
What was done right in this movie:
1. Tiffany: she's skinny-sexy.
2. The opening where she's dressed in her well-crafted slut attire. It's very horny to see the woman dressed for a while before bumping-uglies make contact!
3. Tiffany's black bra and panties. A beautiful, skinny girl should wear black panties. It just feels morally-correct.
4. The cowgirl footage… VRP, keep shooting cowgirl just like this! The scaling and perspective was perfect. Additionally, it seems they experimented with camera height a little bit. That's to say, I think the camera was held slightly higher: more face-level. However it was done…keep doing it! This is some of the most real-world scaling I've seen in VR porn yet.
5. The standing missionary where the gal's spread-eagled on a stool: this is the correct way to shoot missionary. The perspective is very inspiring! KEEP DOING THIS!!!!! VR porns truly need more missionary footage that's properly shot. I notice that Czech VR is doing a brilliant job with this lately also.
6. The stand-up sex with Tiff facing away but looking back at the man: this is also a great position that should be used more in VR porn.
7. Tiffany's long, braided ponytail: I might as well add this. I wish more women had long hair like this.
All right, so what could be improved with this movie?
1. Have Tiffany tease more in the opening where she's wearing her salacious, slut attire.
2. Add a bit of doggy footage.
3. The lighting was a bit weird. I have a feeling that this is the effect VRP was going for, but I found the murkiness to detract a bit from the scene.
Tiffany Doll VR
was last modified:
April 6th, 2021
by