All right everybody, today we'll peep some recently released Virtual Real Porn trailers: starring gals like May Thai,
Sicilia Model, Cherry Kiss, Ena Sweet and Kiki Minaj.
One thing about Virtual Real Porn: if you're seeking Asian VR porn, check VRP.
Additionally, VRP has some nice overall porn gal diversity. This wasn't determined through scientific study. It's just based upon what my eyeballs are seeing.
So, if you're in the market for some virtual ebony… see pic below: Oh, Kiki baby!
Something else about VRP: they entered the game early… and, they've been rocking right since their start. It's interesting to look back and see the technical correctness of their early efforts.
On the level, folks. Just check, pictured above, Ms. Victoria Summers from an old VRP release.
And, the VR porn community noticed their competence. See how VRP kicked major ass in the the 2015 VR Porn Movie Awards.
And, it must also be mentioned: dollar-for-dollar they offer a hell of a deal.
So, today we'll consider some VRP freebie downloads.
Let's do this thing…

Specs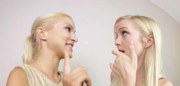 Studio: Virtual Real Porn free trailers
Title: My Best Friend's Girlfriend, Bed And Breakfast, Face Sitting Fun, Fortune Cookies
Release Date: Summer 2016
Stars: Sicilia Model, Cherry Kiss, May Thai, Ena Sweet, Kiki Minaj
Length: 37 seconds: yea, these are quick trailers
Main sex positions: face close-up, teasing, cowgirl
Formats: Gear VR, Smartphone cardboard, Oculus, Vivie
Genre: Hardcore sex VR porn
Reviewed using: Gear VR + Galaxy S7
These Virtual Real Porn trailers will appeal to fellas who:
1. … are trying to determine which VR porn studio gets their subscription
2. … are cheap bastards… just kidding
3. … are fans of Sicilia Model, Cherry Kiss, May Thai, Ena Sweet and/or Kiki Minaj
4. … are looking for some quick and horny, properly-scaled and competent virtual porn clips available as free downloads
5. … are looking for some Asian or black women in virtual reality porn
Reviewing Method:
These reviews are based upon three main factors:
1. The woman: Most viewers want a VR gal whom they find pretty, passionate, authentic, etc. Generally, the man viewer wants it to at least appear like the gal's into the sex.
2. The scaling: do things look correct and proportional? Generally, the viewer wants a real-life feel.
Honestly, while peeking at these trailers, the main thing I'm looking for is that VRP is still nailing the scale. They are…
3. Positioning: of the women and cameras. Close-ups are much-desired. It's also great to get some variety of sexual positions. Eye contact is also considered critically important by most.
All right, let's talk about these trailers a bit
1. PORN STARS: Well, friends… Sicilia Model, Cherry Kiss, May Thai, Ena Sweet and Kiki Minaj. I like them all. But, then
again… what the hell's not to like? Young, pretty gals naked in 3D. I mean, c'mon…
Sicilia Model, in particular, has a special place in my headset.
Why?
Well, look at that… Sicilia panty ass!
Additionally, she was one of the very first women I saw in a VR porn. Sicilia might have given me my first VR cowgirl.
And, earlier I mentioned Virtual Real Porn's variety. And, it's true: with VRP you get gals like Jasmine Webb, Kiki Minaj, May Thai, Pussykat and Noe Milk. And, some of those gals get multiple releases.
Oh, yea…
2. Scaling: Just being honest, as we've watched virtually every other studio struggle with scale issues; the VRP gang has pretty much gotten this right since the beginning.
At least to my eyeballs/headset.
3. General clarity: Fine, as always.
4. 3D, sound, color, light: Fine. If I've had one reoccurring criticism of VRP's stuff it's that the color sometimes
seems a little washed-out.
So, you know: free VR porn clips that are technically competent with pretty, horny gals. Enough said, right?
Sure, they're quite quick, but hey: they carry a price tag of zero dollar and zero cents.
And, they give you a fast and free cowgirl along with a way to evaluate whether Virtual Real Porn's work gets your man motor purring. And, if it doesn't… what's wrong with you, man!
All right…
Some VRP Trailers Summer 2016
was last modified:
April 6th, 2021
by