Hi friends, today we'll consider the present state of Wankz VR a bit further.
If you visit this site, you may have noticed we've been following these boys since their start.
And, yesterday we discussed how the elaborate, Zombie Slayers Halloween VR really took the Wankz boys to a new height of horny…
Kind of like that baby bird in your treehouse that's been rolling around the nest, being brought worms, getting kissed on the head… and suddenly, you see the lil son of a bango flying at the horizon.
Hey, I never said I was Ernie Hemmingway, man.
And, friends… as I'll soon explain in greater detail, after watching Natasha's VR, I immediately went and watched another recent WankzVR release: the Aaliyah Love and Sydney Cole one.
So, why am I babbling about baby birds and immediately going back and watching Aaliyah Love VR porn movies?
Here's the thing… if you're doing a VR porn site, there ain't no way you can ignore the WankzVR October 25th Natasha Nice release.
And, after watching the October 25th Natasha Nice release, I had to check if it was the starting point for the very appealing camera positioning used in this effort: a very tight shot that nicely cuts much of the male actor from view…
MISSIONARY PUSH FORWARD
Why did I have to check?
From a camera angle/distance perspective: the Natasha release does so much of what I've been requesting.
What does that mean?
Well, among other things: Ms. Nice's movie is a reference for how VR missionary should be shot. Plain and simple.
What does that mean?
It means the Wankz Natasha missionary is HORNY!!!!!!!
What do you mean by HORNY!!!!!!! ?
Just look at the Goddamn picture!
Can you provide me a picture example of how you don't like missionary to be shot?
Sure, if you look in the picture below, Natasha is leaning back.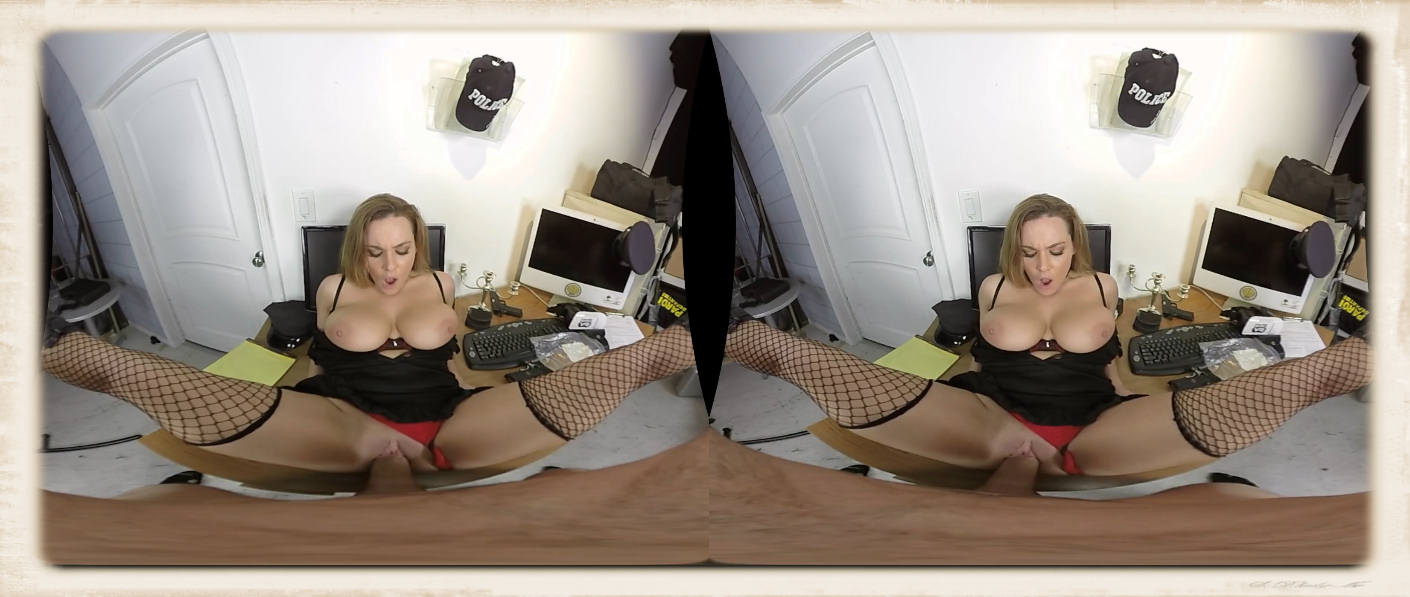 And, while it can be good to have a tiny bit of this, it's much preferable—at least in my opinion—to have Ms. Nice lean into the camera during the missionary: while the camera aims low cutting off most of the man.
Could you provide the basic specs of the two movies being discussed in this article?
Specs
Studio: Wankz VR
Title: NYPD Blew
Release Date: October 25, 2016
Stars: Natasha Nice
Length: 56 minutes
Main sex positions: clothed teasing, female masturbation, handjob, blowjob, cowgirl, reverse cowgirl, missionary, reverse standup
Formats: Gear, Oculus, Smartphone
Genre: Hardcore sex VR porn
Synopsis: Life on the beat hasn't been too kind to you recently. After you accidentally discharged your weapon at a Clown Lives Matter rally, the police captain has demoted you to the lowest place in the precinct – the evidence room. Just then, your old sexy partner, Officer Natasha Nice steps in to rehash old times. Turns out, she needs to make a couple items disappear from the evidence locker and needs you to look the other way…
Reviewed using: Gear VR + Galaxy S7
Software used: Deo VR and Milk VR
Specs
Studio: Wankz VR
Title: Babysitter's Extra Shift
Release Date: October 18, 2016
Stars: Aaliyah Love, Sydney Cole
Length: 60 minutes
Main sex positions: clothed teasing, various close-up shots, blowjob, cowgirl, reverse cowgirl, doggy style, lesbian kissing
Formats: Gear, Oculus, Smartphone
Genre: Hardcore sex VR porn, threesome VR
Synopsis: Your hot teen babysitter, Sydney Cole just asked you to have sex with her… You're trying to play it cool because your wife, Aaliyah Love is secretly watching this all unfold and she wants a piece of that ass too! When Sydney sneaks into your bedroom later that night, she thinks it's just you and her. Then, your wife pounces on her in the middle of the act and joins in! Ready yourself for an aggressive, rough threesome!
Reviewed using: Gear VR + Galaxy S7
Software used: Deo VR and Milk VR
Final Thoughts
These movies are long. Each runs for nearly an hour.
If you like fantasy/narrative elements in your porns, you get that here. If you're like me and just looking for well-scaled, up-close segments: you get that too. Just jump ahead.
The visual clarity, 3D depth, color, lighting and other technical aspects are competently executed. When these factors are done properly, there's not much more to say except: maybe the lighting could have been brighter at a few points.
WankzVR, since their start, has successfully shot with the upper-tier gals of the porn world. I mean… Natasha Nice, Sydney Cole… Aaliyah Love, man!
I've seen WankzVR come a long way in 2016.
No doubt about it.
I mean…
Honestly, it's kind of nuts just how much these boys improved during 2016. But, to their great credit, Team Wankz has very actively sought consumer feedback and critique. I've observed this myself on many occasions.
So, yes: listen to the customers. It works…
The camera work/positioning varies between the two releases covered today.
Don't get me wrong: the Aaliyah/Sydney movie is good stuff, but the camera work (immediacy, closeness, positioning) is off the chains horny in the Natasha release.
Mainly, in the next releases, I'm looking to see if the Natasha shooting technique is replicated. Because, man… this tight camera work on Ms. Nice
will get you saying: Oh, Natasha, baby!
I'm hoping to see the Wankz boys continue to get the camera close while cutting most of the stunt cock from the frame. That, in my opinion, simply works.
What more would I like to see from Wankz?
A Gillian Anderson look-alike in an X Files parody? Why, yes!
Well done Wankz…