I love bikinis, man!
These reviews are based upon three main factors:
1
. The
woman
: Most viewers want a VR gal whom they find pretty, passionate, authentic, etc. Generally, the man viewer wants it to at least appear like the gal's into the sex.
2. The scaling: do things look correct and proportional? Generally, the viewer wants a real-life feel.
3. Positioning: of the women and cameras. Close-ups are much-desired. It's also great to get some variety of sexual positions. Eye contact is also considered critically important by most.
Now, there are other factors: many of which mainly get mentioned when there's a problem with them.

Fame
They consistently film famous, award-winning, generally American pornstars.
That pattern holds here: we get Kylie Page, Lana Rhoades and Lily Jordan.
The transgressive element might be the young ladies discussing the magnitude of man meat, mouth magic they perform in a single night, but these days, who knows…
Anyway…bikini stuff!
Optics
So, for a virtual porn to succeed, it must have a proper clarity, sense of spatial correctness and general, 3D realism.
Optically: very good. Scale awesome on closer segments. The general gravity felt pretty good. I didn't feel it quite measured-up to Richelle's release.
I'm wasting everybody's time if I don't give a straight-up report of my experience. And, I felt that—while certainly competent/professional—it didn't have the same sense of spatial correctness.
Don't get me wrong. Things still looked horny.
As repeated, I enjoy this bikini/spring break stuff. A LOT!
Nice job with the script…
I think the script was well-conceived: the two sections…and, how the first section logically sets up the second; while also, interestingly, providing a deeper glimpse into the psychological flavor of this experience: e.g., the women revealing their sexual attitudes, libidinous wiliness and general motive.
With that said, I would have considered making the Part 1 Prelude exclusively teasing: with the intercourse section beginning in Part 2.
Why?
Well, Part 2 is an outrageously horny, fuckfest that wonderfully keeps Kylie, Lana and Lily in the same frame for much of the movie (as seen in the Lily Jordan cowgirl below). As an aside: fidelio rocked for the same reason.
So, it seems that Part 2: The Party thoroughly covers the fucking aspect.
It doesn't matter much, but I wonder why some Lana cowgirling was tacked onto Part 1's ending.
I would have considered perhaps having Part 1 a full-fledged bikini tease section.
Maybe T Stone's hesitant. Perhaps T. thinks he'll reunite with his ex-girlfriend.
Thus, Kylie and Lana must go full-horny with their bikini-tease antics.
But hey, that's just me.
Just one guy with an opinion.
Just peeping this still new VR porn medium and presenting some thoughts.
A lot of horny minutes in this outing.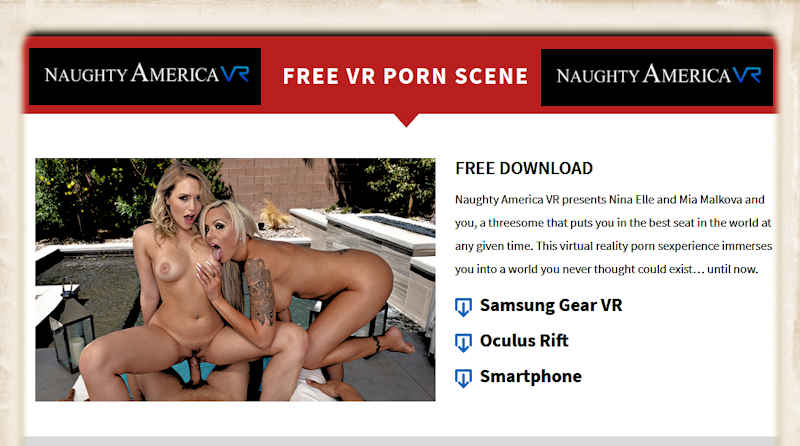 Click to download a Naughty America VR free, full-length VR porn movie featuring Nina Elle and Mia Malkova.
Bikini Time!
was last modified:
January 6th, 2021
by