Update January 21, 2019
VR Bangers has advanced a lot since last year's article below. That could still be of interest from a historical perspective.
However, for an up-to date opinion about this studio see:
VR Bangers – Second Look
——————————————–
January 1, 2018
Hi friends, Happy New Year's Day.
Today we'll take our first look at the VRbangers studio.
Grab a Mountain Dew fellas, these boys are more long-winded than yours truly!VR Porn videos, 4K 3D 360 Exclusive Virtual Reality Sex…
Welcome to VR Bangers, the home of the hottest virtual reality porn videos on the planet. Sit back and be prepared to have your mind and your cock blown, as you put on your VR porn headset and jump dick first into the virtual world of hot sex and fun. Find the woman of your dreams and let her take you on an adventure across the internet to end up in her virtual lair with her legs spread, her mouth open, and her pussy dripping.
You'll swear you're in the room with her as the 180 or 360 degrees 3D video invites and temps you to reach out and feel her perky nipples, to caress her soft face, or to finger her tight wet hole. Let the woman of your dreams be your guide as she teaches you to enjoy a hot blowjob or a sensual fuck like you've never experienced it before. Who needs a real woman when you have the full experience of everything you need without the hassle of post-cum conversation and unwanted cuddles?
You'll be able to get up close and personal as you watch the women of VR Bangers put on their make up or talk dirty as they get ready for you. Get hard as your personal virtual woman strips down to her panties and bra to do things that you only get to see in private. You'll get a glimpse into the VR worlds of sensuality and hardcore sex as you get the visual experience of watching a woman get down between your legs to take care of your every need.
Once you've seen the VR porn that VR Bangers offers, everything else will seem like a flat 2D farce. You can browse our catalog for the woman you'll have as your personal guide to getting you off before you choose a blonde coed, a voluptuous brunette, an Asian sexpot, or a mocha honey. Look around the room to see what else is going on as you get head or plant your throbbing cock deep inside a tight warm pussy. Look right to see a voyeur watching you get off, look left to see the world go by outside your window as you get your dick wet, look up to see what your lady can see as she sucks your dick, and then look out for the wildest virtual porn orgasm of your life. Enjoy the tour and then step up to a whole new way to experience porn in virtual reality with VRBangers.com!
Concerning studio reviews, we're interested in many factors: but, there are some primary concerns
1. Are the movies horny? That's number one, man! That question encompasses every variable (quality, competence, SOSC, etc.).
2. Performers?
3. Size of existing library?
4. Release frequency?
5. Pricing?
6. Anything particularly innovative?
7. Is there a clear sense of identity?
For a number of extraordinarily thorough articles that explain FindVRporn.com's methods, click this.

Who are the VRbangers women?
Some of the gals who have VRbanged include Blair Williams, Alexis Fawx, Harley Dean, Jade Kush, Dillion Harper, Mia Malkova, Riley Reid, Elsa Jean, Kenzie Taylor, Pristine Edge, Alex Black, Katerina Hartlova, August Ames, Vinna Reed, Katy Rose, Nicole Aniston, Brandi Love, Angel Piaf, Megan Rain, Violette Pink, Gina Gerson, Angel Wicky, Piper Perri, Daisy Lee, Cherry Kiss, Misha Cross, Alexa Tomas, Patty Michova, Alexis Adams, Pussykat, Luna Corazon and many others.
So, you can see that VRbangers has shot movies with some of the most famous women in the porn industry.
The existing library?
As of January 1, 2018 there are over 140 movies. Additionally, it appears that each movie has an embedded preview. I like that. As in…I like that A LOT!
All VR porn studios need to have free previews for an obvious reason: so the potential consumer can evaluate the work before spending hard-earned money, man.
And, honestly, if the studio doesn't have the previews, this is what I think, "The work must not be very good." Maybe I'm wrong for having that thought, but…that's how it is.
My criticism of the Bangers boys, though, would be I want a download link to the free preview. Presently, you can watch the 2D video on their website. Or, you can do the whole, "To enter VR, use a WebVR-compatible browser or a WebGL compatible mobile phone by scanning this code."
No…
I need a download link to the Gear VR preview.
But, the Bangers boys do offer two extended length, free previews.
1. Motherly Love, featuring
Dillion Harper and Bridgette B. 10 minutes. And, the Motherly Love webpage links to a Dillion Harper Fleshlight.
Motherly Love is mainly an extended double suckjob that's slightly distant feeling.
I would have loved it if they took the almost never seen approach of just getting that camera close to the suck action.

What did I think of the preview?
First, let me say that these reviews consider many factors, which you can read about in extraordinary depth by visiting this page.
To be brief, this preview did show the needed technical competence—SOSC, scaling, color, etc.—to cross the necessary threshold for me.
2. Sauna Russian Style, featuring Alex Black, Sweet Cat, Rihanna Samuel, Silvia Dellai and Kattie Gold. 10 minutes.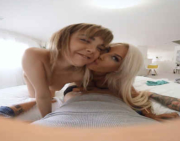 This preview was hornier than the previous. And, it also crossed the needed threshold for me.
There was a tragically missed opportunity: all those beautiful gals in bikinis with the camera so distant! Good grief…
But, the upright cowgirl was 100% competently executed and highly horny.
Additionally, there was some doggy posing in the SS Zone that worked for me just fine!
Other VR porn studios please note how Team Bangers offers these free extended previews. In my opinion, this is a necessary policy.
Release frequency?
It says, "Weekly exclusive updates." Update: Bangers does 2 to 3 releases a week.
Anything particularly innovative?
Yes. VRbangers offers a VR interactive game called The Dragon Milf.
It works with Oculus and Vive. I don't have either. Besides, I don't have much expertise in evaluating VR porn games. But, this is an innovative aspect that distinguishes Bangers from other studios.
I also like how the Bangers website has a drop-down menu which sorts their library into categories. This is a nice touch, and I'd say it should be a standardized practice for VR porn studios.
The Bangers website seems to be thoughtfully designed. While it might seem a minor detail, they have a comprehensive FAQ section. I like that. The movie graphics are clearly professional. They have a frequently-updated blog. And, the general impression is organization and professionalism.
Additionally, similar to the Virtual Real Porn approach, VRbangers also has a gay (VRBGAY) and trans (VRBTRANS) branch.
Pricing?
Update 2019: FindVRporn has been given a very special VR Bangers discount!!!
This is one of the best VR Bangers subscription prices you will find on the Internet. Period. And, the Bangers work has gotten very horny. I recommend you take a look.
Does FindVRporn.com Recommend A Subscription to VRbangers.com?
Now, for other dudes, here are the factors as I see them:
1. Do you like the famous American porn gals? Not everyone does. Some like amateurs, and you know…there's all sorts of desires out there. So, look over the rather sizable VRbangers stable and see what you think. If you're digging the conventionally-regarded American A-list of pornstars, you get that with this studio.
2. Are you looking for conventional, heterosexual porn scenarios? That's what you get here.
3. Any interest in a virtual porn game for Oculus/Vive?
It depends on how you answer those questions.
Good luck VRbangers.
Happy New Year!
First Look At VR Bangers
was last modified:
April 3rd, 2021
by