Sqeals On Wheels by WankzVR
Starring Kiara Cole
74 minutes
The summary here is that these shots are being framed-up correctly.
Pretty much all of them: including doggy and BJ, which, in my view, are often done ineffectively in VR porns.
If you look at Kiara's doggy below, you'll notice how low she's been pulled in the frame.
(These are actual screen captures from within the VR viewer: so, there's distortion in 2D. They best illustrate, though, the discussion points.)
Then, look how the doggy gets outright truncated (meaning, Kiara's pulled partially below the frame.) Very nice. What's cool is at how around 50:57 it slips in-and-out of truncation: just an interesting and fun effect.
Likewise, pictured below, notice the BJ positioning relative to the frame's bottom. Now that, my friends, is excellent.
And, it eliminates one of our most frequent complaints: that the blowjob footage feels excessively distant and unrealistic.
The rest of the movie—solo leotard posing, face close-up, missionary, cowgirl—is also well-executed; but, for me…I've already seen enough to give a thumbs-up recommendation.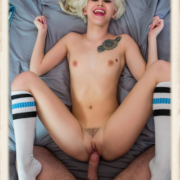 If a studio aims to recreate a strict 1st Person POV experience (meaning that you, the viewer, are watching through the male performer's eyes); this is basically how it's done correctly.
I could fiddle-faddle over some points…request some things that aren't being done by anyone…or, some things they perhaps don't want to do (e.g. different moving camera things)…
…but the truth is with the Kiara outing WankzVR has put bold check marks in the major boxes that matter to me: and, I think matter to most 3D porn consumers.
People want a realistic and exciting experience. It's pretty much that simple. This style and method delivers that.
And, concerning Kiara, what's not to like?
Here are some additional pictures of Kiara Cole in her WankzVR debut.
Go see the free Kiara Cole preview and check it out for yourself.
Kiara Cole Squeals On Wheels Pics and Thoughts
was last modified:
May 6th, 2019
by