This is a piece of the FindVRporn.com VR Porn Standards Project, which created the first formulated, conceptual foundation for VR porn reviewing and discussion.
These pieces were published separately over several years beginning in 2015. They were first published in this single document on December 17, 2017. In some cases, our suggestion proceeded the execution. The truth is…that's happened a number of times.
Last updated September 29, 2021.
3 Sections to the FindVRporn Positioning Checklist Jump Menu
Part 1. Intro, Instant Sweetspot Open, Spatial Correctness, Face, Cowgirl
Part 2: More Cowgirl, Stand-up, Solo/Tease, Sweetspot Zone
Part 3: More Stand-up, Doggy, Blowjob, About Depth, Bonus Content, Wish List
To those studios who are continually pushing to create a more exciting, hornier experience: thank you. And, I believe that describes most studios out there. Thank you.
Special thanks to those who are particularly taking chances and trying new things…pushing things interesting directions…
And…just a general thank you to the actresses, actors, crews and everybody who takes pride in their work.
Note: In some instances, it might seem like there's an excessively fine point on some of this. But, honestly…when these positions are experienced within the VR headset, you quickly see that what might seem like a subtle distinction can make a very big difference in the 3D experience.
Here's the FindVRporn POSITIONING checklist:
Convenient List of Positioning Elements FindVRporn wants in every release
Prerequisite
1. A Prerequisite for the following to apply is that there is a correct sense of spatial correctness (article). That's to say, if the scale/feel of things is wrong, position doesn't matter.
Second Prerequisite
2. A second prerequisite is a proper contrast between the performer's skin color and the background. Everybody tries hard to do good work…and, often does! But, sometimes it surprises me how this aspect sometimes seems to be overlooked.
Instant Sweet Spot Open
3. Hit a fella with an Instant Sweet Spot Open (article): it's how it's done, son. Instant Sweet Spot Open—another term coined here —means that as soon as the movie begins, there's a beautiful woman in your face. In other words, NOT a distant, pixelated figure 15 feet away on the room's other side. Please, don't do that.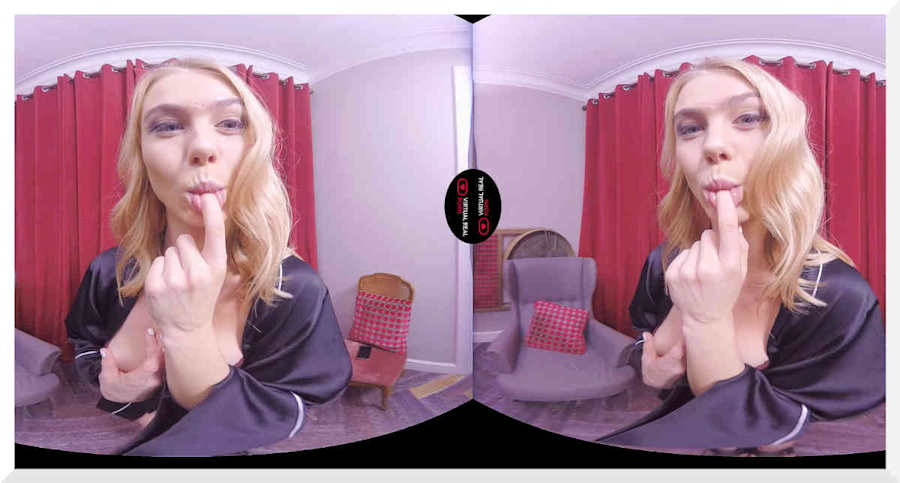 Nancy A beautiful ISSO for VRP. We've been recommending you check out the Virtual Real Porn project since the start, man[/caption]
Faces in VR
4.
Face close-up time (pop-up picture) in sweet spot zone (article), minimum 3 minutes.
Face Fetish
5. Face Fetish: And, better yet, how about the VR porn genre created by FindVRporn.com and subsequently beautifully executed by CzechVR: face fetish. And, you know what else FindVRporn's face fetish request brought about? Yep, an entire new VR porn studio dedicated to this brand new VR porn genre. Pretty cool. And…
Interesting that my series of incredibly popular posts that resulted in a free, major studio release got me banned from a subreddit.
Hmmmm….gee, I can't figure what'$ going on there!
So…I'd like to see every release have at least a few minutes of a face fetish segment. But, it's not just me…as I found out. Update: and, the demand for this face fetish VR content just became especially apparent as CzechVR launched a studio dedicated to it: VR Intimacy.
The Cowgirl Foundation
Standard Cowgirl
6. Standard Front Facing Cowgirl: this has always been the foundation of VR porn movies. These days there's a lot of variations on it, but it's really the foundation.
Squatting Cowgirl Hoverface
7. Squatting Cowgirl Hoverface (article) – minimum 2 minutes. Now, in the 2D pic below, you get some distortion that is not present in the 3D viewer. The 2D picture makes the point, though, about what it means to pull a SQUATTING COWGIRL HOVERFACE!!!!
Squatting cowgirl hoverface—one of a number of expressions coined here at FindVRporn that's now frequently used around the VR porn Internet—is pretty much exactly what it sounds like…
The woman squats her cowgirl bounce…leaning in at the man—with her face hovering above his face.
This is quite horny! And, seen much more often these days.
Sideways Cowgirl
8. Sideways Cowgirl: to my surprise, this very effective positioning isn't much seen.
VR Banger's, in particular, pulls their fair share of the sideways cowgirl. I find it to be a horny offering (e.g. as seen in their Anna Bell Peaks and Marley Brinx Wonderwoman outings).
Sideways Truncated Cowgirl
8b. Sideways Truncated Cowgirl: I just saw this the other day, and it's pure VR porn gold (if realism is the standard). This is the type of thing that might not sound great on paper, but in the viewer: it's sorta magic. Just wait until the FOV expands, and this will really rock your cock off. See picture below to get the idea:
Go to the FindVRporn Positioning Checklist Part 2

The FindVRporn Positioning Checklist
was last modified:
November 30th, 2022
by