Sometimes there's a very special VR porn segment
Sometimes a particular segment of a virtual porn scene is so effectively executed that it gets its own post here. Something of a tributary acknowledgment.
This is such a post.
The particular segment, in this case, is Silvia Saige missionary running from 37:50 to 49:43 in MilfVR's recent scene, FantAssy Island.
I'm listing the segment in its entirety because it's very desirable—I'd say necessary—to have the close-up and the pulled-back segment. They complement each other. But, in specific, what was particularly effective/erotic was 37:50 to 43:57.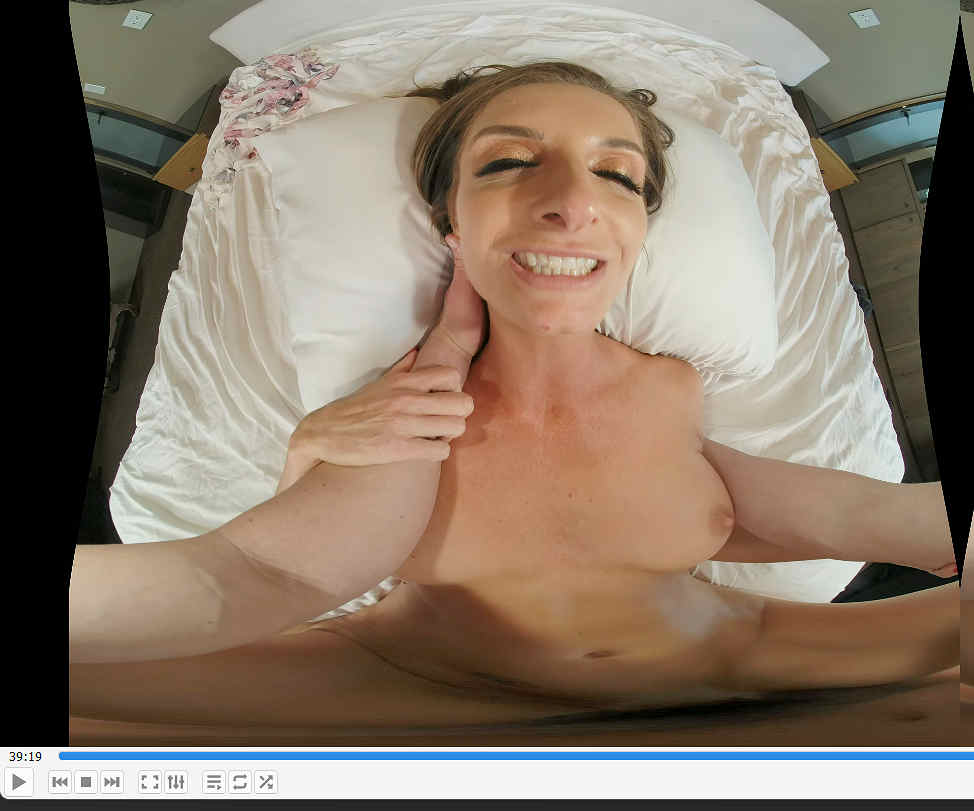 You folks already know that MilfVR is a studio that I enthusiastically recommend (read MilfVR studio review).
Everybody knows that. If you like the genre they call MILF…don't get me started on this term, but we all know what it means in the porn realm (it means you're not a "teen.") So, if you like the MILF genre and you like VR porn, a subscription to this studio is a no-brainer.
Everybody is so Goddamn distrustful these days. I mean, isn't it possible that a guy genuinely is horny for MILFs like Silvia Saige and genuinely feels that a particular studio releases world-class VR porn scenes? I mean, why should that proposition generate so much skepticism?
I have a more difficult time, actually, believing that a fella isn't horny for Silvia Saige fucking in MilfVR 3D. I mean.. WHAT THE FUCK'S NOT TO LIKE, MAN!
Moving along…
What sort of shampoo and conditioner does this Goddess use?
I'm serious…see Silvia in 7K VR, and I have a number of thoughts. She's got that lean body. Yea. And, a beautiful face. You can really appreciate her gal-gorgeous face in VR of this caliber (particularly when on a Quest 2 or similar).
But, the other thing I noticed is that heavenly hair. OH, THAT GODDAMN WONDERFUL HAIR!
I know it's genetics and not shampoo, but I still can't help but wonder. I wish I were kidding. I wonder about these things. Personally, I like Verb Ghost Shampoo.
Anyway.
That reminds me about face close-ups
MILF VR you guys had some really nice close-ups of Sivia's face—non-sex segment—in the 2017 outing. This one had some good face close-ups in the missionary section. Which brings us to…
What made this missionary stand out from all the rest?
Let's do this as a list.
1. The MilfVR 7K is looking really really fucking good in respect to textures and fine detail. Yes, this 7K 23GB 3D is looking spectacular in the Quest 2 mask.
2. Silvia Saige: her look but also her sexual performance and fuck-passion along with the dialogue and what we call the very difficult-to-define, sort of je ne sais quoi authenticity factor. This authenticity part is fucking big, and it's very hard to explain in words, but…it all combines for a necessary VR porn Gestalt that merits this sort of spotlight post.
All the way back in 2017, Silvia's MILF VR release, Bragging Rights, really won me over and made an impression.
There's just something so Goddamn horny about her…you just want to…be with Silvia… for hours: with her characteristic encouraging.
You might be thinking, "Aw, this guy just likes Silvia." And, that's true! But, there's more to it…
3. The positioning of both Silvia (sweet spot) and the camera's very particular position.
4. Proper positioning of male actor.
5. Sound, lighting, production and all those often overlooked factors being dialed in…
No truncated missionary, though
Not to put too fine a point on this, but it would have been perfection on earth if the MILF gang added a minute of truncated missionary to this sequence.
Ideally, I'd like to see 3 missionaries
Pulled-back, close-up (but full woman in view), truncated (from waist up). Countdown to reddit: "I need to see 3 missionaries…"
But, still…what was there ruled pretty hard.
Let's wrap this up…
So, great stuff. If you like conventionally beautiful women fucking hard in professional VR porn scenes, I'd encourage you to subscribe to MilfVR right now when you can get a month for just fucking $7.49 with the Halloween sale. That's Goddamn nuts.
Findvrporn 10 best VR porn scenes of 2021 coming soon
And, I can tell you…this one's going to be on it. And, Nella Jones BG for WankzVR…that's got to be on it too. Along with this recent NA in the gym with those Goddamn leotards (Diana Laney, Emma). Yea, that one, too. The new Skye Blue Bangers. You know, there's a lot of good stuff released in 2021. Stay tuned.
Silvia Saige Missionary for MilfVR
was last modified:
October 22nd, 2021
by