The following article is worthwhile and the downloads still work.
But, I must tell you…these videos are now extremely out-dated.
If you're interested in evaluating Virtual Real Porn's quality, these videos are no longer an accurate representation.
I'd like you to know there's also a brand-new Virtual Real Porn Blondes Part #2 featuring free preview/trailer downloads from Nancy A, Selvagga Babe, Cayla Lyons and others.
Those samples from the Part #2 article much more accurately represent the current quality of Virtual Real Porn releases. Thank you for reading.
Better yet, see Virtual Real Porn Blondes Part #3 from March 2019.
Below is the original VRP Blondes Part 1 article.
IMPORTANT: The 2015 article below is valuable for historical purposes. And, the 2015 downloads are important for historical documentation. However, the VRP quality, unsurprisingly, has advanced since that point.
You can download free preview trailers of every Virtual Real Porn release through a direct visit.
Thank you, guys.
Enjoy!
December 4, 2015
There's just something about a pretty-faced, slinky blonde gal with bouncy funbags that has universal appeal. You could take a survey of fellas from New Orleans to Nigeria, and you're going to find that Virtual Real Porn's yellow-haired strumpets like Victoria Summers, Lynna Nilsson, Sicilia, Kayla Green, Blondie Fesser, Hanna Montada, Eris Maximo, Harmony Reigns and Sienna Day (Sienna's blonde sometimes) have a special power to overheat the man-motor.
Virtual Real Porn (like BaDoink) tends towards Euro actresses, so it's also likely the curvy starlet's speaking with a charming accent. And, why is it that those accents are so horny-inspiring?! I can't figure these things out. Nobody can. Oh, the mysteries of life!
Scientists say light-colored hair and big tits tells our subconscious brain the woman's young and therefore fertile…so, as the theory goes, we're sort of programmed to lust for them.
But, all I know is when I got a 3D amber-headed Victoria Summers pointing her gigantic virtual nipples at my eyeballs…my little friend wants to stand up and say, "Hi there, Ms. Summers! May I be of service?"
Juan Lucho
does an awful lot of VR fucking! Anyway, enough of me being a jokey asswipe…let's get right to the
Virtual Real Porn blondes
! Seeing these women in VR…takes things to the next level. Believe me.
1. Victoria Summers
Let's start with ole Victoria. Hailing from the United Kingdom, this green-eyed, twenty-five-year old's got a body that could cure chronic impotence. I reviewed her video nipple magic here, but she also starred in some other VRP movies: The Dominatrix (with Anissa Kate, Juan Lucho, Kayla Green) and the solo girl VR aptly-titled Alone With Victoria. Let's take a look.
And, we've got some free VR samples of Victoria in Victoria and Me…
DOWNLOAD:
2. Lynna Nilsson
It's easy to get excited about loquacious Lynna. She's got such a cute little face! And, she knows it! This thirty-year-old gorgeous, Swedish fuck monster sports sweet stats: 34C-25-37. And, how is it that nine-out-of-ten Swedish girls are absolutely gorgeous, and I can go days—on the other side of the ocean here… oh, never mind!
Lynna stars with Manu Falcon in VR Hotel, and that's one of my fave VRP movies. There are sections where the Virtual Real crew got the camera perspective perfect. And, the illusion of Lynna's face hovering right before yours is very…um…stirring. Oh, and the coquettish expressions this little cutie makes! She's the type of gal who knows how to manipulate the man mind…no doubt about it! And, you never know… she just might spray her Euro wee-wee at you in her College Days dorm room!
You want to see Lynna fuck in virtual space? Okay, here are some free samples from VR Hotel (great movie!):
DOWNLOAD:
3. Kayla Green
Kayla was born in Russia, but spent much of her life in Hungary. I don't know why both of those places seem to be such a wellspring of gorgeous women. All I know is that I don't ever see a woman that looks anything like those gals at my local shopping mall.
Oh, Kayla baby…your juicy thickness is inspiring. And, no…if Kayla reads this…I'm not calling you fat! I'm saying that there are some women who are—what I call—thick in a good way. A DAMN GOOD WAY! They're built. And, you just want to grab them and fuck 'em nonstop for a week. Then maybe have a quick meal and fuck 'em nonstop for another week. Well, Ole Kayla is just that kind of gal!
The blonde knockout stars in the extraordinarily horny VRP feature called Good Morning 3. And, she's just the sort of yellow-haired, hooker-whore you'd want for your glamour wife… trust me! That is…unless she was one of those wife twats who withholds sex…in which case…push her pale ass out the door. We don't want to have meaningful conversations with you, Kayla! We just want to jam our dipping spoons in your peanut butter…
Oh, those white Kayla panties pulled to the side. Let it be me pulling Kayla's panties! And, when she's skillfully blowjobbing the man knob, you just want to grab that blonde ponytail, yank that pretty head back-and-forth, while ordering, "Suck Kayla, suck." Kayla can be also be seen in VRP's The Dominatrix.
So, how about some Kayla free VR porn movie samples?
Here you go… these are VR clips from her incredibly-horny, virtual sex romp in Good Morning II. The files are about 45 megs. Download, of course, the appropriate one. If you don't know how to VR, read this article.
DOWNLOAD:
4. Sicilia
Well, I don't know where she's from or what her last name is (update: Sicilia Model)… but, Sicilia is so slinky-intriguing, and I want to be careful how I word this. This could easily come off in a way I don't mean. You see, Sicilia is one of my fave VR women. She's hovering right towards the top of the list. And, she's a good-looking young woman! Most def.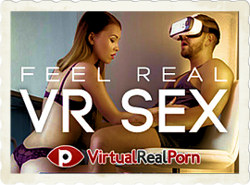 But, objectively speaking, compared to other porn superstars, one might say, "Well, her tits are kind of small, she doesn't have a very curvy figure and she lacks the intense-sexy-glamour that some of the other porn women have."
And, yes… all of that's true. But, something about this girl-next-door-blonde-beauty just absolutely sparkles in virtual reality. It's hard to explain these things: the intangibles of existence, man! But, tangibly speaking: I really like her skinny body, muscular legs and tight little ass…and, damn…does Sicilia Model ever love to fuck! Fucking whore lol…
Sicilia, it turns out, like many beautiful women in this world, hails from Hungary. At 5′ 3″ she reminds one of the good things coming in small packages saying. And, you know you'd like to…um…come in that small package. Man…this is a luscious, small package!
Sicilia…you've got a special place in my headset! She's starred in three VRP features: Fun At Home (a threesome with the oh-so-horny Misha Cross…excellent! …I really like Misha also), Knowing Sicilia (this is a brilliant solo girl dildo effort) and the VR masterpiece with Andy Stone simply called Sweet Sicilia.
And, here are some free Sweet Sicilia VR samples…
DOWNLOAD:
5. Blondie Fesser
Oh, our beloved Blondie Fesser… This Barcelona beauty is also an animal activist. We had an opportunity to see her dramatic range (I'm not being facetious) in the BaDoink feature called Harley Gets A Tune-Up, in which sweet Blondie is getting harassed by the menacing bastard Big Man. In her VRP debut, things are a bit less harrowing—but just as cock-hardening—in the lesbian-foursome-tupperware-party movie: Tupper Sex. This VR is a must-see. Hell, you put naked versions of Blondie, Carolina Abril, Misha Cross and Sienna Day together…you're Goddamn right it's must-see!
And, here are some free Blondie VR samples…

DOWNLOAD:
6. Sienna Day
Sienna Day's just like Victoria, Lynna, Kayla, Sicilia and Blondie. That's to say…she's a VRP blonde…and, she's the type of gal that you see…and, you want to pump her piehole. That's the first thought that comes to mind. You guys know what I'm talking about. We don't often get the opportunity to discuss this honestly, but it's how the real world actually works. A red-blooded, hetero cowboy sees himself a hot blonde like Sienna…maybe she's in line at the 7-11 buying some Skittles…and, the first thought that enters his mind—this is beyond his control—is something like, "Oh, man! I want to lift that skirt right here and now…and jam junior deep in her bubbly crockpot." I mean, this British pussy-queen's got some real double-take measurements: 30DD-24-32.
In the movie, Fiery Sienna, she looks like the type of blue-panty-wearing barroom whore you want to take home for a few hours of pussy-pounding-drunken-humping-hanky-panky.
Sienna may receive the award for starring in the most VRP movies: Sweet Dreams, The Housemaid, Tupper Sex, Special Gift, Oily Birthday, Naughty Newsletter, The Prequel, Relaxing Afternoon and Fiery Sienna. Now, that's an awful lot of virtual-hide-the-salami in a pretty brief time span!
And, here are some free Sienna Day VR samples…
DOWNLOAD:
7. Hanna Montada
Hanna Montana get the fuck out of the way, because we're going to be discussing someone far more intriguing than that vulgar media whore, Miley Cyrus. Okay, Spanish pornstar Ms. Montado measures-up at 36-24-35. She's a spicy senorita, all right…and, she also stars in the VRP movie Hanna and Adrian. One of the intriguing aspects of that movie is the moment when Hanna attempts to insert her entire hand into her taco.
Another standout feature is the camera perspective, which opts to provide both a doggy style and missionary POV. This is excellent and something we should see much more of… I appreciate the aerial overview of Adrian's missionary-pumping, and I think that camera perspective should be used much more…
Hanna's hair color changes around a bit, but in this feature I'm considering her a strawberry-blonde… Yea, that's a good sort of blonde…
And, here are some free Hanna Montado VR samples to download…
DOWNLOAD:
8.Eris Maximo
Eris Maximo is noteworthy for being extremely desirable…and, for starring in Virtual Real Porn's very first release: Sweet Dance. Hey, this stuff is historically important! Anyway you look at it, Ms. Maximo is a sexy blonde in VR space. Something about her reminds me a little bit of Madonna, though I can't quite say why. The twenty-two year old Brazilian also speaks a bunch of languages, but I'm most interested in her version of the universal language of, "Oh, fuck me harder, Pappi!"
No Eris trailer available at this time
9. Harmony Reigns
I think I'd call her a strawberry blonde, but who gives a fuck…Did you see her tits? There's not much else worth commenting about. Harmony, this is what men want from you. They want to squeeze your tits. And, see them bounce. And, squeeze them some more. And, more bouncing. Squeezing. Those. tits.
You want to see those big tits bounce in VR? Free Harmony video samples from The Rehearsal:
DOWNLOAD:
So, what are you waiting for? It's time to squeeze some tits.

Virtual Real Porn Blondes Part 1 – 2015 – Classic History
was last modified:
April 6th, 2021
by