Originally published December 12, 2015
Last updated February 2, 2019
Hi, friends…another day and another VR effort released by VRP: The Lunch, starring Hannah Shaw. In this post, I plan to discuss what plot means to VR porn.
You know, a couple months back, a guy starting up HoloGirls VR asked in a Reddit thread: What makes a VR scene great? If you scan the responses, you'll see an awful lot of people mention: close-ups, immersion, eye contact, beauty. There were statements like: "as close as possible without me having to cross my eyes," "I really like it when the girl's face gets really, really close to the camera from time to time. There is no too close for me. And use as much eye contact as possible."
Here's what no one said: "A really engaging dramatic plot that makes one think of Susan Sarandon in Dead Man Walking."
And, as it turns out, this whole topic can be considered by thinking about this latest Virtual Real Porn release. So, if you read on, we'll get to our question in a bit.
Okay. VRP's coming off last week's Sunset Girlfriends: in which, gorgeous Amber Nevada's virtual performance was superb. She's yet another porn actress who doesn't get nearly the credit she deserves. Yes, indeed…Amber. You'll get your due over here! Oh, yea! So, after last week's VRP movie, expectations are high. That's how life works. All right, where to start with this one? Well, let's take a look at Virtual Real Porn's synopsis:
"Hannah and you are having a wonderful lunch with friends. The chicken is so delicious, but the dessert Hannah's about to serve you is much more mouth-watering! Feast on a hot blowjob behind the table while the others are still eating with this beautiful and sexy girl."
Okay. Fine. Now, I don't know how important the VR porn synopses is in the big picture of things, but…"feast on a hot blowjob…" Really?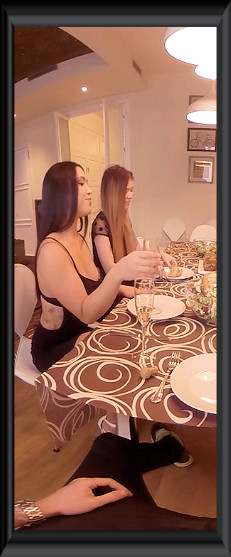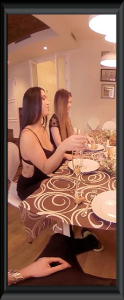 Isn't it more like the blowjobber who's doing the feasting and not the blowjobbee? In other words, if you're receiving a blowjob, you're really not feasting. You're being…feasted upon. And, just who do I think I am inventing words like blowjobbee? And, does anyone else even care? They must mean, YOU, the viewer, are doing the feasting: ie., your viewing is the feasting.
How about something more like this?
You become the afternoon entree as a cock-hungry, whore mouth surreptitiously savors your man meat under the table.
I'm just a guy who thinks details are important. Anyway, moving along, first I better touch upon this…
If you're wondering how I do these reviews (and, God knows that this is a burning curiosity in your mind!), there are three main factors that I consider.
1. The performers: This takes into account, mostly, the actress: her appearance, passion, performance quality and other intangible factors that can be challenging, at times, to express. Additionally, how dynamic was the male performer.
2. The scaling: This means, simply, did the company get things right, technically-speaking? Do the proportions seem right? Or does the woman's head appear to be the same length as her torso?
3. Positioning: This refers to the sexual/physical positions: additionally, the camera position. Basically, the key in VR is close-ups. Why we need to keep repeating this is a mystery to me.
All right, so in this case, we're dealing with Hannah Shaw. Like so many of the women I've encountered in VR, I was previously unfamiliar with her. That means nothing. I am not an encyclopedia of porno gals. I'm just the bastard who really needs to start eating breakfast.
So, Hannah's skinny. And, she's got straight, dark hair. So, we're off to a good start. And, she's got what some might refer to as an exotic look.
And, I like Hanna's look. The slenderness and sharp facial features. She's definitely just the sort of gal that could make a man fool out of me. She could get me to do all sorts of foolish things with the promise of those dark eyes burning into me while that slinky body pressed into my man pecs.
As far as the scaling, let's get that out of the way. It's important I mention I'm using an HTC M8 with a Homido viewer. The software I run is either VR Player Pro or AAA VR Cinema. Between those two, I can usually get things at least acceptable-looking. This is the same set-up I've used for every review on this site: so, there is consistency in that regard. However, be aware, if you're using different equipment, your experience will likely vary from mine.
One of the things that's most impressed me about Virtual Real Porn over these past months is that they've nailed the scaling better than anyone (though, BaDoinkVR has quickly been catching-up). However, in this movie it was off for me. And, adjustments to the software settings couldn't improve it. My only thought is that this particular movie used a stand-up sex scene (rarely-used in VR porn), and that's where my scaling problems began. During the other parts, the scale was fine.
And, concerning positioning: well, when the scale is off, the sexual positioning doesn't much matter because the distortion hinders immersion. The position used, stand-up…that's a position I'd like to see much more of in VR.

Though, of course, with the correct feel to it. I think stand-up, doggy and missionary should all be used more in VR. Let me put it this way: MUCH MORE! So, using the language that I discuss above, it would be good if stand-up were a greater part of the sexual formula.
Now, let's think about VR Porn plot
All right, so let's think about VR porn plot for a sec. I'll be honest with you, here. I believe I've seen every VR porn movie from the three major studios, thus far. And, with one exception, the plot has either been unnecessary (and stupid) or minor. Hey, I'm just being straight with you, man. If I bullshit, I'm wasting everyone's time.
Now, I haven't slammed any of these movies for having an unnecessary or stupid plot. Let's face it: we hit the fast-forward to arrive at the sex. And, we're not buying porn subscriptions to encounter Shakespeare. So, for me, this is a very forgivable thing.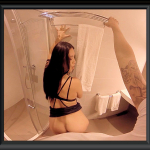 Now, with that in mind, I have, though, criticized VR porn companies for being excessively formulaic with the sex (eg. press play, and here it comes: dumb set-up, blowjob, cowgirl, reverse cowgirl, money shot, the end). So, in theory, I should always salute a company that takes chances. And, I do. We've seen BaDoink, in particular, show a lot of verve—and even bravery—in drastically departing from mainstream formula: as seen in Harley getting menaced by Big Man, domination, van-bump-and-grind, threesome with no cowgirl used, etc.
Sometimes, maybe people should be reminded: there aren't any fucking rules! Playing it safe may yield predictable results in the market…but, venturing-off could potentially yield bigger results! I think this part gets forgotten…
The other thing that gets missed…and, although this might seem like a hair-splitting distinction, just hear me out…
The difference between context and plot
There's an important distinction between context and plot. To provide an example, the context of a movie could be mom and son's best friend.
The narrative involves the actual series of events that leads to the sexual encounter.
It's possible to set-up the context while minimizing the plot.
Movie begins. Mom answers door. Son's best friend is there.
Mom says, "Oh, so what brings my son's best friend here today?"
Bam: you've got the context.
And, it's really the context that creates the psychological horny.
This method would shorten the length of many movies. Well…maybe they ought to be shortened, man!
Okay, back to Virtual Real Porn…
VRP tried something innovative through a small, narrative plot in this movie. And, I do give them credit for that effort.
However, I think it could have been executed better.
The movie began with a lunch. There's two minutes where everyone's talking about nothing. Then, Hannah drops her knife and spontaneously decides to suck on a fellow's turkey leg for a few minutes while she's under the table. No one, of course, seems to notice her absence. She surfaces and the two end-up having stand-up, genitalia-bumping in the toilet room. And, then they return to their lunch.
So, the question becomes, if their movie was only the bathroom sex (minus all the table dialogue etc.), would anyone have thought, "I feel ripped off! I didn't get all that other good stuff! I'm not subscribing until they bring back their plots, damn it!"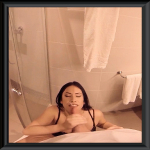 All right. Well, none of that lunch-stuff-plot enhanced the experience for me. Generally, as suggested, I find VR porn plots unnecessary and/or inane (eg. flying cars). The one VR that had a spectacular plot featured nurse Kagney, as she attempted to successfully find her patient's proper treatment: that's why I called her a beautiful comedian. She was hilarious.
But, I think this had much more to do with Kagney's native wit, talents and improv skills than any script she was handed. Because, if it were the script…than how come all the others were so subpar (in respect to narrative) and that one was an outlier?
But, here's the thing. As for me and my reviews, as mentioned, I don't slam VR porns for having a bad narrative plot. I don't expect a good plot. I prefer no plot at all.
And, that's why I raise the question in the blog title: Is Plot Needed In VR Porn? You know my answer. Though, I certainly appreciate a juicy, situational set-up. Feel free to leave a comment, if you like. I respond to all comments left.
Let me end with an important distinction. Forget it. It's too complicated, and I don't have the energy. Probably because of that whole missing breakfast thing. I'll talk about it next time. If you want some VR porn… high-quality… click the thing below that says, "I want some VR Porn!"
Is Plot Needed In VR Porn?
was last modified:
February 2nd, 2019
by