WankzVR Review 2016
Below is the old WankzVR review from fall 2016. I'm moving it over here because it was no longer completely relevant to our WankzVR 2021 review. The following WankzVR review below is seeming extremely dated. That—in a sense—makes it interesting. But, if you want current information, you definitely want to click that previous 2021 WankzR review link. Thanks
September 2016
Hi everybody… it's time to check in with the Wankz boys.
They've been covered here since their VR arrival. And, I've closely watched their progression.
Now, here's the thing.
For this website to recommend a subscription, I must be willing to pay for one. In other words… I put on my headset, and I imagine I'm a consumer who just subbed for a month.
I watch the work. If I'd pay to continue the subscription, the studio gets recommended.
It's a pretty simple standard.
And, I could always be wrong, but I try hard to be fair.
Anyway…
I just watched WankzVR's latest release with Zoe Monroe and Megan Sage. I've got one thing to say: HORNY!
Yep, I even bolded the word horny. Hell, I even bolded the exclamation point, man! That tells you something…
Okay, I'm off to a lousy start.
Let's recap.
WankzVR was first covered here March 27, 2016: First Look At Wankz. The conclusion: much was right, but there were shortcomings with scale, frame rate, color and camera positioning.
In April and June, I updated my Wankz opinion. I wanted to express that although I wasn't having an optimal experience, many were now raving about WankzVR's general horny level.
And, there were similar thoughts in May… and early August.
So, it's now September 7, 2016.
And, I just watched Roommate Rebound: featuring Zoe Monroe and Megan Sage. Oh, Zoe Megan, baby!
Let's do this update thing…
Specs
Studio: WankzVR
Title: Roommate Rebound
Release Date: September 6, 2016
Stars: Zoe Monroe, Megan Sage
Length: 43 minutes
Main sex positions: blowjob, handjob, cowgirl, reverse cowgirl, doggy style, panty teasing stuff, some VR kissing, some face close-ups
Formats: Cardboard (different quality versions); Oculus (different quality versions); Samsung Gear VR (different quality versions)
Genre: Hardcore sex VR porn, threesome VR porn
Reviewed using: Gear VR + Galaxy S7 used to play the 1600p, 4.4 GB file.
Let's see how the Wankz boys describe this latest Zoe/Megan effort: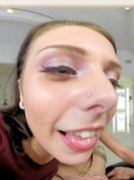 Ready for a sexy coed threesome?
Your girlfriend, Zoey Monroe and her hot friend, Megan Sage just got home and while Megan excuses herself to check her text messages, Zoey starts sucking your cock.
But then Megan comes back and reveals she's just been dumped over text and the poor thing is heartbroken!
You and Zoey quickly exchange dirty looks…nothing a little vitamin D won't fix!
All right, threesome funtimes commence.
All right, let's talk about what was done right in this movie and where there's room for improvement:
Okay, so this is a big file. And, the general clarity, 3D effect, sound, color and lighting was up to professional standards. No complaints there. And, no surprises: Wankz has been getting those technical aspects correct for a while now.
Additionally, if you like the whole coed/boyfriend/girlfriend/friend horny narrative/fantasy set-up thang: you get that here.
Let's continue:
1. Zoe Monroe and Megan Sage: About their appearances: I don't really need to say anything there, right? I mean, c'mon…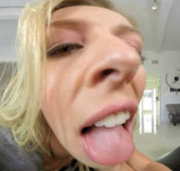 Let me tell you something else… the director perhaps suggested the gals put a bit of bionic bounce in their cowgirl: each gal bopped like a hopped-up hellcat on a pogo stick in a trampoline room… you get the idea!
I mean: that was some dynamic cowgirl energy. I ain't bullshitting you, man. You'd have lasted about three bounces. I'm pretty sure I'd make two-and-a-half.
And, importantly, the gals weren't shy about shoving their kissers at the VR lens. This is a good thing!
Just check the pic above. Well done, Ms. Monroe!
Megan also did a wonderful job with the VR facetime… and, an even better job with the uber-pervy, panty-pull cowgirling.
Why is everything ten times hornier when panties are involved? This movie featured a lot of pervy panty participation.
A brilliant aspect of this movie… and, part of why Wankz is now getting recommended here: the face close-up time that was well-scaled. This works.
I want a studio to give a solid five minutes of nothing but a facial close-up. Just hold the camera as the gal kisses and also simply looks directly at the viewer.
I mean… why not give this a try?
There really ain't nothing to lose. If a viewer doesn't like it: well, it's quite easy to jump ahead in these movies.
Trust me, though… a lot of folks will like this.
So, as seen in the pic above, we got some beautiful close-ups of some beautiful faces. I humbly suggest that Team Wankz continues along this path.
2. Scaling: All right, this is what it's all about. And, short and sweet: the Wankz scale now works for me. Thus, I can now, in good conscience, recommend this squad.
I don't know if their techniques changed… or my facial structure changed… or what happens after this life on earth ceases.
But, although—to my eyes—it's still just the slightest smidge narrow feeling: it's good enough that it works… it's enjoyable… and, honestly: I enjoyed the hell out of this Zoey/Megan effort.
That's it, man. Well done WankzVR.
WankzVR Review 2016
was last modified:
April 7th, 2021
by