Originally published December 19, 2015
And, as you'll see at this post's bottom, Misha Cross herself enjoyed this article, which she called an "awesome review."
Thank you, Misha! We think you and Ms. Carly Rae are quite damn awesome also!
This is one movie that deserves to be revisited.
Thank you!!
All right, friends, a new day's upon us along with a new VR from the good folks at Virtual Real Porn. This time it's Misha Cross, Carly Rae Summers starring in the 22 minute-long Game Play.
Looking through this site's articles: it's about damn time a few words were said about Misha Cross's VR efforts.
Smartphone
,
Gear VR
and
Oculus
. And, as usual it's binaural sound, HD, head tracking support and all the rest. I'm reviewing the
2.43 GB Oculus
(1920×1080) version on an
HTC M8
with a
Homido headset
. The software used is
VR Player Pro
and
AAA VR Cinema
.
All right, so…we're off to a good start as we got two fine, pink-and-perky-titted mamacitas who love riding man rocket while smooching each other's gal lips. Carly, in particular, has a rather appealing set of chest knockers that possess the perfect bit of droop-enticement.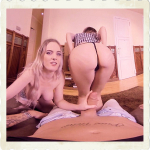 Yep, I'm making up terms again, but you folks know what I mean… There will be a gal with some tits on her that aren't huge…and, they ain't small… and, they hang with such a horny-inspiring droopiness that you just want to approach the stranger gal, lift up her tee shirt and squeeze those funbags for a few days. Such, my friends, is the nature of Carly's boobie-boppers.
But, aside from the glorious droopy tits, what do we really know about these two gals?
All right… Misha Cross, according to Wikipedia: "(born 27 November 1989) is the stage name of a Polish pornographic actress."
A Polish pornographic actress? Could it be phrased any drier? How about Misha Cross is a cock-hardening, Polish minx of a porn hooker who's already starred in four other Virtual Real Porn movies. I've got to tell you, I particularly like the threesome she's in with the blonde queen known as Sicilia Model. Sicilia's so underrated it's painful.
Another terribly under-appreciated VRP gal is Amber Nevada. I'm going to keep mentioning her until she gets her proper due!
And, while I'm at it… Lynna Nilsson is another porno gal who should have greater popularity. Sure, I've seen better acting skills during the middle school performance of Annie The Musical. But, Lynna is all sorts of fine!
But, suffice to say…ole Misha's already done some horny virtual sex work. And, I'm not just being some marketing-minded asswipe here…
Misha just really shines in VR. And, the name Misha's sexy. And…nevermind. Let's get this show on the road, already. This is how VRP describes their latest movie (edited-lightly):
"You're playing Fifa and your girlfriend, Misha Cross, is bored. She has an idea: phone her neighbour, the lovely Carly Rae Summers, for some fun on the couch. Lucky you! You're going to take advantage! You'll fuck these babes until your man geyser blows!"
You may be wondering: "What's Fifa?" Well, I don't know either, man! I don't have an encyclopedic knowledge of European games. Ya'll got high expectations for a VR porn reviewer!
When I was little, I used to play Dungeons and Dragons. That's all you really need to know. Yea, we called it D&D. I had a childhood of tears, anxiety and frustrated ambitions. Now, do you understand! Ah, I went back and watched the beginning (I tend to skip beginnings: see my thoughts on VR porn plot). Fifa is some kind of Play Station game.
Okay, so things begin with…oh, shit. Wait.
I gave Misha the little bio part, but I accidentally skipped Carly. Okay, Carly's from the U.K., and she's got great tits. Moving along.
So, things begin with the couch fella playing video games. Misha wants his attention. We saw the same set-up recently in BaDoinkVR's Teen Ass PWNED with Apolonia Lapiedra. You may be thinking I'm paying way too close of attention… you're right!
Now, I don't know what's wrong with these twenty-something brain-dead-zombie-corpes with video game controllers glued to their palms… As for me, when I was a twenty-something man stud, my girlfriend Misha would permanently be naked and down like a doggy. And, the Play Station would be in the trash can.
So, folks…about these reviews. There's three main things I evaluate: the performers, the video's scaling, and the positioning of cameras and people. In this case, I find both of these young women appealing. I mean… what's not to like?
Carly almost has the perfect gal body with those plump, pale and droopy boobie beautiful things. She ain't far from being an ideal toy. Only things I'd really do are straighten her hair all the way, dye it a bit blonder (including the roots) and slap a pair of snug pink panties on her happy hiney.
And, oh yea… I like that Carly British accent. There's something very inspiring about it! And, it's weird because no matter what's said, there seems to be sort of an attitude behind it.
It's odd. It's sexy. It's somehow defiant-sounding. You hear that Carly accent and you just want her belly-down on the bed with her ass in the air. "I'm going to pump that attitude out of you, girl!"
So, VRP generally gets the scaling pretty spot-on: often better than most. In this case, it was pretty good, but I got a bit more elongation, at points, than other VRP efforts. It was basically fine, though.
And, Misha and Carly…I'll tell you what I like about these gals… Carly and Misha both love sex. In so much porn, there's a phony feel. There's a "I'm just doing this for a paycheck" feel. Ain't nothing fake about these skinny, horny hellcats!
When they're cock-riding…their desire is poignant. They need to ride. A lot.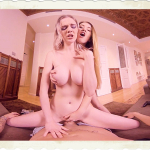 Carly, in particular, seems like an English strumpet who thinks with her crotch. She's the type of female that you couldn't get angry at for infidelity. One gets the impression that her pussy's desires rule her existence…and is the decision-making apparatus in her daily affairs.
Just our sort of gal, fellas! You can't help but think that if Carly likes you…she'll be fucking you…soon! I think this makes her a wonderful porn actress, because it's possible that this impression is created by her well-tuned, porn skills: and, she's actually an uber-loyal gal who's really into needlepoint and Siamese cats.
Okay, moving along…so far…these women look great. They fuck great. As suggested, they're both ka-razy-for-cock. The scale is pretty good. There are some good cowgirling moments.
But, the shortcoming of this movie is that other positions should have been used. What healthy man fella's not going to pound these gals doggy? No missionary? No stand-up? And, there should have been far more time with the camera shoved in their gorgeous faces.
All things considered, an enjoyable effort with good moments.
Carly and Misha and Fifa
was last modified:
April 3rd, 2021
by