Summary
Review of the Stockings VR studio that ranges from their 2018 launch through their current 6K output being released in 2021 going into 2022.
Last updated: October 8, 2021
Stockings VR in 2021
So, as we approach the end of 2021, I see the StockingsVR studio is still releasing adult 3D that's faithful to their niche. The niche, of course, is the stockings, nylons and lingerie stuff that I, for one, absolutely fucking love!
The stocking gang's now releasing in 6K. We're glad to see that.
And, there's just something to be said for keeping a gal like Cindy Shine fully dressed, lifting up her skirt, pulling her panties to the side, getting behind her, grabbing her panty-ass and ramming your cock deep in her cunt. I mean…I agree with the StockingsVR premise that there's just something FUCKING INTENSELY HORNY about all this stocking and nylons and panties clothed fucking!
Download Stockings VR scenes now
And, stuff like Panty Fetish Maid with Lee Anne just really, really, really works for me! This Lee Anne panties stuff is great 3D.
Yes, I am your target market Stockings VR!
Unsurprisingly, the quality (optical, filming methods, camera positioning, etc.) has improved since 2018/2019. I just watched a very recent release, Look Up with Jenny Wild, and, hey…Jenny's upskirt's looking pretty good.
Now, I'm not going to tell you that this is the highest-tier optical adult 3D being produced and released today. It's not. BUT, if the stockings/panties stuff is your thing…and, YOU KNOW WHO YOU ARE!… if you have a fetish for this stockings stuff, then you simply MUST go explore the StockingsVR library. It's mandatory. And, you will find horny bits that will get you off hard.
Some More Recent Stockings VR Gals
Cindy Shine, Blanche Bradburry, Lee Anne, Nathaly Cherie, Victoria Puppy, Kate Jones, Kathy Anderson, Vanessa Angel…if you've been paying attention to our VR porn universe, you get the idea, and you're either TOTALLY FUCKING DIGGING the stable—like me!—or you're going into the thing about American actresses vs. blah blah blah…it's all so old and boring and dumb…I'm so sick of it… I LOVE THIS STABLE!
How Stockings VR describes themselves on Twitter
Third-party reviews like this are good, of course, to help a horny fella evaluate whether the 3D will satisfy his sense of horny…but, I also think it's worthwhile to see how an organization describes and conceives of itself. That's why I'm including StockingsVR Twitter statement below:
The best #virtualreality, #panty, #pantyhose, #stocking and #voyeur #VRporn! #VR #porn, is it better than the real thing?
Stockings VR Release Schedule in 2021? Library size?
In the process of getting StockingsVR's answers to these questions.
Stockings VR Update January 17, 2019:
I spent some time giving the newer StockingsVR work a good looking over. And, please see this article for the latest opinion and info: StockingsVR – Second Look
Stockings VR Update January 3, 2019:
I watched StockingVR's December 31, 2018 Gag Me With That Cucumber preview starring two of my absolute faves: Nathaly Cherie and Victoria Puppy. And, I can tell you—based upon what I saw there—that StockingsVR has largely worked-out the scale and sense of spatial correctness issues which I discuss in the article below (which was originally written in April 2018).
In other words, the VR porn optics I saw looked good. When I have a bit more time, I'll watch some more of their work and comment further.
In the meantime, if you're looking for stockings/lingerie 3D content, I'd simply suggest you give them a visit and watch some of the free previews for yourself.
Thank you!
Below is the original Stockings VR Review
First look at the Stockings VR studio
April 2, 2018
Hi friends, welcome to FindVRporn.com: the Internet's first VR porn review website.
Do you find a woman in stockings and panties hornier than the same woman naked?
If you're like me…and you answer yes to that question: you definitely want to read on…
Let's Suit Up…
All right, friends, today we're going to first look StockingsVR.com.
I started writing this in January. Why is it taking so long? I don't fucking know, man. Anyway…
Everything about this really hinges upon how horny you get for panties, stockings, nylons, lingerie and the like.
Download Stockings VR scenes now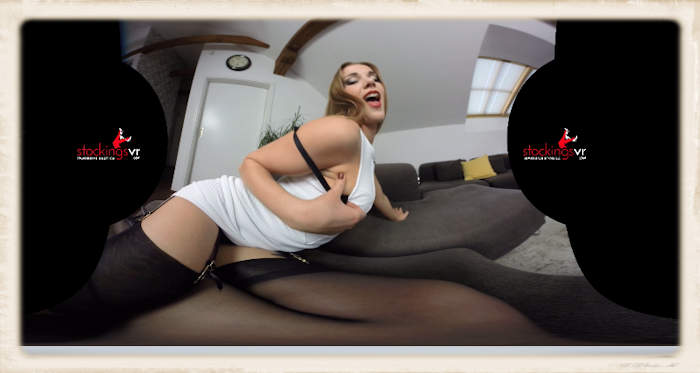 Is StockingsVR.com worth the money?
Let's get right to it. Is this studio worth the money?
In my analysis (reviewing factors/method), it depends upon how you answer these three questions?
1. Are you specifically horny for the stockings fetish stuff?
2. Do you like conventionally beautiful, mainstream…um…beauties? The list is below.
3. What's your personal threshold of VR porn optical quality?
So, let me put it like this:
1.) If you're horny for stockings stuff (I sure as hell am!)…
2.) and, you like conventional, gorgeous gals like Victoria Puppy and Katy Rose (I sure as fuck do!)…
3.) and, you can give some leeway on the virtual porn optics…if all of those things are true…then, I'd recommend you absolutely watch their free preview and give these folks consideration.
I phrased that strongly because while these folks aren't exactly the only game in town for this content; to my knowledge, they're the only studio 100% dedicated to it.
Who Are The StockingsVR Women?
Here's a partial list:
Carol Gold
Crystal Swift
Anna Rose
Mandy
Annabelle Doll
Lola Ver
Antonia Saintz
Alexis Crystal
Rosalina Rosa
Rachel Evans
Jenny Simons
Nikki Dream
Vinna Reed
Katy Rose
Personally, that line-up works for me quite well.
Well, I downloaded and looked at some of their movies.
Now, let me add: my sub ran out, and I haven't watched anything from the past two months. (Today's April 2, 2018).
But, before considering the work, let's first see how this 3D Stockings Gang describe themselves…
StockingsVR In Their Own Words
Upskirts, Stockings, Panties in Virtual Reality
Download or Stream – Your Choice
Includes FREE Membership at StockingVideos
FREE Massive StockingVideos Archive
Compatible with all devices…
All right, let's talk StockingsVR..
I found some quality variance across releases. In some instances, the scale was pretty wonky. In other instances, it was better.
That's not really so unusual with newer studios.
Download Stockings VR scenes now
A realistic sense of scale, of course, is one of the primary factors we always consider. And, people experience it differently (VR porn viewing factors).
With that caveat, for me the scale tended to be slightly big.
I'm okay with that; though, not everyone shares my preferences.
It's always crucial to emphasize that people want different things. And, I'm just relaying my experience and impressions.
SOSC off a bit
Additionally, the general sense of spatial correctness was a bit off for me: visually sometimes different segments of the frame didn't feel fully congruent in relation to each other.
In my opinion, that's something this studio needs to correct.
General judgment about StockingsVR April 2018
So, to render a general judgment about the StockingsVR visual experience: the optics don't share the same first-rate hornyness of studios like CzechVR, Wankz, BaDoinkVR, VRP, etc. Honestly, they're definitely not in that league. Just trying to be straight with you folks.
Those studios, in my opinion, presently represent the pinnacle of VR porn optics. And, honestly, StockingsVR doesn't reach that level. The truth is these good folks have got optical issues to work out.
But, as previously mentioned, this studio's videos laser-target the many folks who find the whole stockings, panties, Victoria Secret stuff particularly horny. I'll be honest: I'm part of that contingent.
Download Stockings VR scenes now
Now, if you also share this particular appreciation…in my opinion, this studio's optical quality crosses the necessary threshold for me to recommend you give them serious consideration.
Speaking for myself personally…and, I'm just going to be honest…as a man who really, really, really finds the whole bikini, panties, stockings, garter belt, corset stuff just ridiculously horny…I personally think the $25 for a month to download raid their library is an all right deal. If this same quality work featured conventional, heterosexual VR: I would not think the $25/month was an appealing deal.
The videos don't stand independently as complete, polished pieces; but, there are definitely some horny bits for folks who get-off on the whole clothed-horny psychology.
At this moment in time, I need to see technical improvement before I'd be willing to do the 6 months @ $14.99 a month.
That's it… Good luck StockingsVR.
I definitely intend to keep an eye on you good folks.
StockingsVR Review
was last modified:
October 8th, 2021
by