Since 2015 FindVRporn Awards
January 5, 2023
Happy New Year everyone. I've been doing an annual VR porn movie awards here since 2015. This year it's a bit more studio-focused.
Maybe you're wondering, "Why should I give this guy's opinion any consideration?"
I think you should be skeptical of most everything on the Internet, TV and print media. Most Internet consumers these days seem pretty savvy. I think our world requires a critical disposition. Here's the review/affiliate policy. And, to learn how these review judgments are made, see my Standards Guide.
Read this article. Click around the website. Make your judgment about my expertise and authority concerning the VR porn industry and product. Findvrporn has been in this since the start. And, we're still here. I think that says something.
So, I'm just giving my opinions and thoughts with these accolades. I have biases and preferences just like anybody else. You are the final word about what you like. Test out samples and see what clicks with your inner horny. What does inner horny mean? We'll have to discuss that another time.
Use the free previews as they're intended
My friends, use those free previews as they're intended to be used. Get a quick, no-risk sample of the quality. Judge whether it warrants getting a paid subscription. Here's a guide to free VR porn samples.
More best VR porn info
Additionally, if this article interests you, first bookmark findvrporn.com so you don't lose track of it. Then, 100% look at Best VR Porn websites: a guide to which website is a good match for which consumer. Also, see my VR porn studio guide, which leads to reviews and analysis of the entire VR porn universe.
Good info on a single page
I do think these type of annual award features are fun, worthwhile and a damn good source of info for visitors. You can output a single page with a whole bunch of links leading to worthwhile scenes, studios, and performers: some of which you're probably not familiar. For a VR porn consumer—particularly one just getting started—this is a very good page to bookmark and revisit.
I want to add that worthwhile things will always inevitably be overlooked. I try to avoid it, but it always happens. You're always free to leave a comment at the bottom and share your thoughts and critique of these articles. You can include your thoughts about what was overlooked. Real (non-spam) comments are published here.
Start with lesser-known
So, let's begin with the lesser-known organizations.
Why?
Most everyone who ends up here is already aware of the big players. You already know they have the VR porn optical experience wired.
But, what about the stuff a bit beneath the radar?
Are you aware, for instance, that somebody started a new VR porn genre that features VR porn sexfights? If you're a regular visitor here, you know that. But, what about people who are just finding this site. That's one example to illustrate why I'm starting with some of the smaller players. The visitor here might not be aware of them.
Fairness
This isn't the biggest website in the world, but it does get visitors every day: many repeat ones, I'll add. And, that's been the case for years now. And, that brings a responsibility. I try to be fair to everybody. But, expect shorter explanations in this. If I'm as comprehensive as usual here, this would turn into a novel. I do not cover anyone that I've had a bad experience with and/or has passed the tipping point of overall bad feedback for business practices and/or if I don't like their general, business strategies (how they roll). It's also a strong possibility that something was simply overlooked. Truth is…I was just going through my Twitter feed, and I was like, "Oh man, I need to do another draft and add them." There are a lot of studios in the game these days.
Yes, just like always: this is the real shit.
VR porn underdogs award of 2022
So, I'm using the expression "VR porn underdogs." I use that phrase in a positive way to say, "These guys don't have a big support system behind them, but they're still doing it!"
So, we're saluting these good folks for persevering and grinding away in this industry: which can be quite challenging for small VR porn studios (and independent journalists, too, for that matter). With this section, I'm saying that I like and repsect these smaller organizations and think they deserve special acknowledgement. So, these are VR porn awards: but, it's not awards in the sense of it being a direct, ranked competition. It's more, as mentioned, awards in the sense of recognition.
I encourage you to not overlook these smaller studios. I think it's important for the industry that these folks are given consideration and support.
So, let's get started.
Jimmy Draws
I'm putting Jimmy Draws at the top of the list because this is basically a one-man-show operation that's been faithfully churning out creative VR porn releases. And, I think you'll agree, that this deserves recognition. Let me give you a few examples of what porn Jimmy's got cracking:
When asked who's involved with JD VR, Jimmy says, "Yep, I run it all by myself, with the occasional assistance of my lovely wife @mrsdraws." Follow Jimmy Draws VR on Twitter.
Peeping Thom and FuckTruck VR
Peeping Thom (review) reminds me of Jimmy Draws VR a little bit. An independent UK producer releasing interesting VR porn scenes. Learn what Thom is up to in 2023. Additionally, we did a damn fun interview with Peeping Thom in the early part of 2022.
Blush Erotica VR
Blush Erotica VR is a very creative studio that's addressing a genuine gap in VR porn content: namely erotic, BBW 3D scenes. I recently did an interview with Blush Erotica VR that I consider one of the more interesting things I published in 2022.
One noteworthy aspect is the original and erotic use of voice-over narration. I believe BEVR is on to something with that! In plain language, there is just so much horny potential in this technique that I'd expect more organizations to incorporate it: at least a bit. But, understandably, there's often a hesitation for obvious reasons. Namely, how do you make it work? Will this alienate consumers?
The bottom line is that if you're seeking BBW VR porn, go no further. Blush Erotica VR is your utopia.
You can visit Blush Erotica VR's new website. You can also download BEVR scenes from VRporn. And, follow Blush Erotica.
POV Central VR
POV Central VR is another reliable producer that doesn't seem to get much recognition.
Enzo has his erotic vision. He faithfully pursues it in his VR porn productions. You get a slightly different flavor and approach here. This is exactly the type of studio that this industry needs to keep things interesting.
Here's the review. Here's Enzo's Twitter. Here's the direct link over to POV Central VR's scenes. Here's how to download them from VR porn. I'll tell you something else: I like Venera Maxima… A LOT! And you can also download scenes at POVR. And, while I'm at it…honestly…I also really like Marsianna Moon in a pussycat outfit. HORNY! So damn horny!
Gloss Tights Glamour VR
So, this is another example where niche-appreciation is everything.
Now, not everybody's like me. I'm a guy who goes fully-cuckoo for all the stockings and panties and stripping and teasing, etc. I never chose to be this type of guy…it's just my…nature! You can read the review: which needs to be updated! Sometimes keeping up is hard. That's what she said!
If you like this sort of stuff…you need to check out Gloss Tights Glamour VR at their site. There's a bunch of HORNY scenes at VRporn. I fucking love the Nadine glossy black pantyhose scene! Also, when Melanie Walsh sticks her pantyhose ass out…I can't take it!
Follow Gloss Tights Glamour on Twitter.
Darkroom VR
Darkroom VR is a Virtual Taboo (review) project that also seems to be flying beneath the radar. I wrote-up a review of Dark Room, and I would agree that this studio isn't for everybody. But, I mean…nothing's for everybody. The thing is…Darkroom VR has such a distinct look, feel, vibe and general aesthetic. Nobody else really does what they do. Peeping the Darkroom is mandatory for any VR porn enthusiast.
Visit DarkRoom VR and follow on Twitter. No false emotions, man! You also might want to check Virtual Taboo's Twitter. Heck, check out Virtual Taboo itself, while you're at it!
Virtual Taboo
VT's been doing their thing since they first shared their unreleased beta scenes with me at the end of 2015. And, I'm just going to say this: if you want stepsister, stepbrother, stepmother, stepdad 3D fuck action, GO NO FURTHER. JUST SUBSCRIBE. They deliver this! This is their jam. And, they also have a very compelling lifetime option also. I will say something else. They incorporate leotards more than most studios. AND, I LOVE VIRTUAL TABOO FOR THAT!
Stripz VR
Bottom line: I think our friend Big Nick does solo VR porn striptease as well as anyone. And, to think that Stripz VR is basically a one-man operation: that is remarkable. Really. Great stuff. If you want to learn more, see the StripzVR review. I've been following them since their launch.
StripzVR isn't much available on VR porn Netflix sites. You need to go directly there and subscribe. You can find StripzVR here on Twitter.
VR Hush
I get a bit animated about VR Hush because I think they're one of the most underrated studios out there. Where to begin? Check out the review and interview with our friend Luka. This is a guy with a fine erotic VR sense who deeply considers what makes effective 3D.
I fucking love the passion and rough action in the Unrequited Obsession scene with Jazmin Luv. Great scene!
I encourage you to go directly to VR Hush and check things out. Additionally, you can find Hush scenes at VRporn and over at POVR.
Follow these good folks on Twitter.
VR Allure
VR Allure's done by the Hush gang directly above. And, this is just some great, horny solo VR. Period. Love it. Go download it from directly from them. You can also download from VR Porn. At the moment, there's 168 VR Allure scenes at POVR. Visit them on Twitter.
I'll tell you something else about VR Allure. I fucking love their Charlie Valentine Freudian Slut scene! So damn horny! Full-disclosure: I worship Charlie's ass. There…I said it! Follow Charlie's Twitter. Also, check out all Charlie's scenes at POVR. They have the MilfVR one.
FuckPass VR
Yes, indeed the terribly underrated FuckPass VR. Read my full thoughts about this studio. As I say in the review, I fucking love their Jazmin Luv scene. Yes, I already said earlier that I loved VR Hush's Luv scene.
To be totally candid with you…I do particularly like Jazmin Luv. She's one of my favorite VR performers. Why? Simple answer: I love the crazed-fuck-energy she brings to her VR porn scenes. She is truly horny. She just constantly needs cock! It ain't an act! And, if it is: I'm fooled! Any way you cut it, her VR is HORNY! Love it. Here's her Twitter.
Seriously, though, all of Fuck Pass VR's scenes are damn good with tight, immediate camera positioning. This is superb stuff.
Go directly to FuckPass VR. You can also download FuckPass VR at VRporn. There's also a lot of FuckPass on POVR. I like their Pristine Edge scene a lot, also.
FuckPassVR on Twitter doesn't seem functional right now.
VR Latina
You know something special about VR Latina that's rarely mentioned? They sometimes feature some very rigorous and rough fucking in their scenes. I like this. A lot! You don't get this with everybody. In particular, the Mary Popiense scene has some good moments. And, let's just say I've watched the Small But Cool scene with Jessica Rios more than once.
Check out VR Latina on VRporn. And, check these guys out on POVR. See the VR Latina review. VR Latina's on Twitter.
Give VR Latina a chance in your headset.
SexBabes VR
Sex Babes VR is another studio that consistently releases horny VRs into the wild. And, not much Sex Babes chatter ever. If beautiful blonde VR porn is your thing, SexBabes VR is for you.
Check them out at POVR and also at VRporn.
Lethal Hardcore VR
I've written before about the brilliant and unique perversion brought to us by Stoney's Lethal Hardcore VR. I'd encourage to read the review because it's difficult to summarize. For me, LHCVR brings something unique to the VR porn universe. And, I like it! I do think there's some room for improvement with the optical experience. But, to be fair, this same criticism could be made of most any studio.
Check out LethalHardcore direct at their site. Follow Lethal on Twitter. Get Lethal scenes at VR porn. You can also find a lot of Lethal at POVR.
Reality Lovers
Reality Lovers does a magnificent fucking job with the 3rd person POV perspective. Don't get me wrong: they also do some great 1st person POV. But, they've got some 3rd person POV scenes that have made my brain box blow. For example, A Whore in the Trailer 3 starring Adelle Sabelle. Oh, my fuck! I can't take it! I also LOVE their Chloe Lamour scene!
In addition, RL does some fucking fantastic solo scenes! Really great stuff with cinematic camera effects and multiple costume changes and close-ups and…I can't take it!
Another underrated studio. Go directly to the Reality Lovers site and subscribe (discount link). They've got a bunch of Reality Lovers at VR porn. There's 415 scenes at POVR. Follow these good folks on Twitter.
VR Porn Big Dogs of 2022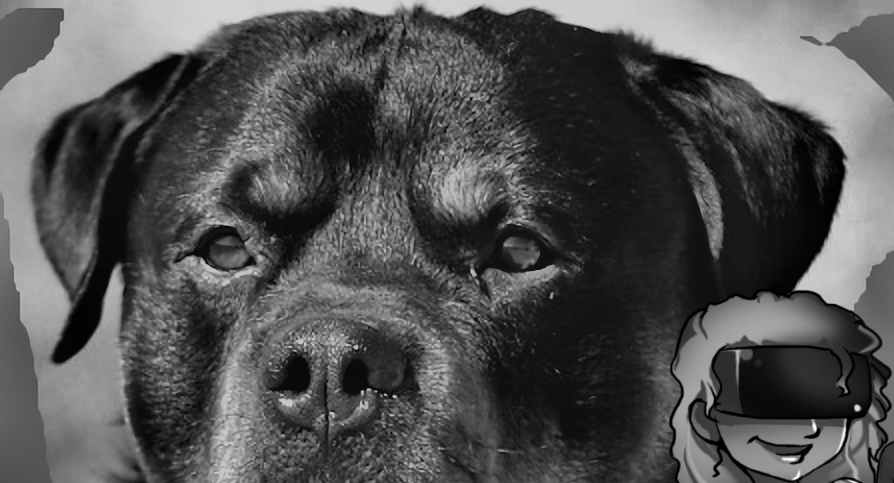 So, let's now talk about the major VR porn players of 2022. These are really the same organizations who have been bringing the horny for years now. And, I don't want to apply any ranking to these folks. I can confidently say that if you're a VR porn consumer who likes beautiful women fucking in 3D, you won't go wrong with any of these folks.
BaDoink VR
I've been following BaDoinkVR (review) since their start in 2015.
And, for me, 2022 was the best year in BaDoinkVR's history…easily. I really like how they shot their VR scenes this year. I mean, truth is I've been a fan of BDVR for a long time now. In the beginning, a lot of people thought of a big 3 that included NA VR, Virtual Real Porn, and BaDoinkVR.
That's sort of a long conversation, but a lot of people thought of it that way. And, there was a period of time when I felt like BaDoinkVR was, hands down, releasing the best VR scenes. Well, of course with time, a lot of others entered the picture and the whole scene changed.
But, for me, BaDoink's been rocking it for a long time. And, 2022 was damn good for them. My favorite BDVR scene was Calabasas Memories featuring Chanel Camryn. Why? Well, this gorgeous gal understands VR intimacy and how to connect with the viewer. And, you can get a free BaDoinkVR scene with this link.
Czech VR
CzechVR often seems like the favorite of the most hardcore VR porn enthusiasts. And, an argument can be made in their favor. The detractors will usually cite their lack of top-tier American women. But, you know…they're called CzechVR! When you go to Pizza Hut, don't expect Kentucky Fried Chicken. Now, I happen to be a fan of both restaurants! Sometimes you want chicken. Sometimes pizza. And, the CVR gang tosses up one fuck of a pizza, man! Since 2015, these good folks have been delivering beautiful VR porn optics, horny 3D, and a great attitude.
These guys don't do many specials, and they don't do VR porn Netflix. You got to go directly to Czech VR source. Also, follow CVR on Twitter.
Milf VR
I love the MilfVR releases. And, for the obvious reasons. I love most of the MILFs. And, the VR optics are great. It's that simple, men. Read the MilfVR review to learn much more. Once again, I've been following them since their launch.
My favorite MilfVR scene of 2022 was Cockpool Karoake starring Jamie Michelle and Sarah Jessie. Why? C'mon guys. It's Jamie Michelle with Sarah Jessie fucking cock in the same scene. Putting those two together: my cock can't take it, man! HORNY! Enough said.
Favorite MilfVR scene of all time
I'm bringing special attention to this older scene because I found myself watching it this year…and, IT FUCKING ROCKS!
My favorite MilfVR scene of all-time is Anything For A Friend starring Gia DiMarco. This is just the ultimate height of horny for me! I wish Gia DiMarco had shot many more VR porn scenes, but there aren't many. There's some KinkVR stuff and a bit more, but with Gia I really want traditional MILF fuck action.
Naughty America VR
You good folks already know all about the legendary Naughty America. I've been updating their review for over seven years now.
But, did you miss their initial foray into Augmented Reality porn called Real Girls Now. I'd encourage you to read my review of Real Girls Now, because this is DAMN INTERESTING. And, it's the future. It's coming. It's happening now, but it's going to be a complete mindfuck pretty soon. I like their AR. A lot. It's cool.
Naughty America VR kept on delivering what they've been delivering since the start. You most likely are already familiar with their brand aesthetic, look-and-feel. They create interesting conceptual templates which touch upon desires and anxieties deep in the human psyche. Things like cheating girlfriends and wives..mothers you'd like to pound your weenie into…fuck session with the office secretary, etc.
Findvrporn also has a special Naughty America discount price.
You can download a free Naughty America VR scene featuring Mia Malkova and Nina Elle.
Naughty America as a pretty big Twitter presence.
Virtual Real Porn
Virtual Real Porn were the first in the VR porn game. I affectionately call them VR porn's Original Gangsters. You already know them and love them. Virtual Real Porn's innovative contributions to the VR porn industry really can't be overstated. They did it all first. And, they're still going strong.
In 2022, they were kicking as much as ever. VRP is always a reliable performer. Here's the Virtual Real Porn review. Follow VRP on Twitter.
Virtual Real Porn, at the moment, has got some discounts going.
VR Bangers
VR Bangers is also one of the very original studios in the VR porn industry. For whatever reason, they're not frequently given proper credit for their historical role. But, they've been releasing VR porn scenes since 2015 also. I do think they got off to a slow start, so to speak. Personally, I think a real turning point for them was the February 2019 release of La Saint Valentin starring Goddess Christiana Cinn. That scene still holds-up today. That one's always good for a spirited wack!
They have been releasing top-tier VR porn for years now. And, presently, they have passionate fans who argue that they're the best VR porn studio out there.
Additionally, their innovative contributions have been significant and sometimes unrecognized. We've seen this in niche expansion: with dedicated studios for gay and trans content. Furthermore, they also released one of the very first VR porn games, Dezyred. You can read my VR Bangers review which documents the Bangers gang in considerable detail. And, please note that VR Bangers is running an underrated studio called VR Conk (review).
My favorite Bangers scene of 2022? That's a tough one. But, I have to go with Meet The Fuckers Part 2 starring Chloe Temple and Katie Morgan. Why? Well, it's probably no secret here that I like Chloe. And, hell…you ever see Katie? So, that's quite a duo there! HORNY!
I personally pulled-out my credit card and took a lifetime subscription from Bangers. Indeed, I did. That's about the highest endorsement I can give a studio.
Wankz VR
So, you folks already know who WankzVR is…this award-winning studio rightfully generates a lot of accolades and discussion. So, if you're somehow unfamiliar with WVR, you can read the review which has been getting updated since their inception.
You're wondering my favorite WankzVR scene of 2022? Okay, I'll play along…I've probably seen them all. And, I can tell you this much: the scene that had the most repeated plays in my headset was Straight Outta The Friend Zone featuring April Love.
So, why was this scene my favorite?
That can be a hard question to answer. All things being equal…that's to say, all the WVR scenes are shot well. So, all things being equal, it's really the particular woman's performance that's the variable. And, there's something about April Love's look and performance that just makes me think, "God, would I like to fuck her silly!"
So, that's just honest talk there. But, isn't this what it comes down to? My second favorite WVR scene of the year was Your Sexy Neighborhood Schoolgirl featuring Corra Cox.
The biggest selling point for WVR is they release very horny scenes that feature the "legal teen" look. And, there's just not anybody who understands the eroticism of this VR porn niche better than them. It's that simple.
My preferred way to get my WankzVR scenes is through a POVR membership. I consider this the way to go because it gets you so much more including all of the MilfVR and POVR Originals scenes. Follow WankzVR on Twitter.
Noteworthy Tech Innovation 2022
This is now running damn long, which often happens here. What's a bit scary is I've been trying hard to be brief!
But, I must mention the significant sextech type innovation in 2022. I'm using the term sextech in a loose way.
So, I'd say there are 3 things in this area to consider.
The launch of Naughty America's AR augmented reality porn project, RealGirlsNow …this is fucking cool stuff. I have a sub. I tried it out. I like it. It is the future. And, I can't wait to see the next generation of this.
The ongoing and continual development of the Kiiroo VR porn sex toys (get a Keon): read my piece about Kiiroo
The ongoing and continual development of the Handy VR porn sex toy (direct link to the toy): read the Ultimate Handy review
A few tech things to watch in 2023
I'd say two things to keep an eye on are the forthcoming headsets from Apple and also the HTC Vive XR Elite. Things are getting real. I'm damn interested in the Vive XR Elite! And, when I say damn interested… I mean… DAMN INTERESTED! High-resolution XR Passthrough. It looks like this will be available in the vicinity of February 15, 2023.
And, I'll take another shot here because I think a company to keep an eye on right now is Varjo based upon what we're seeing with the XR-3. It's sort of expensive, but it gives an idea of what's possible and what's coming, eventually, to a cheaper mass consumer type price point. A lot of the next innovations will come through pass-through developments. We've been anticipating this for a bit now.
The future of high-tech porn
At this moment in time at the start of 2023, if you have a good VR porn subscription, a Quest 2, a couple gummies and one of the above toys: you can have quite a fucking pornographic experience! Imagine what I'll be saying here one year from now! Imagine what I'll be saying five years from now! And, ten years from now…I mean, we can see where this is going. The outline is visible, I think…but. we can't really see where it's going!
When I started this site, I said the endpoint is sex robots in AR space. That prediction is now seeming a bit naive and quaint.
Black Mirror
Is the endpoint more like one of several Black Mirror episodes? You know, in Black Mirror, they offer some different possibilities. There's the Striking Vipers episode, which suggests VR's potential. There's the particularly disturbing USS Callister, which involves digital clones being inserted into some type of cyberspace. My favorite thing about this show is it gives a sense of how this future of ours could go so many different—and likely multiple—directions. That's to say, different technological branches all getting extremely sophisticated.
For instance, there could be some old-fashioned sort of purist who only fucks tangible, AI sex robots on his actual bed. This guy's really old-fashioned, man! Meanwhile, there's the other fellow who's got the full-fledged VR brain implant so he can have a Baywatch cast orgy with Daisy Duke, Marilyn Monroe and the latest Hollywood starlet in the mix. Who knows, really, where this is headed? Because, we're not even now talking about how the technology with change every day life.
Because, it's not just about us being unable to visualize the endpoint. Making predictions for what's coming over the next couple years is certainly possible. But, what about past that? In my opinion, anyone who thinks they have an accurate ten-year prediction is kidding himself. But, more significantly, I think most are underestimating the fundamental and monumental transformational society change that is inevitably coming because of this technology vis a vis porn specifically. I mean things like dating, marriage, family, birth rate, and even just everyday, basic inter-gender interactions.
So many examples could be given here. The only limitation is—as cliche as it may sound—your imagination. I foresee, for instance, that if you have some type of digital image of a person, it would be possible to swap that onto a VR or AR model, and you know…what will basic interactions be like if someone is suspecting the other is having masturbation sessions with their digital representation? I'm just throwing out this one example. The examples are endless. As mentioned, I just don't think it's possible to imagine what's coming.
Best Virtual Reality Site of 2022
I could say some things about the Quest Pro and where that fits in…but, we can do that another time. If you want probably the best source to keep up on the tech/hardware side of VR/AR/XR developments, to be completely honest with you, I wouldn't send you to any porn site. I'd send you over to The Skarred Ghost. Skarred Ghost wins my award for Best Virtual Reality Site of 2022.
Now, to be fair, I don't proclaim expertise concerning general Virtual Reality/AR/XR type websites. I know a lot more about the "adult" side of things. But, I do read a lot of general, mainstream VR/XR/AR/mixed reality blogs, and, from what I've seen, Skarred Ghost is head of that pack. Just one man's opinion. It is what it is. As a side note, if you want to keep up with all of these type of developments in the mainstream, I'd also recommend you follow this fellow, SadlyItsBradley.
Thank you to many
I must extend a major thank you to all the studios, performers, and everybody behind the scenes who makes this fantastic fucking 3D entertainment possible. THANK YOU! You are appreciated! Thank you to the readers and especially repeat visitors to this website!
Conclusion
That about wraps-up the 2022 VR Porn Movie Awards as determined by findvrporn. Unsurprisingly, there were many fine VR porn scenes released in 2022. It was a fun year. And, a great fucking year in some ways.
I hope that this single page let you glimpse the larger VR porn industry. Reading an article of this length is a considerable time investment. I respect that and honor your time by spending a fuckton of my own time writing things like this! If you liked it and appreciate the effort something like this takes, please share it with your friends and on social media. That's very helpful.
This site is a one-man operation. And, the way the world is going, these type of projects have a very difficult time surviving these days. This is the age of the oligopoly. We're in the era where independent voices have a difficult time being heard, let alone amplified. You can support by using the links above and visiting the special VR porn discounts page and getting your subs through that page.
If you liked this article, bookmark and visit again. This site is very frequently updated.
Please follow me on Twitter. And, please RETWEET the bloody hell out of this article to help me keep this site going another seven years.
Thank you
2022 Awards
was last modified:
January 6th, 2023
by