Download horny Violette Pure 3D preview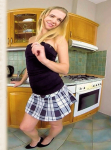 All right, friends, another Sunday upon us and time to discuss CzechVR's latest virtual solo movie featuring Czech beauty, Ms. Violette Pure. And, I'm going to tell you right out of the gate: this is ten minutes of pure VR goodness.
Okay, let's see how the Czech boys describe their latest:
"This sexy girl is Violette Pure and she's a pure angel. That is if angels liked to tease guys to the point of orgasm with their heavenly body…"
You know, Louie—my alcoholic uncle who got hit by a train—was fond of saying, "Less is more." You see, my aunt would encourage him to drink some beers instead of gin. And, ole Louie would just raise his glass and say, "Less is more, lady."
So, why am I telling you this stupid story?
Um…that was my segue-way to…oh, nevermind. You folks are both discerning and some other thesaurus word!
I review these virtual porns based upon three main variables. Sure, other things get taken into account. But, I know if I hit these three points…well, I've just developed this viewpoint over the past few months that it's important to cover these three things.
Please, I can't justify everything. I'm still sort of dying of some mysterious ailment. Either that or this head cold is really lingering!
All right, so the main things I consider:
1. The woman: her looks, performance, etc.
2. The virtual scaling: this is important. Do things look more-or-less correct? Is the woman's head the size of a lemon while her torso's Eiffel Tower sized? Is her head stretched-out in manner seen among Star Trek's fictional Klingon race?
3. The camera and human positioning: Does the camera provide close-up shots? Consensus has determined that this is desirable. I agree with consensus! Are there interesting sexual positions that go beyond the somewhat standard, virtual sex template of blowjob and cowgirl?
Okay, so as far as I'm concerned, CzechVR has been doing a first-rate job the past month. What's that? Oh, you want me to defend that view.
Okay: Katy Rose (my personal, 1st place pick in 2015's Best VR Porn Movies sponsored by FindVRporn.com in conjunction with NSFW Oculus voting), Rita Sinclair, Zena Little (oh, Zena baby!), Victoria Puppy (me so horny… oh, oh, soooooooo horny!) and Chrissy Curve.
There's one thing that Czech VR and Uncle Louie definitely agree on: less is more. The Czech boys' work shows what VR porn, in actuality, does not need:
A famous porn gal with 100,000K+ Twitter followers.
A "clever" plot.
Dialogue.
A nice set.
A male performer.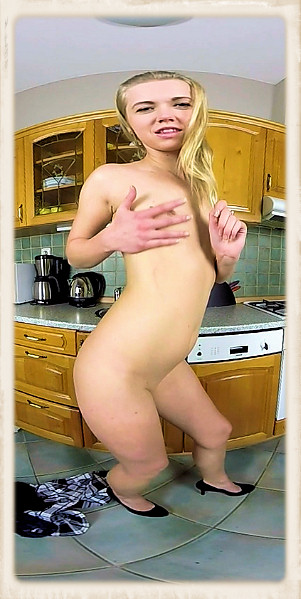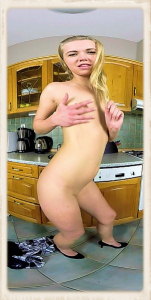 All right, so let's talk about what the Czech squad did right with this movie:
1. To begin, I must mention that these folks seek our input after every VR release. And, I'll be honest with you: the quality of their work demonstrates it. Props.
2. Violette Pure: oh man, I like her. From my travels I witnessed throngs of sexy gals strutting around Euro cities. I've seen this in Barcelona, Paris, Milan, Copenhagen, Berlin, Dortmund, Nuremberg, Dresden, Wrocław and, hell yes, Prague! You know…
I don't know what it is…well, I guess I do know, but you're not supposed to say it. It's a combination of DNA and lifestyle. You know, good DNA mixed with an active life and decent diet.
You know, in Prague, you can walk a couple blocks and pass a Violette Pure, Victoria Puppy and Katy Rose. Those gals are everywhere! It's nuts, man! I've doggied some gals in Prague who looked a lot like Ms. Puppy! So, sure… this is kind of a tangent, but the idea is that Violette Pure's another blonde, Czech beauty. They ain't in short-supply out there.
a. her pretty face.
b. tight body.
c. skinniness, including FLAT STOMACH. I wish women having flat stomachs would trend on Twitter! #flatstomach
d. little natural tits
e. LONG, STRAIGHT HAIR
All right, so suffice to say, Violette's sexy.
3. Violette's opening teasing striptease act: Oh, this is golden! Violette got three minutes of smiling-stripping-teasing before she stood there with her baldie pointing at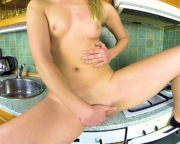 the camera lens. I think the man-viewers could deal with five minutes of this teasing, but things are heading in the right direction.
4. The scaling: I should mention this…it was good.
5. Violette Pure: you know, some more needs to be said about Ms. Pure. I want to praise her unsullied, non-silicone, naturalness! What a beautiful, non-phony smile! I almost had forgotten what one looked like!
6. The solo gal twat-diddling: Violette plops her ass on the kitchen counter, throws her
legs apart and starts twiddling her strawberry Hubba Bubba. Brilliant.
Okay, a lot was done right. What could be improved in this movie:
1. It's a short list here, but I'm going to keep saying it…
MORE AND LONGER CLOSE-UPS ON VIOLETTE'S FACE!!!
That's it. I've discussed this on many occasions. Just point the camera rig close to the woman's face and hold it there for a couple minutes. People want this.
All right, all that's left is to make your declaration:
I wanna diddle Violette in VR… NOW!
Violette Pure – Review, Preview, Horny
was last modified:
November 8th, 2018
by